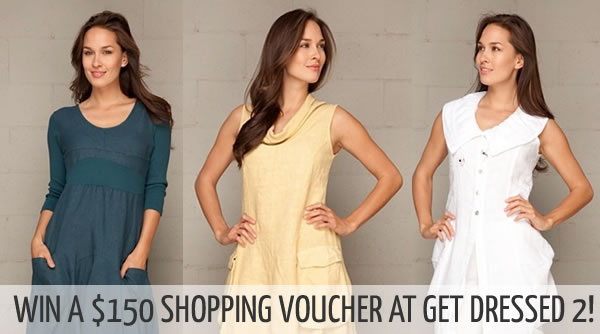 I have got a great new find for you today.
GetDressed2 is a fabulous new US based online store that stocks some of the best contemporary brands from Europe and America.The store has been setup by fashion forward online stylists who will help you pick from carefully curated selections like Sunlight-Paris, Inizio, Deco, Porto, Deca, Isabel de Pedro, Prairie Underground, Neesh, Petit Pois and Equestrian.
All the collections are meant to be mixed and matched in order to create YOUR unique look, because getting dressed is so much more than putting on your clothes each day. They see it as expressing and defining who you are!
As you know I can only agree!
When you sign up for a VIP account, you will get free stylist services and can even ask for an item you don't yet see in the store.  Signing up for their newsletter will instantly give you a coupon code for 10% off your first order of $100 or more. Your discounts will increase as you start to spend more at the store.
Here are just some of my favorite looks.
Dresses
You know I love asymmetry and the top left Inizio dress is right up my alley. It's light and breezy for summer while still giving coverage for your arms.
The black and white knit dress from Deca-Paris is comfortable and versatile and will look good both as a solo piece as well as combined with skinnies or leggings.
The Inizio safari coat dress is a very versatile piece. Wear it to the beach on a very hot day, over trousers for a casual chic look or pair it with either a skirt or trousers and top and wear it as a jacket!
Tops
I love that Get Dressed 2 has a large variety of draped and unusual tops. Great for hiding tummies or adding a unique design element to your outfit. Above are just 3 of my fovorites: left Balboa vest by Porto, middle Madonna draped tee by Porto and at the right the cut out pleated tee by Petit Bois.
Skirts
Get Dressed 2 stocks a variety of hip casual chic skirts. The Inizio draped linen skirt is a unique skirt that comes in a wide variety of colors.
The skirts in the middle and right are by Porto which has a great variety of asymmetrical skirts and dresses. Porto is American, designed and manufactured in San Francisco and styles can be specially ordered monthly in any colors!
Win a $150 spending voucher!
I'm delighted to tell you that Get Dressed 2 will give one lucky 40PlusStyle reader a $150 shopping voucher for their store. This giveaway is open worldwide to all women above 18 years old.
Please note that your email address will be shared with Get Dressed 2 and you will receive their newsletter.
All you will need to do to take part in this giveaway is enter through the Rafflecopter form below, which will give you 2 entries. You can earn extra entries by liking their Facebook page, following Getdressedtoo on Twitter, repin this image on Pinterest or answering a question in the comments. You can also tweet about the giveaway every day.
You will have 10 days to enter and the winner will be randomly drawn by Rafflecopter and announced on Tuesday, 25 February.
What would you get at Get Dressed 2 if you would win this giveaway?