As well as all of the key fashion trends for Fall 2018, such as what length skirt designers favored, the materials they used, and the shapes they created, there's another very important consideration for the season – and that's what colors are on trend for Fall 2018.
Here's a full rundown of all fall 2018 color trends and the major hues used in the Fall 2018 runway shows which are most stylish and flattering for women over 40!
Ready for 2019? You can also read about the spring 2019 trends, spring shoe trends and the spring shoe trends
Some shades were, as you would expect, very autumnal, such as russet browns, deep burgundy, and olive green. But others came as a surprise, such as bright blues and oranges. For other designers, the unexpected came not in the colors themselves, but in the combination of shades…
Color trends for Fall 2018
The Pantone Color Institute also rounded up the main colors used on the runway shows, and you 'll see many of these featured by all the major fashion houses.
1. Violet
Violet was one of the hues of the summer, and it's still here for fall and winter. While during the warmer months, it was all about pastel hues and, indeed, there were still lots of those on the runways for fall, as the weather turns colder, the hue has also given way to a darker violet shade, which is much more sophisticated for women over 40.
Alberta Ferretti paired his purples with burgundy, showing just how stylish purple could look teamed with burgundy boots from the top shoe trends for fall.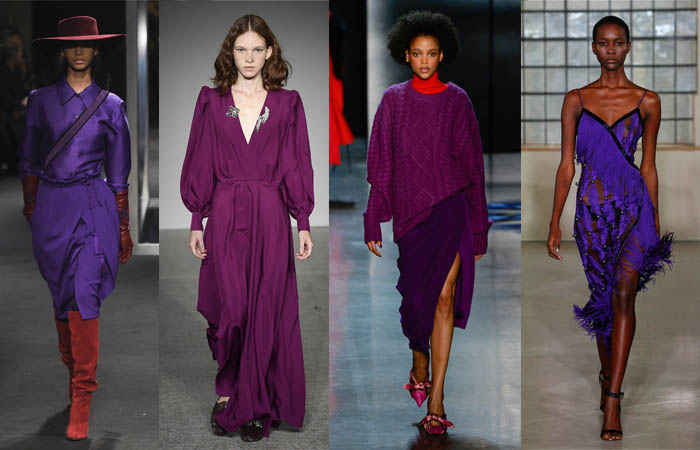 Alberta Ferretti – Erika Cavallini – Prabal Gurung – David Koma

2. Sea-green
Teal is always beautiful paired with white for summer. And, designers proved it is equally stunning for fall 2018 by giving the shade a darker, more muted feel and using this sea-green shade along with other autumnal shades such as burgundy, mustard yellow and neutrals.
Alberta Ferretti –  Self-Portrait – Prabal Gurung – Alexander McQueen

3. All shades of pink
Pink is another color which has been bang-on-trend for a number of seasons. We've seen all shades of this hue from the palest pastel to deep fuschia. This time around, pale pinks were still on display, but THE pink of fall 2018 was a shade the color experts at Pantone have called Pink Peacock.
I love Oscar de la Renta's take on the trend; teaming fuschia pants with a crisp white shirt in a way which was not only on trend but also very sophisticated for older women. Many designers chose to go with pink teamed with the next color!
Oscar de la Renta – Tibi – Erika Cavillini – Erika Cavillini

4. Poppy red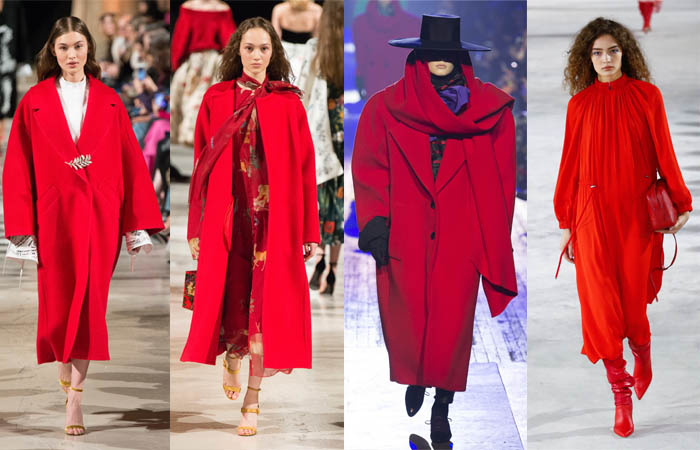 Oscar de la Renta – Oscar de la Renta – Marc Jacobs – Tibi
Another trend which has crossed over from summer to fall is the combination of red and pink. But designers also chose to dress their models top-to-toe in bright, poppy red. There were stunning coats adorned with brooches from Oscar de la Renta , who also showcased red teamed with burgundy, while Tibi's show featured flowing orange-red dresses with red accessories.

5. Burgundy
As well as bright poppy red, designers showcased a more subtle shade of burgundy. As well as featuring on full-length coats from Roksanda , sexy dresses from Bottega Veneta and Givenchy, and tailoring from Alexander McQueen, there are also some striking burgundy boots among the 12 major shoe trends for fall 2018.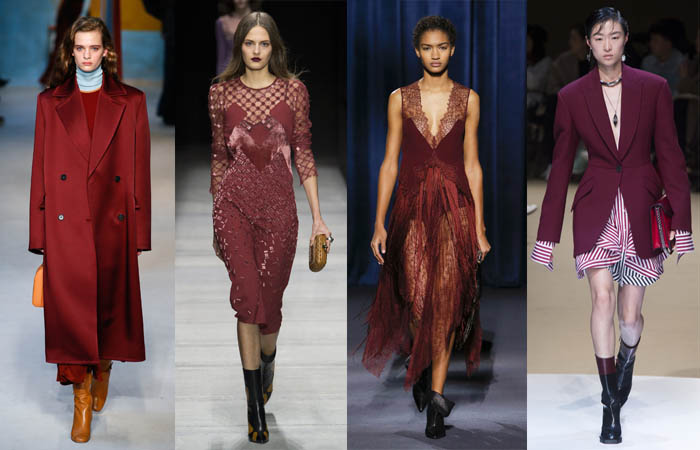 Roksanda – Bottega Veneta – Givenchy – Alexander McQueen

6. Spiced yellow
Yellow has been a feature on the runways for the past couple of seasons, and it's showing no signs of going anywhere for fall! This time around, it's a spicy, mustardy shade that pairs well with other hues in the fall 2018 autumnal palette. Roksanda , in particular, had a mix of mustardy and more vibrant shades, some teamed with a floral print and burgundy accents.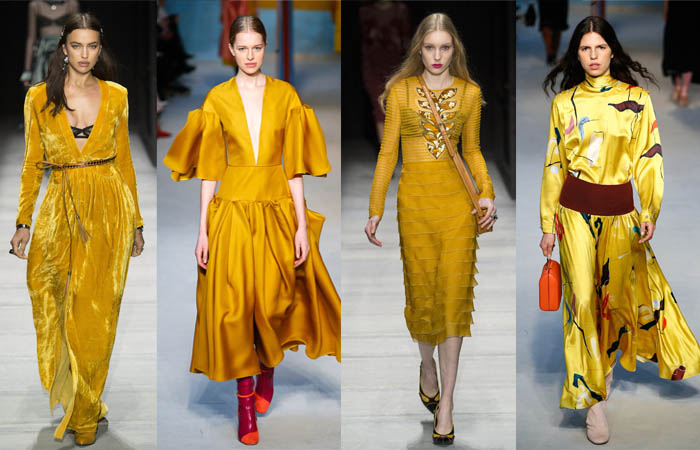 Bottega Veneta – Roksanda – Bottega Veneta – Roksanda

7. Nebulas blue
While navy blue is a traditional choice for fall and winter, and was still showcased by many big-name fashion houses, perhaps the biggest color surprise for fall 2018 was a brighter blue. Nebulas blue was teamed with equally bright yellow by Roksanda , with complementary shades of blue by Tibi and in full-length coats by the Lebanese fashion designer Rabih Kayrouz.
Roksanda – Tibi – Maison Rabih Kayrouz – Prabal Gurung

8. Bright orange
Another surprise for fall was the bright shades of orange used by the likes of Lanvin and Maison Rabih Kayrouz. While we're used to seeing more muted tones of burnt orange for autumn and, indeed there is a beautiful shade among the neutrals below, designers chose very bright shades of orange, which made a wonderful partner to navy blue. There is also plenty of inspiration in this piece on how to wear navy. Oscar de la Renta, meanwhile, used a slightly more subdued shade, teamed with black embroidery.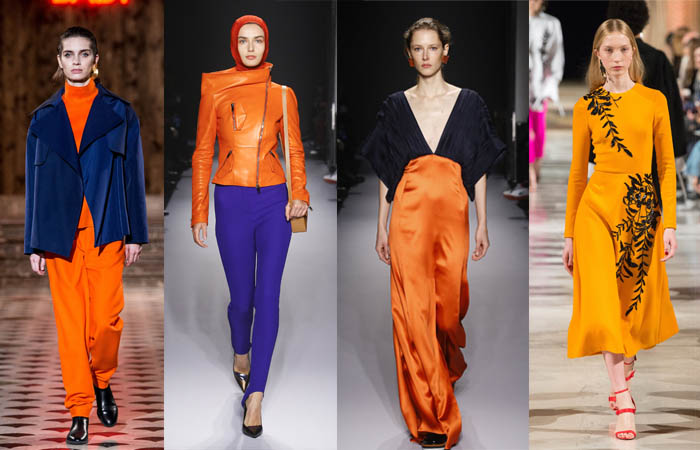 Maison Rabih Kayrouz – Lanvin – Lanvin – Oscar de la Renta

Neutrals trends for Fall 2018
These were some of the neutrals trends picked out by Pantone, but I've also chosen other colors, below, which can be worn as neutrals!
1. Metallics
Fashion went all futuristic for Fall 2018 and, while many designers went for outlandish options which could make you look as if you'd just stepped out of a spaceship, others went for a beautifully subtle take on the trend and opted to use flowy, drapey, metallics.
Tom Ford – Alberta Ferretti – Alberta Ferretti – Oscar de la Renta

2. Meerkat
Many designers chose a beautiful toasty, orangey brown which is the perfect autumnal shade. The Pantone Color Institute has dubbed the shade "meerkat". But, whatever you want to call it, it looks just like the turning hues of falling leaves.
Alberta Ferretti – Alberta Ferretti – Alberta Ferretti – Givenchy

3. Black
Of course, black is never out of style, but this Fall, it is definitely on-trend, with swathes of black on just about every catwalk. Alberta Ferretti went for draped black gowns, while Bottega Veneta upped the sex appeal with lace evening gowns.
Alberta Ferretti – Bottega Veneta  – Givenchy – Prabal Gurung

4. Beautiful beige
Beige is a neutral which is truly timeless. This season, it was used in long, belted capes, embroidered coats, and classic peacoats worn with oversized scarves.
Alberta Ferretti – Oscar de la Renta – Roksanda – Givenchy

5. Navy
Another neutral which is perfect for any season, navy is the ideal alternative to black for colder months. Roksanda used the hue for floor-length gowns, while Tibi showcased casual two-pieces and Lebanese designer Rabih Kayrouz chose navy for tailored suits.
Roksanda – Tibi – Maison Rabih Kayrouz – Tadashi Shoji

6. Crisp, clean white
Givenchy teamed white with black, for lovely monochrome looks, while other designers chose winter white for everything from double-breasted blazers to structured dresses, scarves to pants. It's not the most practical of looks, but white can still look stunning for fall and winter.
Givenchy – Tibi – Maison Rabih Kayrouz – Maison Rabih

7. Soft Gray
Gray is always a staple for autumn and winter. But what changes is the shade of gray. This season, most designers are opting for a soft, romantic gray, used in sweaters and coats, while others have decided to mix in a little beige to make taupe. For inspiration on other hues to team your gray with look at this piece on how to wear gray.
Prabal Gurung – Erika Cavallini – Valentin Yudashkin – Alexander Wang

8. Olive green
Rich and dark enough to be worn as a neutral in the same way as navy, this olive green hue would be the perfect pairing for some of the brighter shades in the designers' color palette, such as bold orange, or could equally be worn with other neutrals.
Alberta Ferretti – Oscar de la Renta – Maison Rabi Kayrouz – Erika Cavillini

Want to see more trends for spring and summer 2019?
Check out
Which colors appeal to you and will you be wearing this fall and winter?

Like this article? Save it on Pinterest!
Want to get more articles from 40+style in your inbox, subscribe here.
You can also connect with 40+style on Facebook, Instagram or Pinterest.
Support 40+style by using the links in our articles to shop. As an associate for Amazon and many other brands, we receive a small commission (at no cost to you) on qualifying purchases which enables us to keep creating amazing free content for you. Thanks!