Dressing for your body type can be hugely effective in creating a flattering and chic look and silhouette. Learn how to create a fabulous capsule for your pear body shape!

I want to stress that these articles only provide guidelines. This does not mean that pear shapes can wear lots of other items and still look fabulous. You will find all our general guidelines for the pear shape on this page.
Pears tend to be bottom heavy (with most of their weight centered on their thighs and/or legs). They tend to have a very good upper body which is why much on the emphasis in dressing is on the upper half of the body.
Read our ultimate guide to creating a capsule wardrobe that works best for you.
Tops
As mentioned above, pear shapes often have enviable upper bodies. This is a plus you definitely want to highlight and draw attention to. When selecting a top, go with a top that has a catchy color and/or nice detail. I also recommend selecting a top with breast pockets, big collars or a pattern. Horizontal stripes help to widen your upper body to bring it more into balance with your hips as do (subtle) shoulder pads.

Asymmetrical top – Wrap top – Bow blouse – Cold shoulder – V-neckline top
Pants
Pear shapes tend to be bottom heavy. The best way to create the illusion of an hourglass shape (and more balanced silhouette) is by de-emphasizing your lower body. I recommend wearing pants that are not too tight or too bright in color. A well tailored boot cut is also perfect for the pear shaped woman. While it can be more difficult to find cropped pants that are flattering, straight cropped pants can work, especially when you combined with bootties in the same color that lengthen the leg line.
Straight leg slacks – wide leg  pants – Straight cut denim – Cropped pants
Skirts
A-line skirts are the pear shape's best friend. To create a streamlined and flattering look, make sure the skirt is knee length and includes flat seaming on the front. Pencil skirts are also a worthwhile option; you just have to ensure that the fit is perfect. Make sure there is a streamlined look from top to bottom, that the skirt hits at knee length, and that there is virtually little to no tapering.
Knee length a-line – Classic black a-line skirt –  graphic print – Green a-line skirt
Dresses
A-line dresses will always look absolutely perfect on a pear shape. Select dresses that draw attention to your upper body, have defined shoulders, and a deep v-neckline to really create the illusion of a hourglass figure. The goal here is visual interest on top with a great flare and fit on the bottom, or a belt that comes in the skinniest part of your body.
Flare waist dress – Layered shift dress – Belted dress – Wrap tie dress
Jackets
For the pear shape, jackets are a perfect way to draw attention to your upper body. We recommend wearing A-shaped knee length coats (such as a trench coat for spring). Jackets work quite well too if you select one that has lots of details on top (like shoulder details, buttons, etc.).
Moto jacket – Neutral trench coat – Denim jacket – Belted blazer
Shoes
Be careful with high vamp shoes or shoes with ankle straps as they will shorten your legs especially when worn with skirts. Wear medium to chunky heals with a bit of height to further elongate the legs. I also recommend nude or neutral shoes that will show a bit more skin and blend in with a look (a more monochromatic bottom).
Neutral heels – Low heeled loafers – Crimson platform wedge – White slip-on sneaker
Accessories
Use accessories to further emphasize the top like necklaces and scarves. Waist belts may look good on you as they emphasize your small waist. You can also draw attention towards the upper body by selecting earrings, sunglasses, and other accessories that draw visual interest. Smaller bags you can opt to carry in hand or larger more structured bags also do well in drawing visual interest to your hands and the skinniest part of your body.
Floral print scarf – pink satchel bag – Long layering necklace – Statement earrings – Waist belt – Sunglasses
Using the items from our capsule above, here are 9 looks to inspire you as you dress for your shape.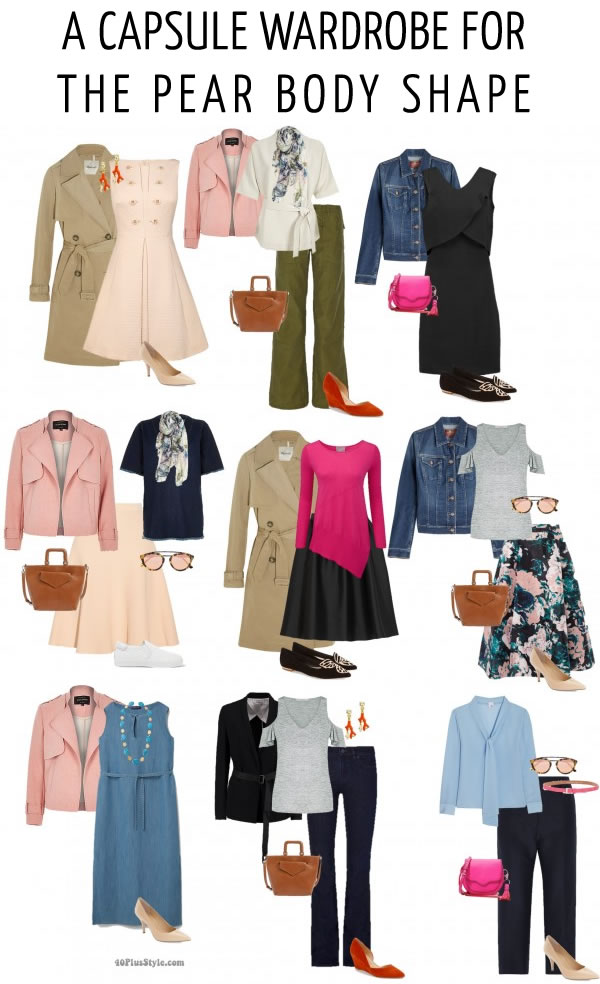 Are you a pear shape? What is your go to style?

P.S. Get a fabulous shoppable capsule wardrobe every single month when you become part of the 40+Style Club!
Like this pin? Save it on Pinterest!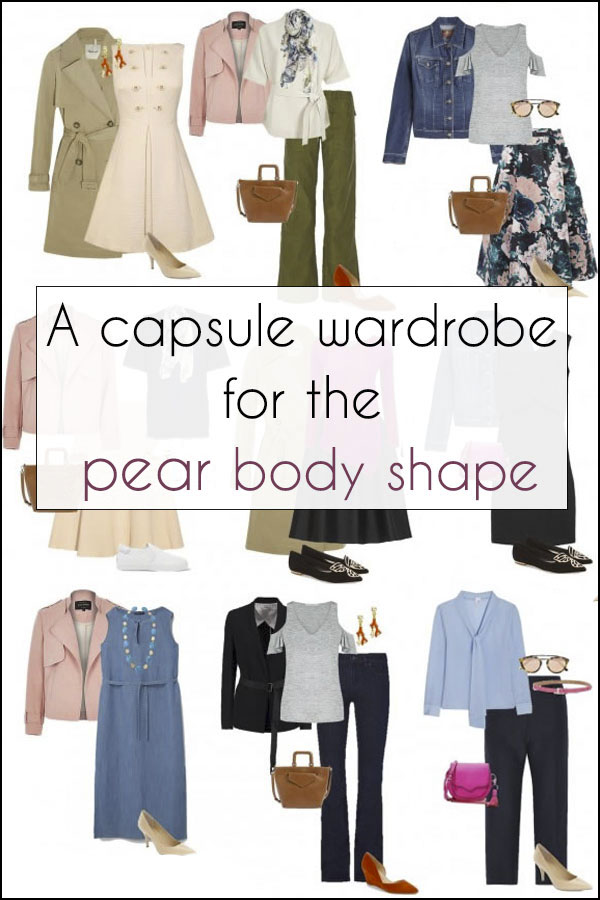 Want to get more articles from 40+style in your inbox, subscribe here.
You can also connect with 40+style on Facebook, Instagram or Pinterest.
Support 40+style by using the links in our articles to shop. As an associate for Amazon and many other brands, we receive a small commission (at no cost to you) on qualifying purchases which enables us to keep creating amazing free content for you. Thanks!