1. Milly 2. Donna Karen 3. Kate Spade 4. Sam Edelman 5. vintage dress
From all the 2012 Spring and Summer trends, I feel that the black & white trend has been a bit over shadowed by all the bright colours this season. This is a good thing of course as you all know how much I believe that we should all wear more colour. But let's face it, you can never really go wrong with a good black & white ensemble. And if you are aiming to be chic and timeless, then these outfits may just take your fancy.
Adding colour to your black and white outfit
The great thing about black and white is that you can combine any colour with it. Especially the really bright colours that we are seeing this season. I really love to wear black and white with a bright green purse or a bright yellow belt. Or even better a bright: red  or yellow hat! Or purple, or fuchsia or whatever colour that takes your fancy.
Use black & white to combine all the other trends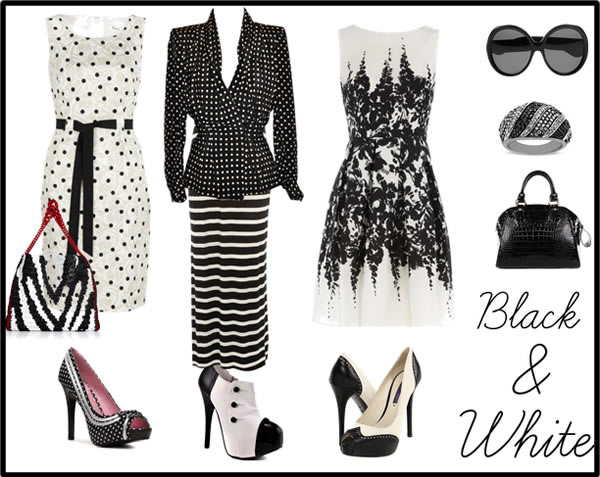 For more information on the products see this image at Polyvore.
Black and white also makes it easy to wear all the other trends as well in one outfit:
Ladylike: just choose a beutiful dress or a vintage dress as shown in the top picture
Graphical: choose your black and white frocks in stripes or patterns
Pattern mixing: Mix your stripes, polkadots and colour prints in one outfit. It's so easy to do when it's all black & white!
Brights: just add one of those really bright colours to your outfit with a belt, a jacket, a bag or shoes.
You could even do all of the above in one outfit. In fact I'm inspired, I should try it myself!
For more inspiration and some of my favorites to buy right now, you can check out my currently obsessed list. I also keep a special board on Pinterest: style inspiration black & white.
Are you still loving the black and white and will you be wearing it with the bright colours this Spring? Can you take on the challenge of wearing all 4 trends as described above in 1 outfit?

This article contains affiliate links