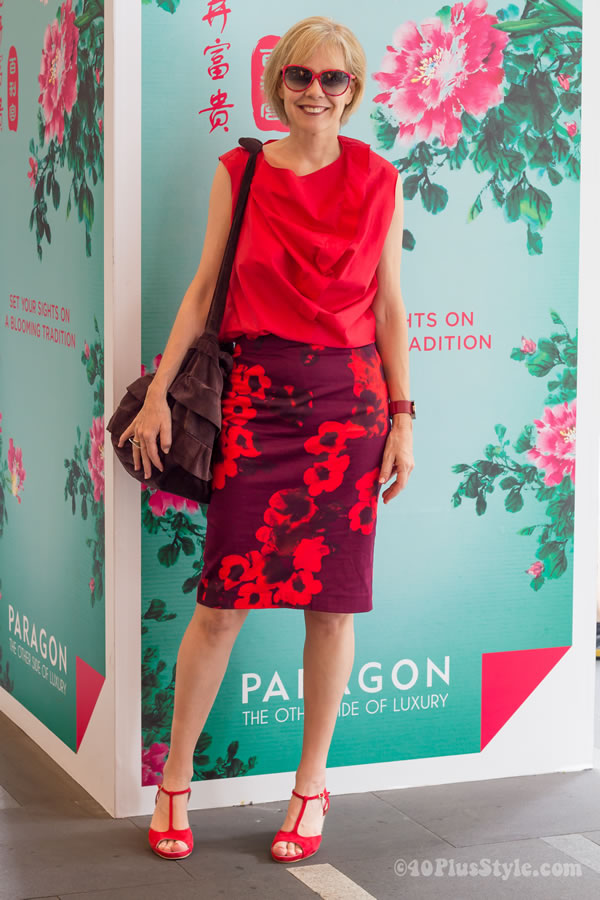 Red is still one of my go-to colors and I really like the combination of red and purple.
This Zara skirt that I picked up from the sale was something I had wanted to buy previously. However, as I had already purchased another flower skirt, I did not feel I needed it and left it in the store.
I could not resist it though when I saw it on sale. I figured that if I still liked this skirt after all these months (considering this is a print, which I usually tire of quite quickly), it must be something I really liked!
I have found, that it is much easier to wear prints as a bottom. They are easy to mix with solid tops and you can opt for both bright and more neutral looks. If I wanted to make this skirt more business-like or tone it down, all I would need to do is to pair it with a white button-down shirt.
This day though, I did not mind being seen and I paired it with another (old) sale item from CK Calvin Klein. This top has an unusual cut and shape (I also have it in white) and I'm sure it is not to everyone's taste (my husband does not like it and finds it too 'messy'). However, I like the unusual cut and drape, although it's definitely not the easiest top to wear. Certainly when there is (heavy) handbag to carry as well!
The ToBe high red wedges are both chic and comfortable.
Skirt Zara, top Ck Calvin Klein, shoes ToBe, sunglasses Loewe, ring Linnie McLartly
Have you been wearing colorful prints lately?