You would think I would have enough of black and white after wearing it extensively over the holidays, but funnily enough I'm still drawn to it. On one of my first outings back in Singapore, I was keen to wear it again but this time with yellow.
It was love a first sight when I saw this top. I bought it in the same store as my long black dress and this top worn on top of that dress is a fabulous combination. Like the dress it has a Japanase vibe. Today, however, I was keen on wearing my old A-skirt again.
There is a lot I love about this skirt. The fabric is a bit sturdier, so it keeps its nice A-shape. I really like the quality feel of it. I also adore the pockets. I only wished it was a little bit longer. I really love the combination of black and white with yellow. In this outfit it's only subtle hints of yellow, but enough to make it interesting in my opinion. The top is made of a sturdy fabric as well and it's slightly 3d!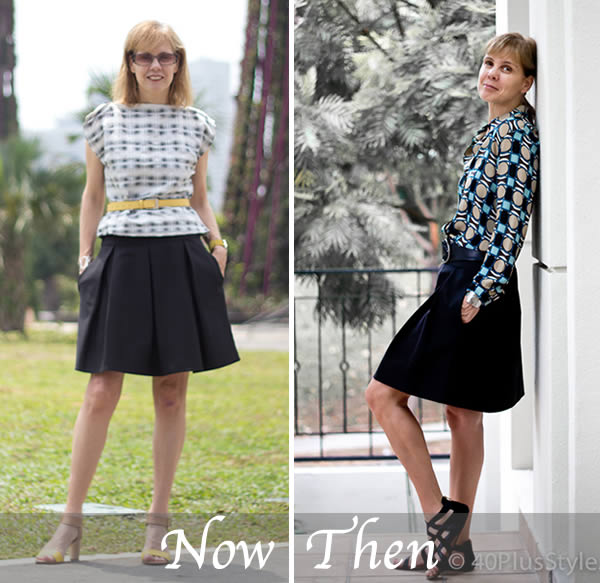 I'm also wearing a new 2 finger ring that I bought from Linnie McLarty in London. You may remember her from my feature of her at 40PlusStyle not so long ago. Not so clear on these pictures, but I'm sure I will wear it again real soon. She had some amazing jewellery and I feel very fortunate to have met Linnie in person and try many of her pieces.
Our location for the photos this time are the new Gardens by the Bay in Singapore. A new horticulutural park just opposite Marina Bay Sands and as you see from the pictures close the Singapore Flyer. It's an impressive new park. I'm not doing it a whole lot of justice in these pictures, but if you like to know more head on over to Anja's website who has done a whole 6-part series with many fabulous pictures of the new park. I will show you some pictures I took of her later this week.
Top: Elsewhere
Skirt: Zara (old)
Shoes: Max & Co
Ring: Linnie McLarty
Watch: Claudia Schaeffer
Sunglasses: Furla
Hope you all had a fabulous weekend! What have you been wearing?

Related posts: