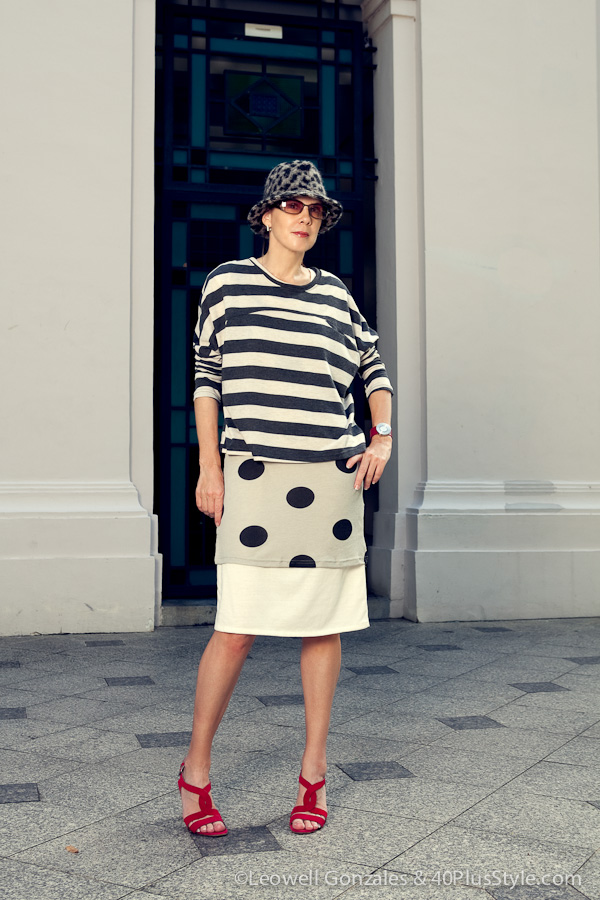 First of all, Happy Chinese New Year everyone!
A while ago I wrote to you about my photography session with local photographer Leowell Gonzales, when I showed you my christmas outfit pictures. Here are some more images from that photoshoot, where I incorporated some more pattern mixing in my outfits.
There are 3 different things happening in this outfit: there is the animal print hat, the stripes of the top, the polkadots of the dress and the basic neutral of the first dress.  This works (in my opinion) because the colors are all similar. It's actually not very difficult to do some pattern mixing with a basic color combination like black, white and a bit of red. In the picture below, I add a bit of more color to the mix by wearing the red hat as well.
These are all garments from local retailers, which were bought at discount prices. My striped top has already proved to be very versatile as it can be worn with many outfits. I thought the cream jersey dress would be a good basic to mix with some of my other clothes. The polkadot jersey dress can be worn in many situations as well. As a beach dress by itself, a long top over leggings or pants, and, as shown here, as a dress over a dress.
Pattern mixing can be fun and it's pretty easy when you stick to the same kind of colors. Of course it gets really interesting if you mix different colors and patterns!
Cream dress: Chocolate Mousse
Polkadot dress: Mixsense
Thanks again to Leowell Gonzales for a wonderful photoshoot!
Have you tried pattern mixing yet and is it a trend you like?