After many months of being at home, you're probably ready to swap your loungewear for some more fashion-forward looks. Let's take a look at the best winter 2021 fashion trends from the 2021 fall / winter fashion shows.
You'll see that designers are definitely feeling the need to dress up again. There were plenty of luxurious fabrics on the catwalks as well as fully co-ordinated outfits and looks that showed some subtle sex appeal.
However, designers haven't forgotten casual wear too. Take a look at the knitwear, wide pants and dark denim styles that would be easy to wear day-to-day.
The best Fall and winter trends 2021
Now, let's take a look at the individual trends you could choose. See which your favorites are – and how you could combine them with what you already have in your closet.
Carefully coordinated
Balmain – Giambattista Valli – Jason Wu
Up until the past couple of seasons, being over matchy was seen as being old-fashioned. However, while it still might be best to put away some styles of matching pants sets, being co-ordinated is now bang-on-trend with matching looks featuring heavily among the 2021 winter fashion trends.
Opt for prints that you can wear together or as separates to create different looks.

sweater vests
Winter and fall is a time for layering. And a sweater vest is the most on-trend way to do so. Wear on its own if it's warm enough or layer over a dress or a classic white shirt.
Pay attention to proportions though. A long vest could look great over a pair of leggings, for example, but if you wear with a skirt as shown on the models on the left and middle below you could make your legs look shorter. A cropped length of vest on the otherhand will make your torso look shorter and your leg longer.
Max Mara – Jason Wu – 3.1 Phillip Lim

dark denim
Christian Dior – Hermès – Zimmermann
Dark denim tends to be more flattering and more sophisticated than its lighter-hued counterpart. It's also very much on-trend for the upcoming season, whether you choose a denim jacket, jeans, dress or skirt – or all of them.

animal print
Lanvin – Giambattista Valli – Etro
Animal print is a pattern that never dates, particularly leopard print. I like the unexpected pattern mixing showcased by Giambattista Valli (center).
Also, take a look at how to mix prints and patterns like a pro.

cutouts
Valentino – Michael Kors – 3.1 Phillip Lim
There were plenty of cutouts on display during the fashion weeks for winter and fall 2021. Some were very revealing, but there were others that were more wearable.
The cutout coat at Valentino (left) for example would add edge to an outfit. You could also try layering (such as at Phillip Lim) so you still stay as covered up as you want to while trying the cutout trend.

bold leather
Chloé – Isabel Marant – Ports 1961
While there's usually plenty of leather on show at winter and fall fashion weeks, this time around, it was more striking and colorful than usual. Look out for bold colors and patterns.

metallics
Michael Kors – Burberry – Balmain
After spending many of the past few months at home or unable to go out as we once did, it seems designers definitely were ready for a touch of glamour. I like the way designers livened up beige by teaming with gold.

a little (or a lot of) lace
Gabriela Hearst – Isabel Marant – Gabriela Hearst
There was lots of lace on the "catwalks" for the new season. Designers either opted for a full-on look with a lace dress or choose lace trims and details. One of the easiest ways to wear lace would be a lace top worn with pants or jeans as shown at Isabel Marant (center).

fringe details
Many designers choose to add some fringing to their looks, from the cowgirl looks of Etro, to the asymmetry at Fendi and the more subtle lace trim at Jason Wu. I'm definitely a fan of the more subtle approach.

off the shoulder
Valentino – Fendi – Christian Dior
If you want to add some understated sex appeal to your look, how about showing off your shoulders? You could even get an off-the-shoulder look in cold weather by wearing an off-the-shoulder top layered over a rollneck top (as demonstrated by Valentino – above left).

Asymmetric shoulders and necklines
Burberry – Proenza Schouler – Giorgio Armani
You all know by now what a fan I am of asymmetry. I love an asymmetric hemline on dresses and skirts. But you can also get a modern, asymmetric look with your sleeves.

velvet
Etro – Christian Dior – Giorgio Armani
Velvet can be aging, I think, so you definitely need to be careful how you wear it. Think about adding a touch of modernity with your velvet, such as with the velvet dress worn over leather at Etro.

feathers
Lanvin – Ports 1961 – Valentino
As well as fringing, there were also feather details on display from many designers. Feathers can definitely add glamour to your evening looks. Or, if you don't want such a full-on feathered look, you could always think about your accessories and add a feathered handbag or pair of earrings.

wide trousers
Jason Wu – Victoria Beckham – Etro
After many previous seasons of skinny pants and jeans, we are now definitely seeing more wide pants, which are great for daytime or evening looks. Wear with a slimline top to create balance.
Wide pants ca be perfect if you have an inverted triangle figure (where your shoulders are wider than your hips) as they can add balance to your silhouette.

relaxed suits
Victoria Beckham – Etro – Giorgio Armani
While it's all been about working from home over the past few months, that doesn't mean, you can't opt for a suit. For this fall and winter, suits have a more relaxed, rather than fitted silhouette. Choose prints or plains.

1970s vibes
Zimmermann – Tory Burch – Isabel Marant
I'm sure most of you have been through the 1970s once, and seem plenty of incarnations of 1970s trends over the years, given the cyclical nature of fashion.
This decade has definitely inspired designers again for the new season. An easy way to get the look is by wearing a 1970s print top with dark denim wide jeans.

jumpsuits
Michael Kors – Jonathan Simkhai – Roland Mouret
There were a lot of jumpsuits shown on the designer catwalks – perhaps because they're an easy way to add elegance to your looks if you're not quite ready for a dress, after so many months at home,
Choose a glamorous metallic style for evening, or opt for a bright pop of color. You can see that the Jonathan Simkhai and Roland Mouret jumpsuits (center and right) combined the jumpsuit trend with the trend for asymmetric shoulders.

sweater dresses and skirts
Stella McCartney – Tory Burch – Jason Wu
You could, of course, opt for you usual sweater and jeans outfit to stay cozy. But, you could also try a sweater dress or co-ordinated knitwear.

print midi dresses
Phillip Lim – Jason Wu – Victoria Beckham
Most of the dresses in my closet are midi dresses at the moment. And, while you may associate floaty, print midi dresses with summer, may designers featured them among their winter collections.
You could add a pair of long boots (as shown at Victoria Beckham, right) and a blazer or moto jacket to ensure you're warm enough as the weather cools down.

A white shirt goes with everything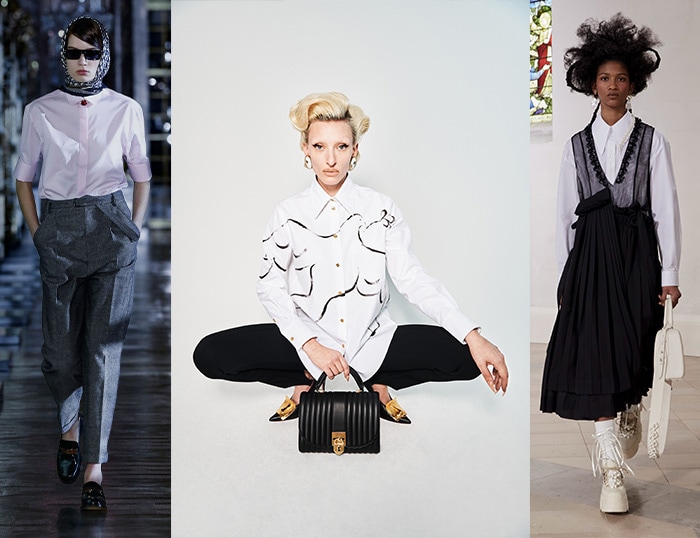 Christian Dior – Simone Rocha – Schiaparelli
A great white shirt is one of those wardrobe essentials that go with everything. You could use to layer (as at Schiaparalli, right) or opt for a print style like the shirt at Simone Rocha.

strong sleeves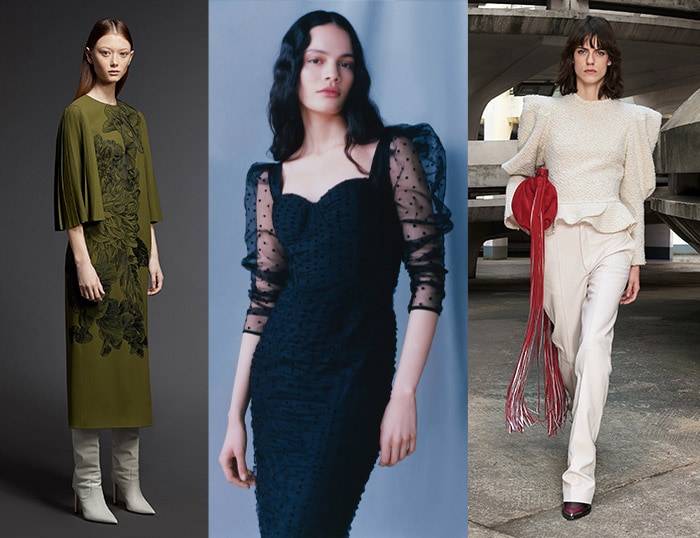 Jason Wu – Self-Portrait – Isabel Marant
Sleeve and shoulder details have been on trend for the past few seasons, and they're still here to stay. Choose puffed sleeves, or look out for volumnious styles featuring pleats.
This is a good trend for the pear shape as the wider shoulders will balance out your hips.

silk and satins
Giorgio Armani – Fendi – 3.1 Phillip Lim
Choosing fabrics which flow beautifully and feel great against your skin will never not be on trend. There were some beautiful fabrics on display for this new winter season.
You could dress a silk or satin dress or skirt up for evening. Or, you could always opt for a high-low style of dressing by combining formal with casual items. For example, you could combine trends by wearing your satin dress with a knit vest.

Do you already have some of these winter 2021 fashion trends in your closet? Or will you be adding some to your looks for the new season? I'd love to hear about what you plan to wear for the next few months.
Continue reading:
like this post on fall and winter 2021 fashion trends? share it on pinterest!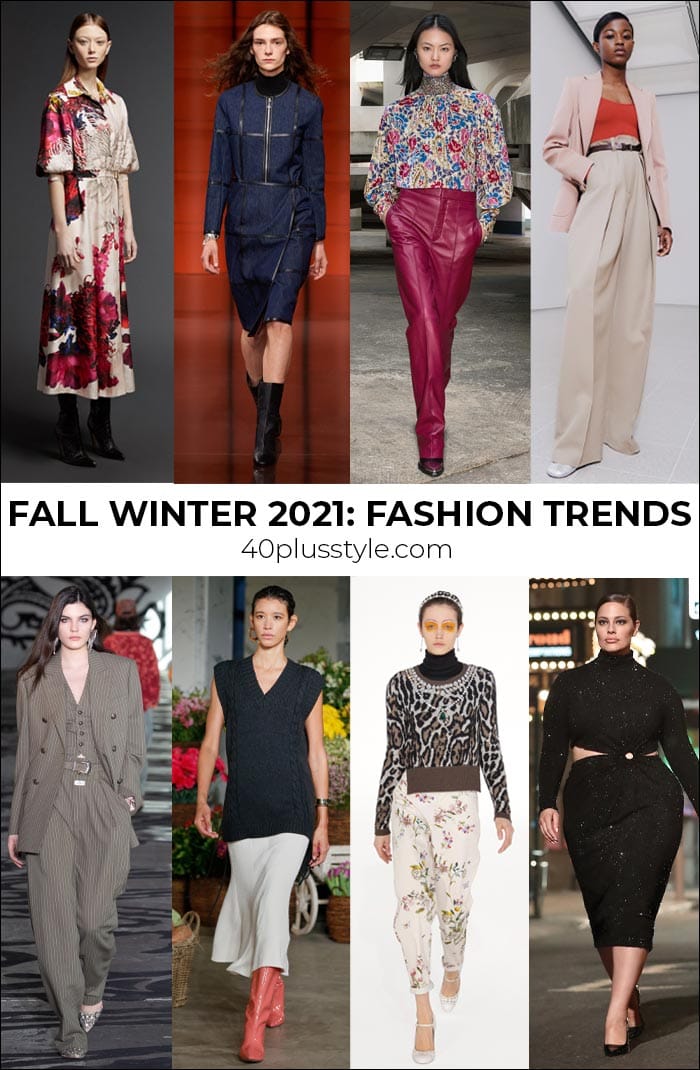 Images from Vogue
Want to get more articles from 40+style in your inbox, subscribe here.
You can also connect with 40+style on Facebook, Instagram or Pinterest.
Support 40+style by using the links in our articles to shop. As an associate for Amazon and many other brands, we receive a small commission (at no cost to you) on qualifying purchases which enables us to keep creating amazing free content for you. Thanks!