Spring is soon upon us! Are you ready for longer days, warmer weather and loads of color because the spring 2017 styles are here. This season, it's all about strong colors and patterns, military inspired details, and shades of pink galore.
Here's my rundown on the trends to keep an eye out for this spring. I also selected some styles that are already ready to purchase in stores.
1. Rose/Pink
A bright showy rosey pink was all over the runways in New York, Paris and London. Rather than the blush pink of season's past, this spring's pink is powerful with lots of red undertones. Look for it on dresses, coats and accessories this season.
2. The white poplin shirt
The simple white poplin shirt has been reimagined this season in lots of ways. You'll see it as an oversized shirt, as a dress, and with uneven hemlines and assymetrical edging.
3. Bold & bright stripes
The bold color trend for spring 2017 continues into stripes. Get ready for colorful, bold stripes in wide and smaller prints across dresses, shirts, pants, and accessories.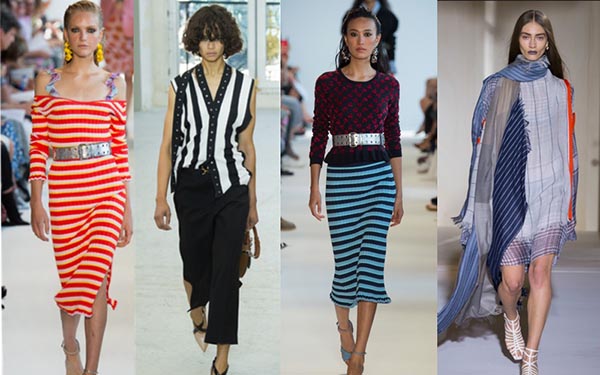 4. Khaki & utility details
Khaki, light brown, beige, military green and utility inspired separates bring a more pared down tone to spring 2017. Look for military inspired jackets, vests and trenchcoats, and shirtdresses in khaki. You'll see details like zippers, cargo pockets, and other utilitarian style elements.
5. Florals
Spring means florals in a big way this season. This season's pattern of festive florals ranges from delicate small prints to oversized bright and bold patterns on clothing and even accessories like shoes and purses.
6. Menswear inspired
Add some menswear inspiration this season for a fresh spring look. Details include menswear fabrics, striped shirts borrowed from the guys, vests, suiting fabric, and other masculine details interpreted in a female style.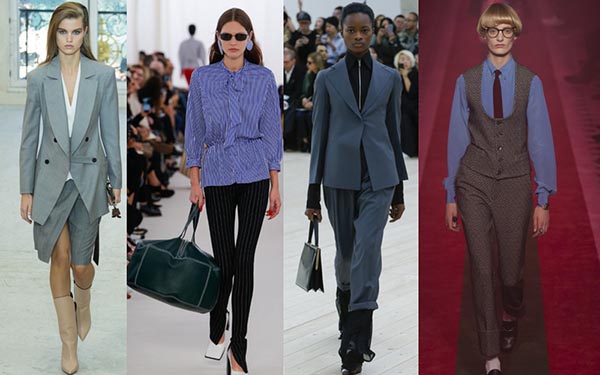 7. Ruffles & Fringe
Ruffled necklines and shoulders are everywhere this spring. Spring showcases ruffles in every variety, from bold, oversized ruffled necklines on evening wear to daintier, bohemian ruffles on the front of shirts or dresses. And look for fringe details on sleeves, used as layers on jackets and dresses, and just about anywhere designers can add them.
8. Athleisure
The athleisure trend continues into spring with sporty details appearing on pants, jackets, shoes, and even dresses. Stretchy fabric, zippers, blocks of color, bomber jackets, and mesh add a gym feel to everyday basics.
9. 80's details
The 80's are back and are adding a glitzy edge to style this spring. Look for metallic fabrics, larger shoulders and lapels on jackets, oversized blazers and bright, primary colors reminiscent of that era. You can easily add just a touch of 80's with accessories, like a glittery belt, metallic bag or shoe, or a dress in a pure, bright color.
10. Cold Shoulder details
The cold shoulder trend from last season continues with even more variety. Look to see more cold shoulder tops and dresses but also other details that highlight and expose the shoulders like exaggerated cowl necks, off the shoulder looks, and one shoulder tops and dresses.
As always, it's a good idea to add a new detail or two from each season's trends to keep your wardrobe fresh and current. An easy way to include some of the trends is with accessories or a single item that can be added with clothing you already own and love.
We'll be detailing more ways to incorporate some of these trends in accessories and shoes, so keep an eye out for those articles.
Which of the spring 2017 trends are you interested in adding to your wardrobe?

P.S. Next month in the 40+Style Club we are going to discuss the trends and preparing for a new season in great detail. You will also get a complete spring capsule wardrobe with 10 complete looks which we will share during the Spring challenge! Check here for more info.
All runway images from vogue.com
This article contains affiliate links