As the weather cools, you'll need to start thinking about changing your outfits to suit the changing temperature while making sure you still stay stylish. What are the 2021 winter essentials you would like to have in your closet this year?
You'll find mine below. Let me know if you agree with my list of winter clothes – or if there's anything you would add.
Casual winter wear
I've concentrated on casual clothes for winter when putting together the following winter essentials.
However, if you do have formal events to attend, you'll find plenty of inspiration in these articles on festive party outfits, cocktail dresses and little black dresses.
You may also want to take a look at this article on 33 wardrobe essentials to see you through the year.
Now, onto your cozy, casual, winter essentials…
1. A cozy sweater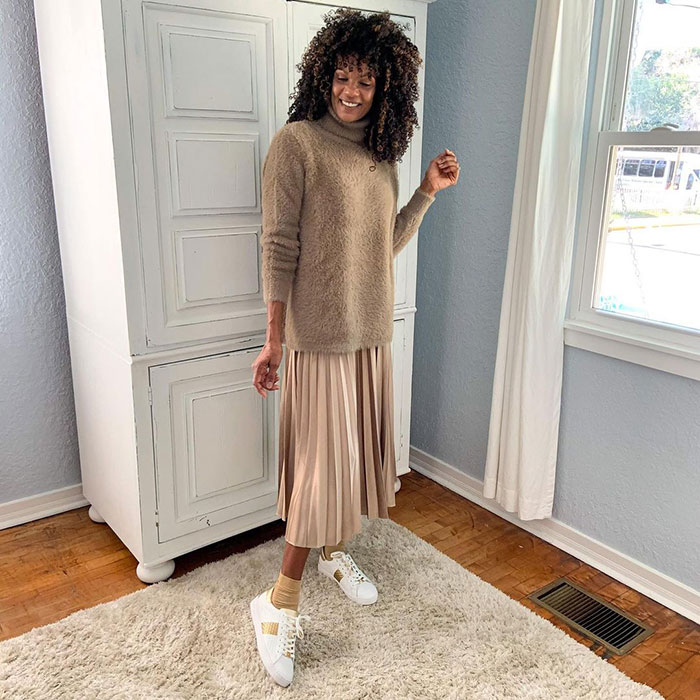 It goes without saying that a warm sweater is one of the first items of clothing you will want to think about when putting together your winter essentials for the upcoming season.
Think about what style suits your body shape. For instance, do you find v-necks or crewnecks more flattering? You could choose to add an element of luxury to your closet by choosing a cashmere sweater, or you could use your sweater to add color to your look.
Diane @fashiononthe4thfloor above (read her style interview here) opts for a lovely tonal outfit combining gold and beige.
Recreate her outfit with this similar sweater, pleated skirt and sneakers.
Vince Boiled Cashmere Funnel Neck Pullover
2. A long cardigan
A long cardigan is a great addition to your closet for many reasons. If the weather isn't quite cold enough for a coat, you could wear a sweater instead. A long cardigan also creates long, lean lines so can be a good choice if you want to hide a belly or you want to look taller and slimmer.
The cardigan (below) is very long so could double as a coat, depending on whether you're expecting rain.
Ted Baker London Islabel Ribbed Cotton Blend Cardigan
3. A long sleeved top for layering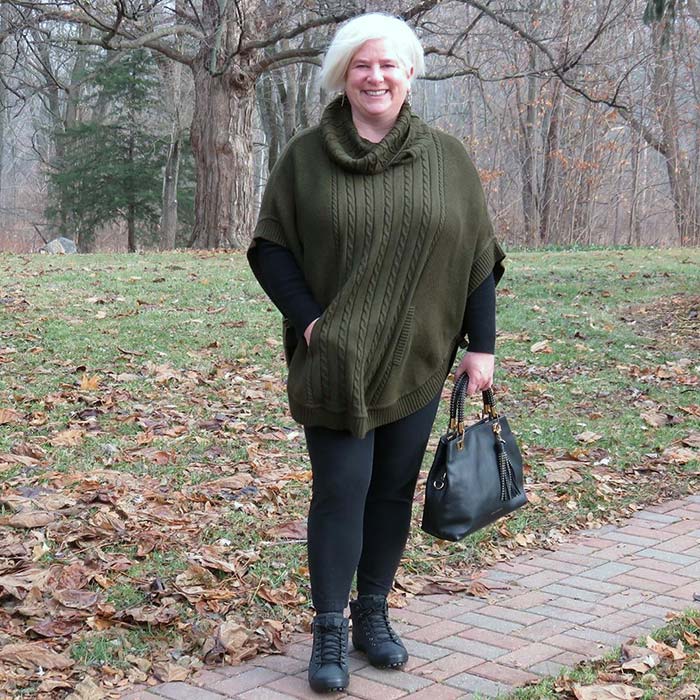 A lightweight long-sleeved top is incredibly useful for wearing as a warm layer under your other clothing.
Julia @when_the_girls_rule above (read her style interview here) wears her long-sleeved top under her poncho.
Get her look with this similar layering top, poncho, leggings, boots and handbag.
Icebreaker Merino 175 Everyday Long Sleeve Top
4. A turtleneck
You can wear your turtleneck alone, with your jeans, pants or skirts. Or, you could layer under your summer dresses to make sure you can wear them as the temperature dips.
Herou Long Sleeve Lightweight Soft Pullover Turtleneck Top
5. A casual shirt
A shirt, whether you choose white, checked or striped can be worn under your sweaters for added interest and warmth. Or, you could always wear as outerwear over your t-shirt or dress.
Abi @stealmystyle40 above chooses a casual look with her shirt and skinny jeans. If it's chilly where you are, you could always add a sweater.
Steal her look with this similar shirt, jeans, sneakers and crossbody bag.
6. A leather jacket
A shorter jacket is a useful closet staple, particularly for transitional weather. You can create interesting layers with a moto jacket by wearing longer layers underneath. Or, wear over your summer dresses so you can continue wearing them when the weather cools down.
7. A long warm coat
Of course, you'll want to either shop your closet for your winter coat, or treat yourself to a stylish new one to make sure you stay warm.
Annette @theladyofstyle above (read her style interview here) above opts for a neutral coat and leather pants.
Check out this similar coat, pants, flats and crossbody bag.
The De La Creme winter coat (below) comes in a similar camel shade, or you could add a pop of color with the red option. Reviewers say it is amazing quality and looks more expensive than it is.
De La Creme Winter Wool Cashmere Wrap Coat
Take a look at how to choose a coat for more inspiration.
8. A warm casual coat
As well as a long winter coat and a short winter coat, you may decide you would like a warm casual style, for winter walks and lazy days. The puffer coat (below) nips in at the waist to give you some shape as well as having a warm layer of insulation.
WenVen Winter Thicken Puffer Coat
9. shacket
An on-trend option for you this year, the shacket, or shirt-jacket hybrid will update your existing outfits.
10. Warm winter leggings
Leggings are a good addition to your winter closet. You can wear them with a long shirt or sweater. Or you can wear under dresses for extra warmth. Choose a warm, fleece-lined pair of leggings to stay cozy.
Troy @thethriftanista above (read her style interview here) above wears her leggings tucked into ankle booties and layers a duster jacket to create extra interest and long, flattering lines.
Check out this similar tank top, long topper, leggings, booties and crossbody bag.
UNIQLO Heattech Ultra Warm Leggings
11. A pair of winter pants
A pair of winter pants can be perfect to wear with your sweaters. Choose a versatile black pair or opt for an interesting pattern.
Karen Millen Geo Sparkle Stretch Jacquard Slim Leg Trouser
12. A great pair of jeans
Jeans are a closet staple, no matter what time of year it is. If it's really cold, you can always wear your leggings underneath.
If you choose a skinny pair, you can wear knee-length booties over them.
Suzanne @asksuzannebell above (read her style interview here) cuffs her jeans so she can wear her ankle boots with them.
Get her look with this similar sweater, jeans, boots and tote.
Mavi Jeans Marcia Crop Bootcut Jeans
13. A leather skirt
Winter can be a great time to play around with different fabrics and textures. A leather skirt (or a pair of leather pants if you prefer) will look great with a blouse or sweater.
Karen Millen Leather Pleated Buckle Kilt Midi Skirt
14. A sweater dress
Your sweater doesn't have to be waist-length. You can wear a sweater dress if you prefer dresses to jeans and pants. You can wear your leggings and a pair of booties with it.
Pysche @economyofstyle above wears her sweater dress with chunky boots and a colorful scarf. You could also choose a longer style if you aren't so comfortable showing off your legs.
Steal her look with this similar sweater dress, boots, tights, bag and scarf.
Caslon Double Knit Long Sleeve Turtleneck Sweater Dress
15. A warm hat
It's a well-known fact that heat escapes from your head in cold weather. A hat can add an extra element to your outfit as well as keeping you warm.
16. A scarf
A scarf adds warmth and can also tie in the different colors in your outfit or add a pop of different color. Maudie @my_silver_years above keeps her look neutral and adds interest with the pattern on her scarf.
Get her look with this similar sweater, jeans, tall boots and scarf.
Zando Plaid Blanket Winter Scarf
17. Base layers
In cold temperatures, it's impossible to stay truly warm unless you layer properly. Opt for a camisole, vest or long-sleeves base layer under your outfit.
Thermajane Ultra Soft Thermal Underwear Long Johns Set
18. A pair of gloves
As the weather cools, choose a pair of gloves that will keep your hands well-dressed and warm. Either add a pop of bright color, or choose neutrals.
Jess @elegantlydressedandstylish above (read her style interview here) adds black leather gloves to her outfit.
Recreate her outfit with this similar coat, jeans, booties, handbag and gloves.
19. Warm tights
They fulfill many of the same functions as a good pair of leggings, but you may prefer to add tights to your wardrobe if you like to keep your feet covered rather than have to wear a pair of socks.
You could opt for black, or perhaps add a different wintery color such as navy or burgundy.
VERO MONTE Opaque Warm Fleece Lined Tights
20. Booties
Suzie @suzie.richetti above shows you can still wear your white jeans when the weather gets colder by adding a pair of booties.
Recreate her outfit with this similar anorak, pants and booties.
A pair of short booties are very versatile. You can wear your booties with your skirts, dresses, jeans or pants.
21. Tall boots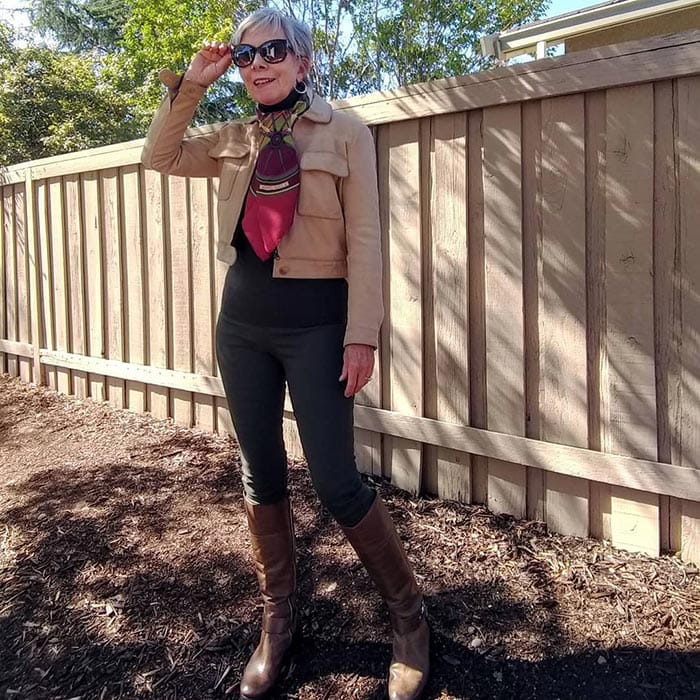 As well as ankle booties, you may wish to add a pair of knee high, or over-the-knee booties. You can wear over your skinny jeans or with your dresses and skirts.
Eileen @eileenternullo above matches her long boots to her jacket.
Check out this similar crop jacket, long top, pants, boots and scarf.
The Dream Pairs boots (below) have 4,000+ largely positive reviews from women who say they are warm, well-made and amazing boots for the money.
DREAM PAIRS Knee High Riding Boot
22. A crossbody
As well as your clothes and shoes, you'll want to add some accessories to your closet. A crossbody is a good match for a casual winter capsule.
Kate Spade New York Knott Colorblock Pebbled Leather Crossbody Bag
23. A tote
If you want to fit more in than you can in a crossbody, you could choose a tote to take all of your daily essentials with you.
Kurt Geiger London Violet Leather Tote
2021 winter essentials capsule wardrobe
Now that you've looked at all the individual essentials you might think about for winter, how will you put them together? Take a look below at 9 outfit ideas.
You can see you could easily change the tops, bottoms and coats around to get many different looks.
Continue reading:
What are your own winter essentials? I'd love to hear what your favorite closet staples are during the winter months.
Like this post on 2021 winter essentials? Share it on Pinterest!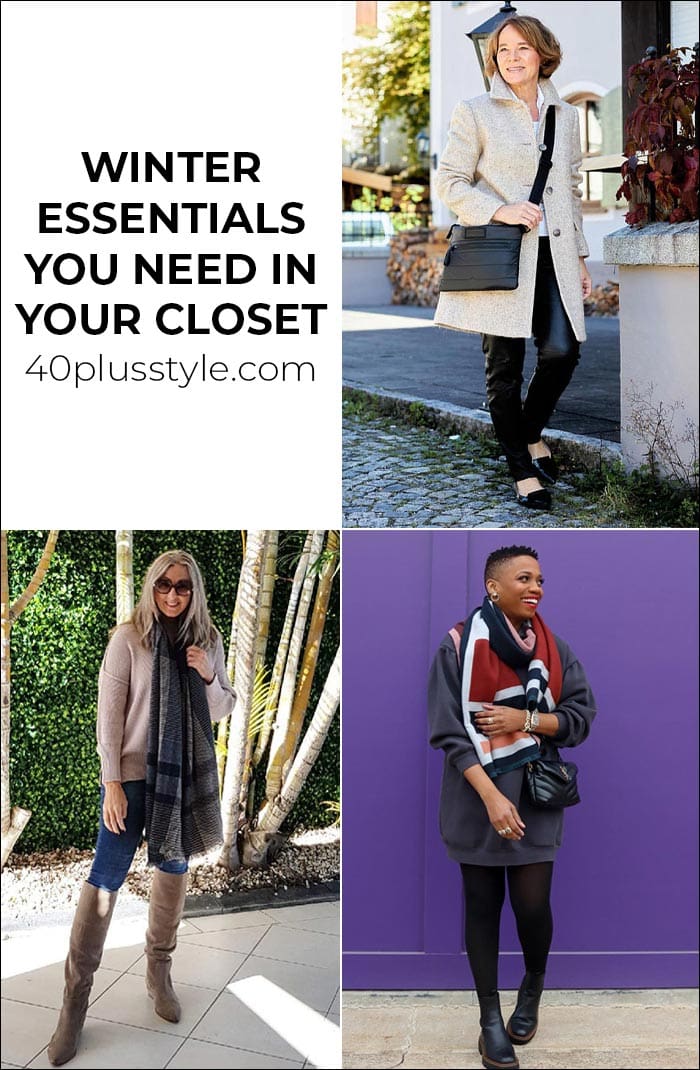 Feature image Pysche @economyofstyle
Want to get more articles from 40+style in your inbox, subscribe here.
You can also connect with 40+style on Facebook, Instagram or Pinterest.
Support 40+style by using the links in our articles to shop. As an associate for Amazon and many other brands, we receive a small commission (at no cost to you) on qualifying purchases which enables us to keep creating amazing free content for you. Thanks!