Julia started her blog when she saw one of my comments that there aren't that many apple body shape women yet on the internet that blog.
She has also written some articles for 40+Style.
You may like her view on the best shops for women with apple body shape.
Let's find out more about her and discover her style secrets!

Can you tell us a little bit more about yourself?
Hey everyone! I'm a freelance designer, mom, wife, sister, daughter and friend. I've been with my husband Dave for 26 years and we have a daughter, Kealan, who is 21 and a daughter Sara, who is 18. We have a 10 acre horse farm and live in a 103 year old farm house in a semi-rural area.
As a point of reference which age group do you belong to or perhaps you are willing to share your age?
I am 49 years old. I am never hesitant to tell my age because I totally don't get why we're supposed to be ashamed of our age as women. It's not like we did anything wrong…
Why were you interested in contributing article to 40+Style?
I love the community Sylvia has created here as well as a one-stop reference site for fashion and style for women over 40.
Plus, being an apple-shaped woman I am excited to share what I have learned on my style journey and look forward to bringing women who look like me into the spotlight.
What can we expect of you at 40+Style?
Besides fun? Well…
First, I'll be keeping it real. I own all the clothes you'll be seeing and though they aren't the cheapest clothing options out there they will be realistic, accessible items that don't require you to choose between new shoes and the electric bill.
Second, I will give courage and encouragement, as well as real working knowledge, from a genuine, apple-shaped woman, to put together an outfit that you will feel good wearing.
Check out Julia's favorite shop for apple shape women.
Third, my goal is to give women with an apple-shape the same jolt of confidence that other women get when they put on an outfit. I hadn't felt that little lift in decades, but when I figured out what to wear I did get that thrill and would look in the mirror and say "I am one foxy lady!".
And fourth, I'm going to keep it light and fun so you don't have to trudge through my articles to learn and I'm sure I won't be able to resist some sassy opinions too!
How would you describe your style?
Practical, everyday confident woman with a bit of sass.
What would you consider the most important components of your style?
I'd say using the "three piece" rule, where you have a bottom, top and a "third piece" like a jacket or sweater to complete the look are the foundations for my style.
And hoop earrings. I love hoop earrings.
You may also like our favorite tips on how to hide the belly.
Where do you live and how does that influence your style?
I live in the United States in the northern part of the Midwest in a state called Michigan. It is the state that is shaped like a mitten and is surrounded by the Great Lakes.
We have four distinct seasons here varying from very cold and snowy winters to very hot and humid summers, so the weather affects my style.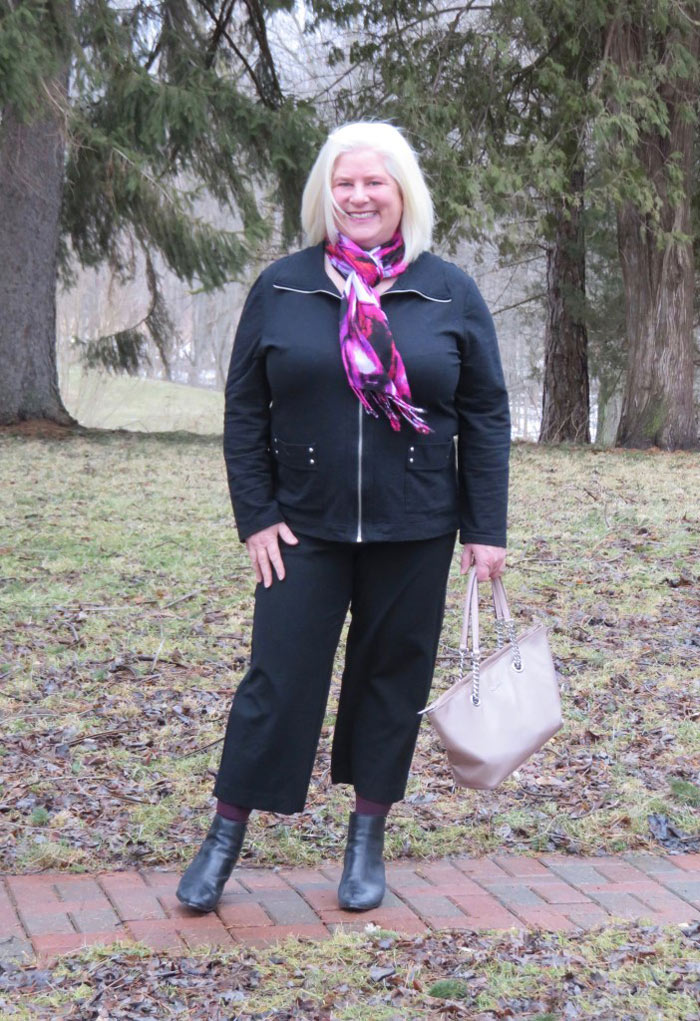 It's also probably a bit more conservative and reserved in clothing than the coasts, so I think my style is toned down by that reserve.
What inspires your outfit choices the most?
Ha! Probably whatever is clean! But, let's say everything is clean, wrinkle-free and on hangers, then I'd say what inspires me on any given day is how I'm feeling. If I'm feeling strong and confident then I'll pick out a similar outfit.
If I'm feeling the opposite I'll wear clothes that I don't need to give a second thought.
However, sometimes I'm not feeling confident and I'll wear something to give me confidence. Some days I don't mind wearing a high maintenance outfit because I feel I can handle it while other days I want my outfit to be soft and comforting.
So, after what's clean, I'd say I'm affected most by my mood to make my outfit choice for the day.
Do you take things like color profiling or body type into account when you dress?
Oh my gosh, yes. As an apple-shaped woman, body type rules all. Since our shape is usually not designed for, we struggle to find something to fit, let alone like or feel good about ourselves while wearing. My shape determines every item I own, except scarves and jewelry.
I do take into account color too. When I stopped dying my hair 10 or so years ago, I noticed the colors that I had worn, especially around my face, no longer looked good.
I have blue eyes, pink skin and white hair now so I look for colors in my tops and scarves that will go well with white, pink and blue. I wear a lot of black and gray and jewel tones. Silver jewelry works best with my coloring too.
Would you say you have a signature style? And if yes, what are the main elements?
I don't think I have a signature style yet and kinda hope I don't get one since I think it means I'm in a rut. I've only been doing this fashion thing for two years so perhaps it's just the newbie in me talking.
Has your style changed at all after turning 40?
Definitely yes. As my children have grown older, I've been able to give myself more time to care about what I wear and how I look. My body has changed a lot since I was a young woman when I could pull anything off.
Now, I prefer a bit more sophisticated, tailored look with classic pieces that never go out of style. I'm also more confident now than when I was younger. That has definitely influenced my style.
Do you believe in dressing 'age appropriately' and what does it mean to you?
Hmmmm, I'd say anyone can wear whatever they feel like wearing whenever they feel like wearing it. For my own self, I know I don't want to dress like a teenager or look like I'm trying to pass off as a twenty-something, but I do not judge what anyone else is wearing.
If you feel good, wear it!
Also check how to dress after 40 and look hip.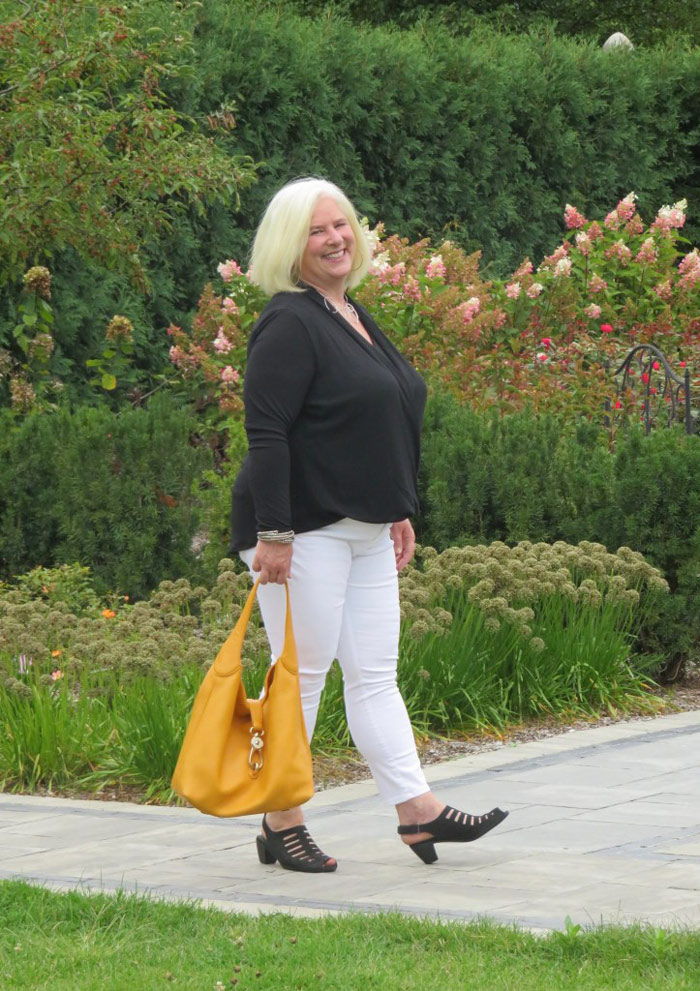 Would you say that at this stage of your life you are now more, or less interested in fashion, style and the way you look?
I'd say I'm much more interested right now. I was very interested in fashion as a teenager and twenty-something but as soon as kids came along, fashion went out the door. Now, I'm more confident as a person, have more money and time and know what I like and what looks good on me so I'm way more interested in style and fashion.
Why is the way you look important to you?
Honestly, if I feel good about the way I look, people treat me differently. It almost feels like a spell. If I am walking with a confident step and holding my head high with a genuine smile, people see a better me.
Do you follow trends? And if yes, which trends excite you at the moment?
I follow trends for color because I think it's an easy way to update a wardrobe and usually they are so beautiful I want to wrap myself in them. The trend I'm excited about at the moment is pattern-mixing because it's something I haven't done before and it's challenging.
I always love a challenge and enjoy learning to master something.
Do you have any fashion and style tips for women over 40?
In the past, women over a certain age (40? 50?) were invisible and/or just considered as the Grandma stereotype or the Crabby Old Woman stereotype or the Ditzy Older Woman stereotype, but that is changing and I'd like women to continue to push those stereotypes off a cliff.
I'd like to see women over 40 put some sass into their outfits and add a little bit of "bad ass" to their look. So, my tip would be to push the envelope of what you think a middle aged woman should look like.
Try to remember when you were younger and wanted to change the world and put some of that passion into pushing the definition of middle aged woman, even if it's just with your earrings or a pair of darling boots.
Anything further you would like to add?
I am excited about this opportunity to share what I have learned with your readers, especially the apple-shaped ladies, since they have the hardest shape to dress in today's designs.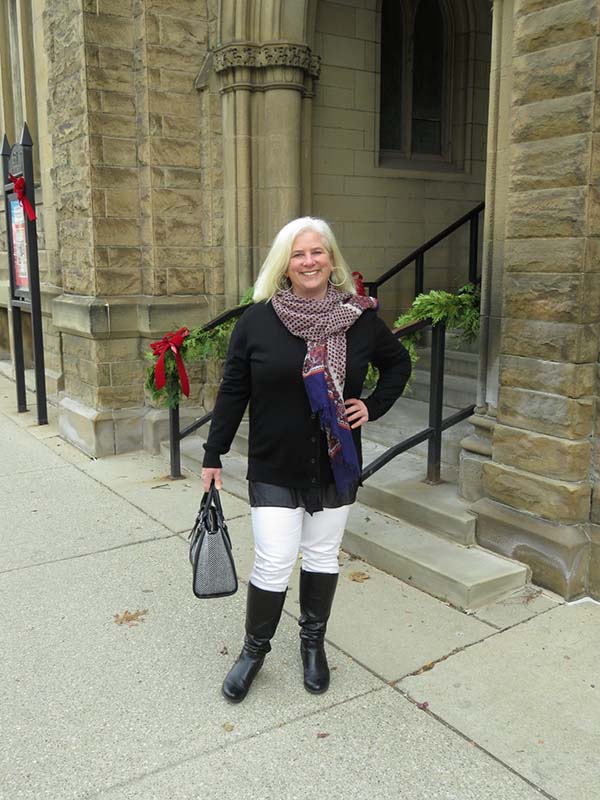 I look forward to getting to know your readers and having supportive conversations with them to give them the little boost of confidence when they walk out the door in a rockin' outfit.
Want more tips for the apple shape check our guidelines for apple shaped women.
I am a woman on a mission to have all apple-shaped women catch their reflection in a window and think "I am one foxy lady"!
You can find more of Julia on her blog When the Girls Rule and her instagram.
Discover her favorites stores by visiting the best shops for women with the apple body shape.
Which outfit of Julia do you like the most?

Want to get more articles from 40+style in your inbox, subscribe here.
You can also connect with 40+style on Facebook, Instagram or Pinterest.
Support 40+style by using the links in our articles to shop. As an associate for Amazon and many other brands, we receive a small commission (at no cost to you) on qualifying purchases which enables us to keep creating amazing free content for you. Thanks!