If you have an apple shape it can often be hard to find a brand of clothing that works for you. After much research, I believe I have found a great one!
If you are an apple-shaped woman you know that there are very few brands that design for our shape.
In fact, when Sylvia asked me to write about my favorite brand, I didn't have one (although I previously wrote about my favorite shops for women with the apple body shape) and didn't know if I could find one.
Best brand for apple shaped women
However, I took it on as a challenge to find a brand that is widely available and reasonably priced. I found it at Macy's with their Alfani brand.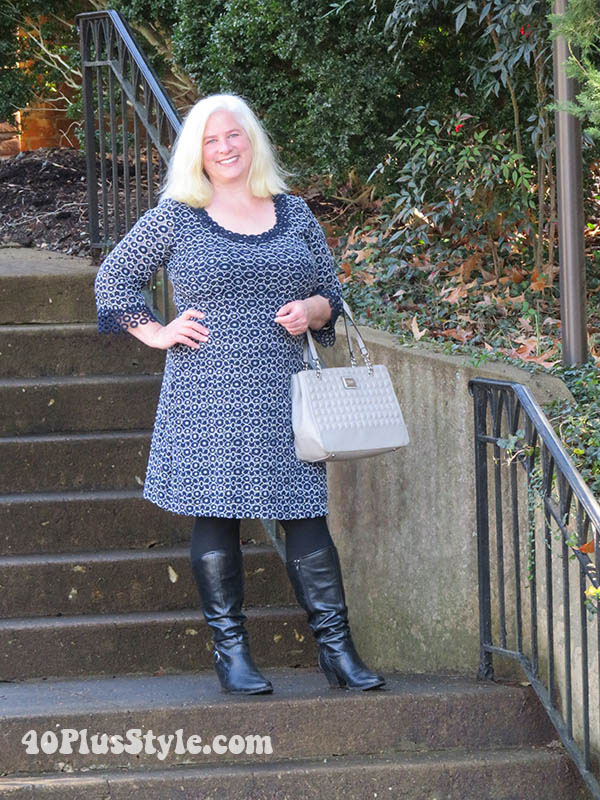 They have a variety of clothing from work wear to casual pieces to fancy special-occasion clothes.
I visited two Macy's to see if they were similar, one in a large city and one in a smaller city, and found a nice variety at both stores.
What makes a good brand for apple shaped women?
Honestly, I found it to be thoughtful details.
For example, the dress above has a wider, rounder neckline that I find to be the most flattering if you have a big bust.
It's also made of textured fabric that has stretch and the dress is lined.
The textured fabric camouflages any bumps or dents and the lining keeps it skimming your body rather than clinging.
The details around the cuffs are eye-catching and keeps the dress stylish and fun.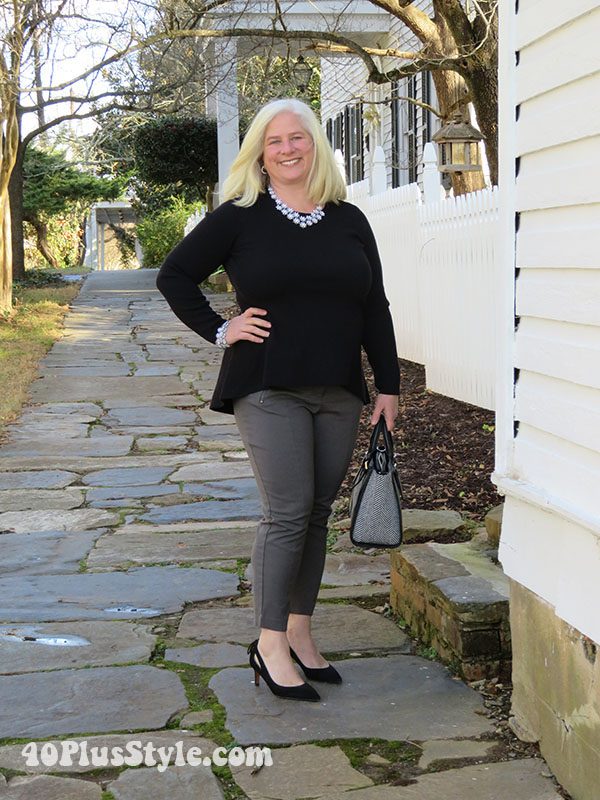 I own several pairs of their pants after I discovered their waistbands, usually my biggest hurdle in finding pants. The fabric is also stretchy, so no constriction or tightness.
They have a variety of cuts and styles with on-trend colors and fun patterns and the waists were wide and stretchy.
I also found they had short and long pant lengths, something I appreciate being 5'2"!
They have several sweater styles with asymmetrical hems and interesting sleeves and collars.
Want to know why asymmetrical clothing is so flattering, check this article on how to wear asymmetrical clothes.
The black sweater I'm wearing above is super-flattering with the fabric fitting my bust well, then skimming over my middle and ending in a cute cut that covers the backside.
The way the sweater is cut and the knit of the fabric makes this sweater one of the few sweaters I own that I don't feel the need to add a jacket or vest to give me more coverage. It covers what I want and it does it in a cute way!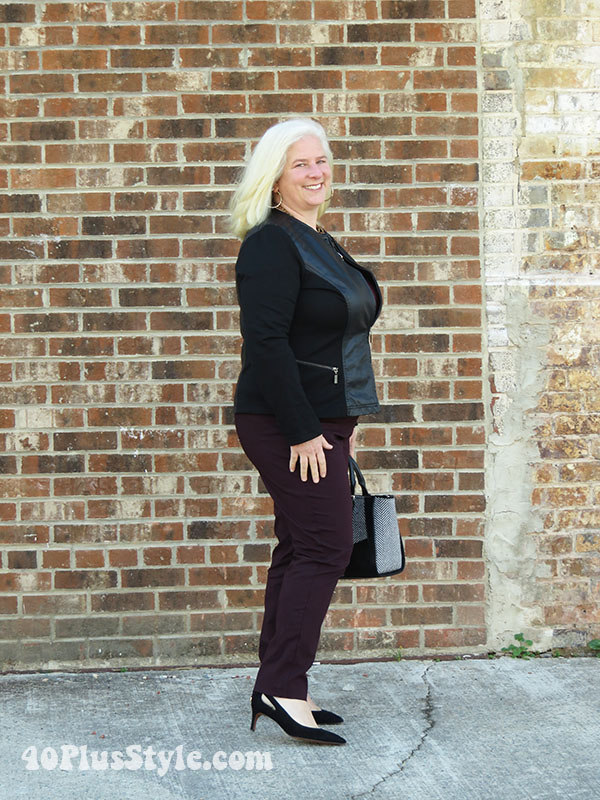 As an apple-shaped woman, I had given up on trying to find a jacket that actually zips, but I found one here! It has the stretch fabric on the side and the faux leather on the front, making it look stylish.
The zipper pockets are in a flattering diagonal and the collar lays flat, even with a large bust, so would look great with a scarf over it. It also hangs nicely when opened. It doesn't drape awkwardly around my bust, but hangs straight giving me a nice vertical line that breaks up my bust and torso. It's also available here in a plus-size.
I could have bought a lot more items, so here are some items I am really tempted by:

I'm sure there are other brands out there that I'm not familiar with and I know there are boutique brands, but if you're like me and live in a place where the mall is your only option, then this brand at a major chain will give you many options.
Want more tips? Check our guidelines on how to dress the apple body shape.
Have fun shopping!
P.S. If you like a free downloadable style guide for the apple shape, you can download the guide below (website only).
Julia
Want to get more articles from 40+style in your inbox, subscribe here.
You can also connect with 40+style on Facebook, Instagram or Pinterest.
Support 40+style by using the links in our articles to shop. As an associate for Amazon and many other brands, we receive a small commission (at no cost to you) on qualifying purchases which enables us to keep creating amazing free content for you. Thanks!