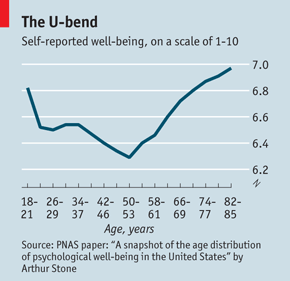 You may think that you feel more miserable as you grow older. Your looks may fade, your health may deteriorate and your quality of life may go down. But nothing seems further from the truth. Research has shown that older people are actually happier. The turning point seems to occur at the age of 46. People in their 20s tend to have a happiness score of about 6.8. After that it declines and it will reach their lowest point at age 46. But from that age onwards happiness steadily increases leading to a happiness score of about 7 at age 80. This phenomenon is also known as the U-bend.
Why are older people happier?
The research concluded that there are 4 main factors of happiness:
Gender (women tend to be happier than men)
Personality (being an extrovert helps you being happier)
External circumstances (surprisingly enough people with children in the house tend to be less happier)
Age
If we just concentrate on age factor, the study concludes that older people are happier because of internal changes.
The happiness factors
Here are just some of the factors that contribute to older people being happier:
Older people tend to be more emotionally intelligent and are better at controlling their emotions and argue less.
They are better at living in the present moment and focus on things that matter now.
They are more accepting of their strengths and weaknesses.
They learn to accept aging and see that as a source of relief.
The benefits of growing happiness in older age
The fact that older people tend to be happier has tremendous benefits:
Happier people make other people happy.
Happier people tend to be healthier. The more happy you feel the less prone to illness you will be.
Happier people tend to be more productive.
So what does this all mean to you?
Although this all sounds great it is still important to note that people between 40-55 are the unhappiest of them all. So why not practise the skills of older people at this age?
Try to live more in the present and accept yourself as you are and actively work on your confidence. My free training will help with that.
By all means improve yourself or your looks, but don't let it become an obsession.
In the end, happiness is the most important thing to achieve and that in itself will keep you younger!
Tell me, what do you think of this research? Have you got happier as you turned older?
Want to get more articles from 40+style in your inbox, subscribe here.
You can also connect with 40+style on Facebook, Instagram or Pinterest.
Support 40+style by using the links in our articles to shop. As an associate for Amazon and many other brands, we receive a small commission (at no cost to you) on qualifying purchases which enables us to keep creating amazing free content for you. Thanks!