The outfit above shows my JNBY dress combined with an alldressedup cardigan. Here it's worn with tights but for colder weather I would probably wear it on top of black pants or leggings.
Following my quintessential fall outfit I showed your recently, here are some more fall outfits that I have tried. Most of what you see here today are actually clothes that I bought for summer, but that can easily be worn for fall as well.
The last time I wore fall / winter clothes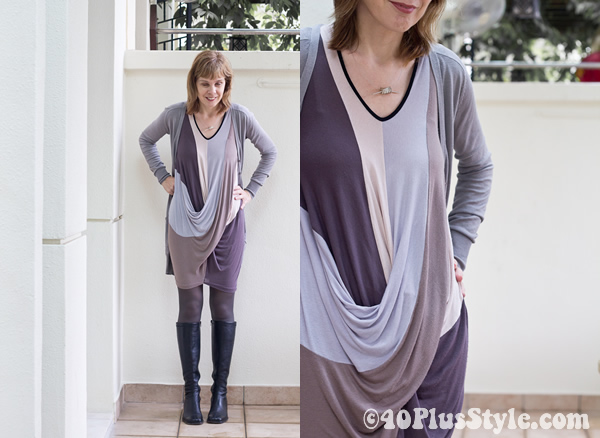 Wearing an Alldressedup dress and Zara cardigan. Again I would probably wear with trousers in colder weather. I've worn it before with Calvin Klein pants. Now that I look at the pictures I'm not crazy about this look.
That was actually at Christmas, almost 2 years ago. I went for a visit to my home country Holland and it was actually snowing. My son was delighted as he had never seen snow in his life. He fell in love with it straight away and enjoyed a very splendid holiday full of sledding and snow ball fights.
I was less delighted, as being a person who always feels cold, I really had to pile on the clothes and the jackets. I got sick anyway.
Before that I actually lived in Shanghai, which is now almost 4 years ago. Shanghai is incredibly hot in summer but very cold in winter, so that's the period where most of my winter clothes and especially my winter boots are from.
My boots

Another jersey dress from Alldressedup. (I got a bit crazy during the last sale). This is actually a very nice fall color and if you combine this with a jacket or top (see below), you can easily wear this for fall. The length is also perfect for the current trend.
In this post I'm showing my black winter boots, which together with my brown winter boots, I've had made in Shanghai. Having your shoes custom made was very affordable there and would be about the same price as a pair of boots here. Boots that fit you perfectly are especially hard to find so they are the perfect candidates for this. The process was quite simple. They will measure your foot and when your shoes are ready you come for a fitting. In my case they had to adjust a few things but after that I got the perfect boots.
Ok , I look a little bit like a robot in these pictures but here I wear the dress with a Stella McCartney for adidas vest that would keep me nice and warm. (it looks better in real life, I swear). I'm not so sure about the second combination where I wear an Alldressedup t-shirt in the same color over the dress. Still, it's a fun look.
Next time a few more conventional looks!
What do you like? Or are these all a bit too crazy for you?