The right pair of trendy shoes can make a huge difference to your outfit.
If you're treating yourself to a new pair of shoes for fall, here are the trendy shoes that were on display on the winter and fall 2019 catwalks.
If you want to know more about the fall trends, see our full fall / winter 2019 trends report here and the latest color trends here.
The best trendy shoes for fall and winter
Whether you will be adding something new to your closet this fall, or you want to check if you already have some of these trendy shoes in your wardrobe, here are the 20 biggest shoe trends for fall and winter 2019 to wear.
Read our article on the 12 best winter boots for women to learn more.
Shoe trend: Fabulous florals
Why stop at your clothing when it comes to wearing prints and patterns. There were lots of beautiful floral shoes and boots on the catwalks for fall 2019.
The floral boots on show from many designers were one of my own favorite trendy shoes this year.
They would update even the simplest of outfits. Imagine how lovely the floral boots would look just with a pair of jeans and a sweater.
Erdem – Dries Van Noten – Valentino

Fall shoe trend: Lace-up boots
There was a nod to Victoriana on the catwalks this season too. Lace-up boots are very much on trend again.
Although, I have to say, unless the boots had a zip at the side so you didn't have to lace them up, I'm not sure I'd have the patience, or the time, for all the laces.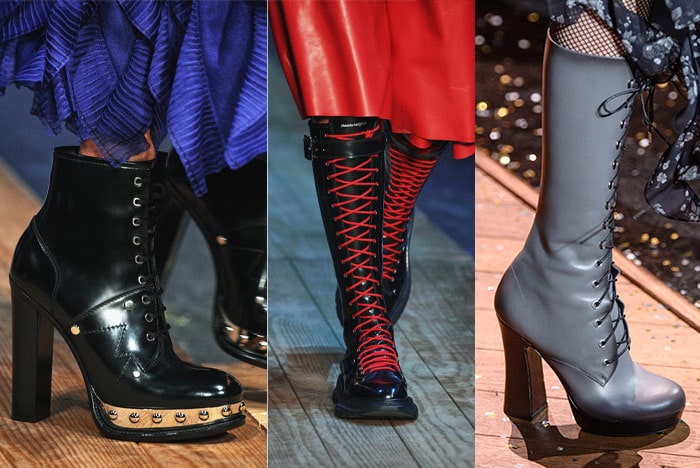 Alexander McQueen – Alexander McQueen – Michael Kors

Trendy shoes with shearling detailing
It wasn't just about colors or heights this season, but also about texture. Shearling detailing could be seen on many runways.
Chanel chose to use a lot of shearling on snow boots, but I preferred the more subtle detailing of the shearling trim on Celine's boots.
Off-White – Celine – Chanel

Shoe trend: Square toes
Square toes were very much on trend in the 90s, and are making a comeback.
You may already have some square-toed shoes which you have pushed to the back of your closet.
There were square toes on everything from casual boots to dressy shoes.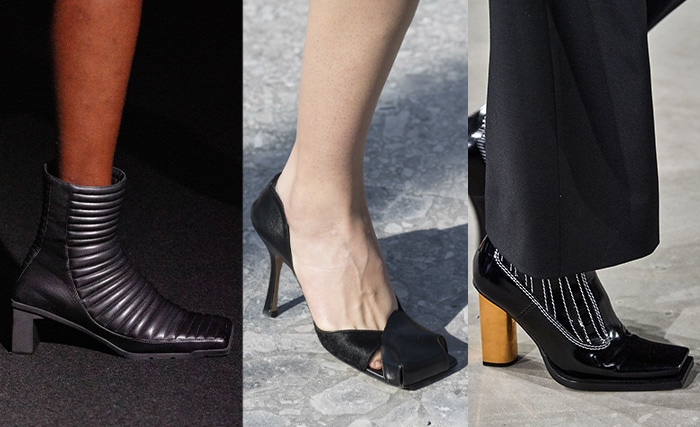 Balenciaga – Bottega Veneta – Proenza Schouler

Shoe trend: high Mary Janes
Mary Janes can look cutesy as they can be associated with the shoes you wear as a schoolgirl.
But, they can also be sophisticated and ladylike. Plus, if you like to wear straps on your shoes, Mary Janes can have an advantage over ankle strap shoes.
While a strap across your ankle can make your legs look shorter, as it effectively cuts across your leg, the straps on Mary Jane's are lower down on your foot, so you don't have that problem.
Michael Kors – Miu Miu – Michael Kors

Shoe trend: bulky Platforms
I don't know about you, but I definitely won't be going for quite such a 70s vibe, or a high heel, as those on display at Stella McCartney and Dries van Noten.
But, a hidden platform, such as that used by Givenchy, can be a good option trendy shoe which add height.
Stella McCartney – Dries Van Noten – Givenchy

Stretchy calf high boots
I've already spoken about how ankle straps can be unflattering if you aren't careful as they cut across your leg.
Calf high boots were on show on the runways of many designers.
But this shaft height can also be challenging to wear. If you do opt for a calf height, be careful about where the boots end on your leg. On the other hand, they are perfect to wear under your cropped pants!
If you're wearing these under skirts or dresses, what you don't want is for it to end on the widest part of your calf as this will simply draw attention to that area.
You can avoid this problem by wearing calf high boots with a similar color pair of jeans or pants.
Check out the sculptural heel on Loewe's boots. This was a trend for spring and summer, and is carrying through into winter and fall.
Valentino – Chloé – Loewe

Winter wedges
The wedge heel is a style which is often associated with summer; think about espadrille wedges worn with summer dresses.
However, designers this fall have shown that wedges can work for winter too.
Be careful not to go for too narrow a wedge if you feel you could have trouble walking in this style of heel.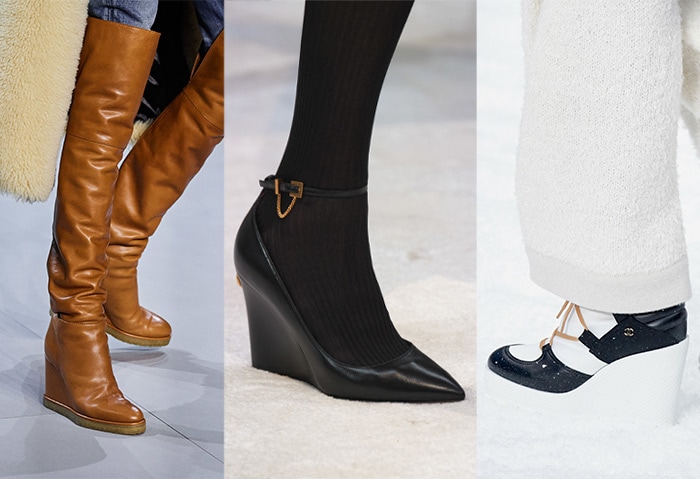 Celine – Valentino – Chanel

Trendy shoes with flared block heels
These are heels which will definitely be easier to walk in. Block heels are much more stable than stilettos, but you still get the added height.
These flared heels mean that you have even more surface area to walk on.
For more inspiration take a look at this piece on the most comfortable heels that look hip and are comfortable to wear.
Hermès – Chloé – Dolce & Gabbana

Silver and sparkle
It's no surprise that there was plenty of bling on show for winter.
Sparkly silver shoes are always a good option for party season. These would update any black dress you already have in your closet.
Prada – Givenchy – Tom Ford

Buckles everywhere
As well as laces on boots, there were plenty of buckles too.
Again, unless there is another way of getting into the Giambattista Valli boots, I don't think I'd be patient enough to wear them, but I love the casual style shown by Altuzarra.
Altuzarra – Louis Vuitton – Giambattista Vali

Cowboy boots
There were certainly plenty of boot styles to choose from for fall 2019.
If you already have a pair of cowboy-style boots, then it could be time to take them out of your closet again.
Louis Vuitton – Prabal Gurung – Paco Rabanne

Classic shoe trend: Animal print shoes
I can't think of a year, or a season, when animal print has not been on show on the catwalks of the major fashion shows.
This season, animal print was used on everything from sneakers and heels to ankle booties.
Burberry – Giambattista Vali – Paco Rabanne

Croc or reptile textures
As well as the expected leopard print, there was also plenty of reptilian print and texture on the runways, including crocodile and snake.
Givenchy – Michael Kors – Givenchy

Green is the new black
Every season, there seems to be one color which is a a sub-trend. This fall, green was definitely in favor.
Any shade of green goes, whether you prefer a racing green, primary shade or an olive.
Off-White – Loewe – Versace

Purple
But, green wasn't the only popular color. Many designers also opted to use purple.
Opting for a pair of shoes or boots in one of these two colors can be an easy way to update your existing outfits.
Erdem – Prabal Gurung – Prada

Slouchy boots
Another boot choice for you. Do you remember the slouchy boots styles of the 80s?
Well, they're definitely back on trend. Boots had some slouch at the ankle, but still had a very elegant look.
Michael Kors – Celine – Saint Laurent

The open 'V'
Another little sub-trend was the open-V style. Just as with a v-neck on your clothing, this can have an elongating, slimming effect.
If you have wide feet and want to make them look narrower, this could be a good option.
Prabal Gurung – Mary Katrantzou – Prabal Gurung

Kitten Heels
If you love your heels, but don't want to go to high, you'll be pleased to know that kitten heels are still very much on trend.
Erdem – Bottega Veneta – Prabal Gurung

Brogues
Brogues have been on trend for women for a number of years now and they're one of my favorite shoe styles.
You can wear them with a dress or a pair of pants or jeans. However, depending on your choice of brogue, they can run the risk of looking a little clumpy.
Burberry made sure there was no chance of that by taking inspiration from a brogue but creating a very delicate high heel.
Louis Vuitton – Prabal Gurung – Burberry

Which trendy shoes do you have your eyes on?
Did any of these trendy shoes take your fancy or will you opt more for comfortable shoes or arch support shoes?
Let me know in the comments!
Like this article on trendy shoes for fall 2019? Share it on Pinterest!
Related articles:
Want to get more articles from 40+style in your inbox, subscribe here.
You can also connect with 40+style on Facebook, Instagram or Pinterest.
Support 40+style by using the links in our articles to shop. As an associate for Amazon and many other brands, we receive a small commission (at no cost to you) on qualifying purchases which enables us to keep creating amazing free content for you. Thanks!