It's natural to concentrate on clothes when looking at new trends, but just switching your accessories can instantly elevate your existing or new outfits. Take a look at the accessories trends 2022 below and see if they could suit your style.
accessories trends 2022
Among the accessories trends 2022, you'll find statement jewelry, classics given a modern twist, bright colors, big belts and matchy matchy styles.
Sculptural jewelry
Louis Vuitton – Loewe – Stella McCartney
Let's start with modern, scuptural jewelry. Adding a chunky piece of contemporary jewelry, whether it's a necklace or bracelet can instantly give your outfit a modern edge. You could add to your favorite white shirt or little black dress.

Big earrings
Ralph Lauren – Valentino – Dolce & Gabbana
While you are unlikely to want to wear big earrings everday as they can be uncomfortable to wear for long periods of time, for a special occasion, a pair of dangly earrings can make a real impact.

Single earrings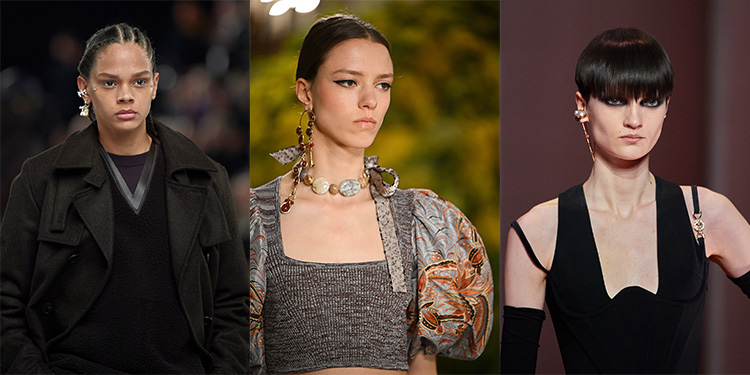 Givenchy – Ulla Johnson – Versace
Asymmetry can add interest to any outfit. You can get asymmetrical style with the way your hemlines fall, your buttons or with twists or ruching on your clothing. Or, you can add asymmetry with your accessories. You could wear one earring, as showcased on the designer catwalks above, or if you're worried that will look as if you've just lost an earring, you could wear one longer earring and one stud.

Ear cuffs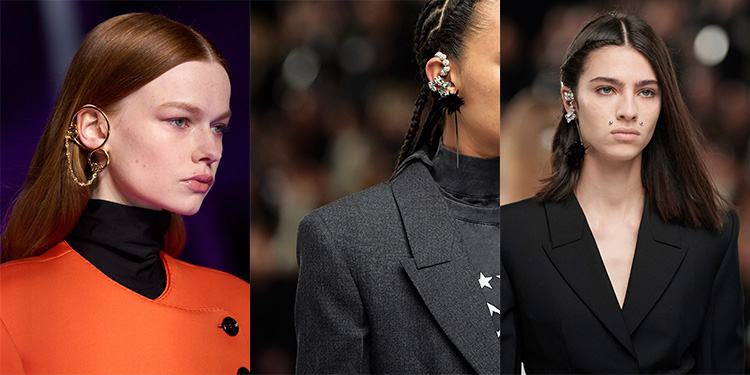 Dolce & Gabbana – Givenchy – Givenchy
To add a little edge to your outfits or to suit your style if you have a rock chick or urban style personality, you could try an earcuff as well as, or instead of, your usual earrings.

Lots of rings
Balmain – Sacai – Saint Laurent
Do you usually wear rings? If not, now could be the time to start. Or, if you do, perhaps you want to add a few more. Wear rings on every finger, or wear more than one on each finger to get this season's trend.

hoops
Hoop earrings are a classic style that won't date. Choose any size of hoop and any color. All are on trend for winter and fall. You could choose classic gold hoops as shown at Chloe (above, left) or match your hoops with your outfit like Valentino (above, right).

Modern pearls
Pearls have been worn as jewlery for millennia so you can be sure they won't date. Designers gave pearls a modern take for this season by styling them as chokers.

Chokers
Salvatore Ferragamo – Balmain – Hermès
Chokers can be one of those love-them-or-hate-them items of jewelry to wear. If your neck is one of the parts of your body you love, a choker can help to show off a long, slimline neck as well as drawing attention up to your face.

open Chokers
Stella McCartney – Versace – Tory Burch
If a choker perhaps makes you feel a little claustrophobic, you could try this seasons new style of choker, which leaves part of the choker open. This new style is ideal to wear to any events you have coming up this year.

matchy
Chanel – Miu Miu – Dolce & Gabbana
Should you match your necklace and earrings? Well, designers definitely think you should, if you look at how they accessorized for winter and fall. Matching your earrings to your necklace can give your everyday or special occasion outfits a cohesive feel.

brooches
Raf Simons – Ralph Lauren – Jil Sander
Brooches can be seen as an old-fashioned jewelry choice. But, they definitely don't have to be. If you want to be sure that your brooch has a modern look, then choose a contemporary, sculptural option.

Stacked bangles
Chanel – Balmain – Saint Laurent
Why wear one bangle when you can wear lots. Stack your bracelets up your arm. You can choose matching or mismatched styles and wear them together on one arm. You can wear them over your sleeves if it's too cold for no sleeves.

Colorful tights
Giambattista Valli – Tom Ford – Giambattista Valli
While black opaque tights will always be a safe option, you can add some color to your Fall looks with your tights. You could wear a black outfit and colorful tights (as at Tom Ford), or try silver shoes with your bright tights (as at Giambattista Valli).

Short colorful gloves
Valentino – Versace – Rick Owens
Add a pop of color to your fall and winter outfits with a pair of bright, leather gloves. This is the perfect way to update your cold weather clothes if you have a neutral-colored coat.

long gloves
Christian Dior – Fendi – Bibhu Mohapatra
Keep your hands and arms warm in the most stylish way with a pair of long gloves. You could wear with your eveningwear. Long gloves are also perfect if you have a coat with three-quarter-length sleeves and you want to make sure your arms are cozy.

Thick belts
Gucci – Christian Dior – Tory Burch
To define your waist, or create different looks from the same outfit, you could think about adding a wide belt.
Also, take a look at how to wear a belt for more inspiration.

flowers
Loewe – Ulla Johnson – Saint Laurent
Floral designs don't have to be only for summer or spring. You can add blooms at any time of year, with a floral brooch or necklace. Or, wear your flowers on your fingers with floral rings like those worn by models at Ulla Johnson's runway show (above, center).

neckties
Jil Sander – Gucci – Ralph Lauren
Take inspiration from menswear by wearing a tie. This is often a look favored by female celebrities who want to make an impact on the red carpet. Everyone from Nicole Kidman to Angelina Jolie, Julia Roberts to Princess Diana has opted for ties for special occasions.

scarves
Chanel – Jil Sander – Miu Miu
A scarf can add color to your outfit or tie in all of the different colors in your look. For the new season, silk scarves are very much on trend.

Do you have a favorite among these accessory trends for fall? Let me know in the comments below.
Continue reading:
Like this article on accessories trends 2022? Share it on Pinterest
Images from Vogue
Want to get more articles from 40+style in your inbox, subscribe here.
You can also connect with 40+style on Facebook, Instagram or Pinterest.
Support 40+style by using the links in our articles to shop. As an associate for Amazon and many other brands, we receive a small commission (at no cost to you) on qualifying purchases which enables us to keep creating amazing free content for you. Thanks!