The beauty of the changing seasons is that you have the perfect excuse to create a new capsule wardrobe. Here you will find the best fall outfits for women this season, inspired by latest trends and timeless classics.
Dressing for fall
Fall is definitely a favorite season for many, when it comes to putting outfits together.
That's partly because of the beautiful, autumnal colors used for clothes, shoes, and accessories for fall.
But, it's also because fall can lend itself to a totally timeless style which you can wear next fall, and the one after that, and the one after that…
Think about it. Autumnal colors never go out of fashion, nor do coats and jackets like the moto jacket, the trench coat or the classic wool, belted coat.
Your longline cardigans will always be in style, as will your sweaters, whether round neck or v-neck.
And those leather riding boots you have in the back of your closet; you can get those out now and they look current even if you bought them five or ten years ago.
Plus, dressing for fall can be incredibly flattering as you can introduce layers to create lovely, long lines.
We'll show you a totally timeless fall capsule which will take you through fall to the start of winter and beyond.
Also take a look at the best colors for fall 2022.
Tips for choosing your fall outfits
Fall brings so many wonderful options to put together stylish outfits.
Below are just a few tips. As fall is a perfect season for classic dressing, you may also want to take a look at this style guide and capsule wardrobe for the classic style personality.
1. Choose beautiful autumnal colors
Arguably, fall brings with it the chance to choose some of the loveliest colors for your outfits.
You can opt for rich colors that mirror the shades of falling leaves as well as burgundy, mustard, olive, emerald, and other jewel shades, or soft browns.
Jas @thefashionstylefile above mixes burgundy and black. She shows how you can wear one of your summer dresses, but make it appropriate for fall with the addition of a leather jacket.
Recreate her outfit with this similar dress, leather jacket, boots, crossbody bag and belt.
2. Think about your fabric choices
While suede can be tricky to wear in winter, when the weather gets wetter and there is the possibility of snow, it looks particularly beautiful in fall.
Corduroy can also scream fall – but be careful as it can also look dated, so choose modern cuts and colors, unless you are deliberately going for a 70s look.
3. Dress for weather fluctuations
In fall, just as in spring, you may get warmer days and cooler days in the same week, or warm days and cool nights depending on where you live.
Beth @styleatacertainage above (read her style interview here) shows how you can still wear your white jeans for fall, but team them with a wrap for warmth.
Check out this exact poncho, loafers and belt that you can wear with this similar pair of jeans, handbag and sunglasses.
4. Wear clothes from other seasons
You've seen already from some of the examples above that you don't have to put away your summer clothes when fall arrives. Instead, you can add additional layers to give your warm weather clothes longevity into the rest of the year.
5. create a capsule wardrobe
The coming of a new season is the ideal time to think about what you will wear for the upcoming weeks and months; to think about the best fall outfits for women to suit you. Take the opportunity to shop your closet, and add a few new items to update it. Take a look at these Fall wardrobe suggestions for inspiration.
6. Change your shoes
An easy way to make your outfits fall appropriate is simply to switch your shoes or sandals for a pair of boots or booties. Julie @stylishparadox above (read her style interview here) opts for an all-neutral outfit, and adds interest with the suede texture of her boots.
Recreate her outfit with this similar sweater dress, boots, tote, beret and earrings.
7. take advantage of new trends
While you're sure to have plenty of options in your closet, you can take a look at Fall & winter fashion trends for inspiration. Perhaps you want to put your outfits together in a different way, or there a a few new things you would like to treat yourself to.
8. Add accessories
Just adding a scarf in an-on trend color, for example, can make a real difference to your outfit.
What you will need to create countless fall outfits
I'm going to give you a shopping list here of 4 tops, 4 sweaters, 4 coats, 4 jeans or pants, 4 dresses or skirts, 4 pairs of shoes or boots and some accessories to go with them.
You can use it as inspiration if you are investing in your wardrobe this fall, or you could use it as a starting point to shop your own closet.
That gives you 24 pieces (plus accessories) which should see you through the colder months.
There are 9 outfits at the bottom to get you started, but you will see that you can combine these pieces in countless different ways.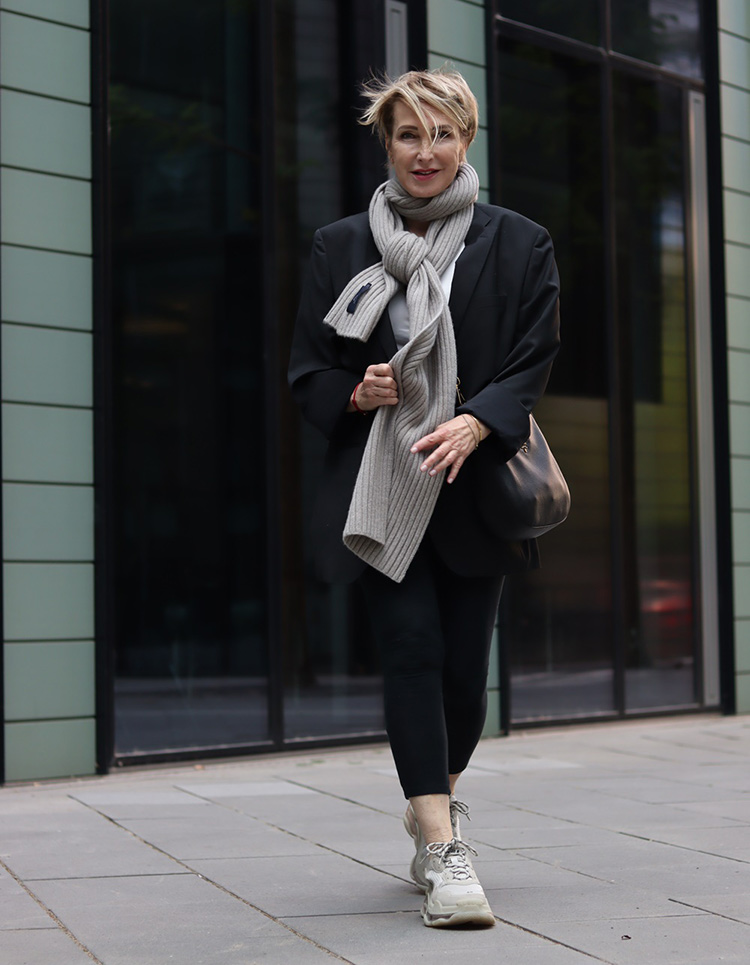 Claudia @glamupyourlifestyle above (read her style interview here) opts for a chunky scarf to add interest and texture to her black outfit.
Steal her look with this similar blazer, leggings, sneakers, bag and scarf (another option here).
Fall outfits – tops
When choosing tops for fall, you are likely to want tops with sleeves to give you some extra warmth as the weather cools down.
You can look for rich jewel shades, but you are also likely to want a paler neutral shade. Also look out for animal print. You can also think about switching up the shades you would normally wear for fall, and looking for on-trend bluesand greens.
COS Split Seam Shirt – Ganni Check Seersucker Wrap Blouse – Karen Millen Satin Twill Woven Wrap Blouse – Mango Geometric Print Blouse
Fall fashion – sweaters and cardigans
Of course, knitwear is a staple of your closet for fall. Look out for waterfall cardigans as well as long-open styles for layering. A belted cardigan is also universally flattering, as is a top with ruching or draping. A sleeveless sweater is useful to layer over shirts.
COS Cashmere Sweater – Karen Millen Cable Knit Military Sweater – COS V-Neck Wool Vest – Barefoot Dreams Shawl Collar Pointelle Cardigan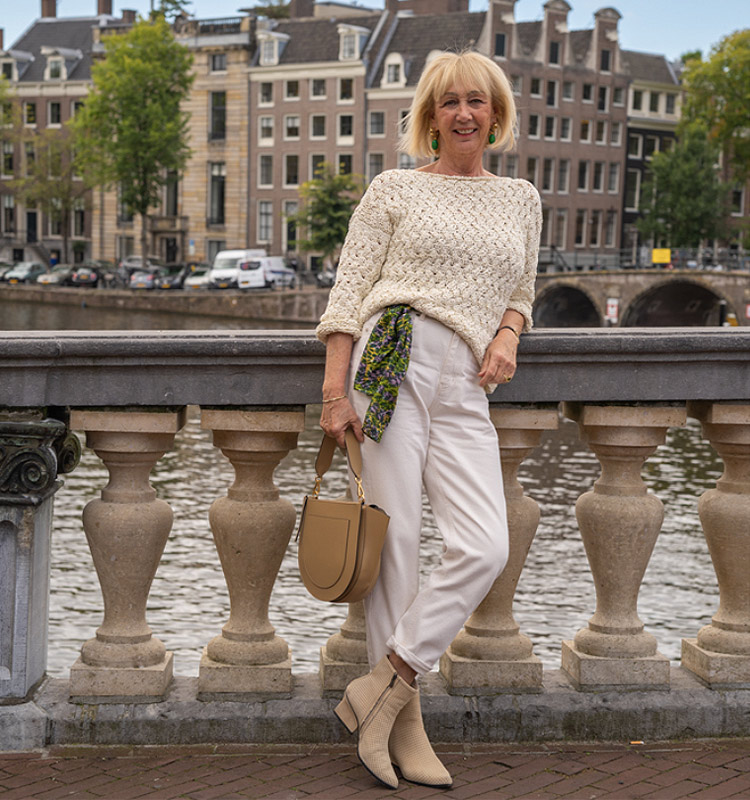 Greetje @no_fear_of_fashion (read her style interview here) chooses a neutral outfit and makes if ready for fall with a pair of booties and a sweater. She adds little pops of color with her earrings, and by wearing her scarf as a belt.
Get her look with this similar sweater (another option here), jeans, booties and handbag.
Fall clothes – coats and jackets
It goes without saying that you will need at least one coat or jacket, and preferably more, to see you through the months of fall and beyond.
A trench coat works just as well for fall as it does for spring because it protects you from the elements without adding too much bulk.
Suede is a beautiful fabric for autumn or you could try an autumnal print such as plaid.
A sleeveless jacket is also a good option as you can layer over your long-sleeved tops. If you are investing in a new moto jacket, you could choose a softer shade rather than opting for black.
AllSaints Neve Crackle Biker Jacket – COS Short Trench Coat – COS Funnel-Neck Wool Coat – COS Sleeveless Trench Coat
Abi @stealmystyle40 above wears a maxicoat with her jeans and sneakers.
Steal her look with this similar striped top, coat, jeans, sneakers, tote and earrings.
Autumn outfits – pants and jeans
A great pair of jeans is essential no matter what the season. For autumn, you could also look out for plaid pants, corduroy and deep shades like burgundy. You could also add bright shades to brighten up your outfit on dull days, and textures such as leather or suede.
A pair of leggings is useful for wearing as a layer underneath your dresses and tunics.
PAIGE Laurel Canyon High Waist Flare Jeans – Karen Millen Leather Biker Pants – Karen Millen Boucle Kickflare Pants – Zella Live In High Waist Leggings
fall dresses and skirts
Of course, you don't have to push your dresses to the back of your closet just because the weather is cooling down.
Look out for flattering wraps and asymmetric dresses as well as leather or suede skirts in autumnal colors.
If you have a pleated or satin skirt already in your closet, this looks just as lovely with a sweater for fall as it does dressed up with a blouse or silk tank.
COS Tie-Dyed Maxi Dress – Anne Klein Wrap Front Suede Dress – Nordstrom Signature Midi Flutter Skirt – Karen Millen Leather Panel Waist Detail Midi Pencil Skirt
Shoes to go with your fall fashion outfits
When it comes to shoes and boots for fall, there are so many lovely options to choose from.
Rather than a black leather knee-high pair of boots, you might want to think about a suede pair in a softer shade such as brown, tan or gray.
You are also likely to want to wear flats as well as heels, but you could add interest by looking out for textures such as reptile, which are very on-trend this fall.
While it can be tricky to wear white sneakers when the weather becomes inclement, you could try a darker color such as navy or burgundy, or make sure your sneakers have relatively chunky soles to protect you and your shoes from the elements.
For more inspiration, take a look at the best shoe trends for winter and fall 2022.
Gentle Souls by Kenneth Cole Charlene Bootie – Tory Burch T Block Heel Ankle Booties – Nine West Yeeps Chelsea Boot – Tory Burch Ladybug Sneakers
Georgette @grownandcurvywoman (read her style interview here) adds a leather jacket to her outfit, and matches the red of her top to the colors in her bag.
Check out this similar sweater, blazer, pants, booties, handbag, earrings and sunglasses.
accessories to go with your fall looks
Fall offers so many opportunities to play around with stylish accessories.
Look out for suede and leather bags and gloves, scarves in autumnal colors such as burgundy and forest green, or use bright shades against your neutrals, as well as in pretty prints.
You might also want to give your outfit some added pizzazz with a floppy hat.
HOBO Sheila Large Satchel – Marc Jacobs The Glam Shot Mini Convertible Leather Crossbody Bag – Missoma Baroque Pearl Twisted Link Necklace – Lauren Long Drop Earrings – Argento Vivo Sterling Silver Thick Huggie Earring – Alexander McQueen Biker Skull Silk Scarf – btb Los Angeles Sofie Wool Fedora
Also take a look at how to choose a hat for your face shape.
Fall outfits for women
There are countless different ways you could put together the pieces in this fall capsule. But here are 9 different fall outfit ideas to get you started.
Take a look at see if you would put these fall outfits for women together differently. You could, for example, wear the geometric top with the green pants, or you could opt for a very classic outfit of jeans, trench coat and white shirt.
Read our ultimate guide to creating a capsule wardrobe that works best for you.
shop the items above here:


How about you? Will you be putting together your own fall outfits capsule? What are your current favorite fall outfits?
Continue reading:
Like this post on the best timeless fall outfits for women? Share it on Pinterest!
Feature image by Greetje @no_fear_of_fashion
Want to get more articles from 40+style in your inbox, subscribe here.
You can also connect with 40+style on Facebook, Instagram or Pinterest.
Support 40+style by using the links in our articles to shop. As an associate for Amazon and many other brands, we receive a small commission (at no cost to you) on qualifying purchases which enables us to keep creating amazing free content for you. Thanks!