If you have a disability, or difficulty getting clothes on and off for any reason, the fashion industry used to give you pretty uninspiring choices, which weren't exactly fashion forward. Thankfully, that has changed, as you'll see from the adaptive clothing for women choices below.
What is adaptive clothing?
To start with, what is adaptive clothing? Well, it's any clothing specifically designed for those who need extra help in fitting into their clothes or getting their clothes on. That might mean making it easier to fasten, easier to get on, and/or easier to move in.
Why you might need adaptive clothing
There are so many reasons that you might want to look at adaptive clothing. Maybe you find using a zipper or buttons tricky and you prefer magnetic fastenings. Perhaps you want clothing that is easy to get into while sitting down.
Maybe you have a condition which means you really can't wear certain fabrics. Or perhaps you've had a fall or injury that means you temporarily need adaptive clothing.
The key to the best adaptive clothing is that it caters to different needs while keeping style in mind.
Or could you look at other options?
Depending on your needs, you don't necessarily need to look for specialist clothing. It may be, for example, that a loose tunic top with drapes, like the ones featured below, is what you need to hide a colostomy bag. Or you might simply want to look at clothes with elastic and stretch to enable easy dressing and undressing.
You can try the draped tunic (below), which comes in a huge choice of colors. Reviewers say they love the way the material feels and drapes.
Another option could be the cardigan (below). The drapes could help to disguise any medical equipment, such as a stoma, for example. Reviewers say the fabric is lightweight, and they get compliments when they wear it.
ACEVOG Lightweight Draped Cardigan
Examples of adaptive clothing
You might want to look for skirts or pants that close at the side with magnets, shoes that are easy to step into, pants cut higher at the back for wheelchair users, clothes designed with sensory processing in mind, or those with easy access points if you have medical equipment.
Where to find the best adaptive clothing for women
If you do think that your clothing you give you a little extra help, some of the best places to look for your next outfit are:
Nandashe
Perhaps you are looking for clothing to disguise a medical device, such as a colostomy bag, for example. In which case, clothing with drapes may work for you. Looking at this article on how to hide a belly and tops to hide a belly may also provide inspiration.
Nandashe Irregular Hem Tunic Top
zappos Adaptives
You can find Tommy Hilfiger, along with other choices at Zappos adaptives, including options with buttons that are easier to fasten, and clothing designed for surgical recovery.
Tommy Hilfiger Adaptive Logo Stripe Shift Dress
target
You'll find a good choice of adaptive brands at Target, including the Universal Thread shirt (below), which has raglan armholes for a greater range of motion, and an adjusted length at the front for the seated wearer.
Universal Thread™ Plaid Flannel Adaptive Button-Down Shirt
Seven7 jeans
Jeans are typically created to look their best while the wearer is standing up. However, Seven7 Jeans has designed a range of denim with a lower cut at the front, and a higher back to ensure their jeans are more flattering for wheelchair users.
Seven7 Jeans Adaptive Tummy-less Bootcut Seated Jeans
Silvert's Adaptive Clothing & Footwear
Silvert's Adaptive Clothing & Footwear has a range of adaptive clothing available on Amazon, including tops which fasten at the shoulders, rather than having to pull them over your head, front-fastening bras, and easy-to-get-on slippers.
Silvert's Adaptive Clothing & Footwear Open Back Active Crew Neck Top
MAI We Care
MAI We Care has been designed with different needs in mind. Clothes are designed to help if you have limited mobility, you've had surgery, or are undergoing chemotherapy. Reviewers say they are great after wrist or shoulder surgery, or to access a chemotherapy port without undressing.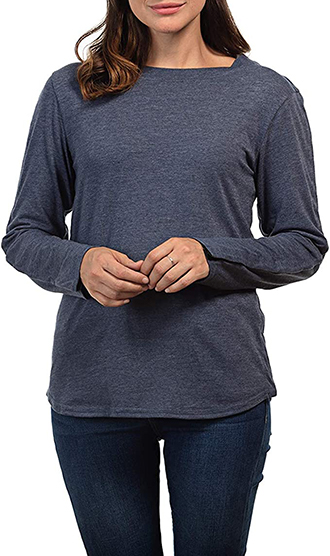 MAI We Care Post Shoulder Surgery Shirt
Tommy Hilfiger
When Tommy Hilfiger launched a range of adaptive clothing, it was largely at a time when adaptive clothing wasn't exactly stylish. Thankfully, that has changed, and you really wouldn't know that its designs have practicality in mind.
Tommy Hilfiger Adaptive Signature Stripe T-Shirt with Magnetic Buttons
Nike
Obviously Nike is renowned for athletic wear, but it can be tricky to get sneakers on and off. Its Flyease range is designed to be easy to get on so you don't have to miss out on exercise, or just to wear for day-to-day comfort.
Nike Revolution 6 FlyEase Next Nature
Fruit of the Loom
If you have limited mobility, then a back-fastening bra can be tricky. You might want to think about a front closure bra, like the Fruit of the Loom choice (below). Reviewers say it is easy to put on after surgery.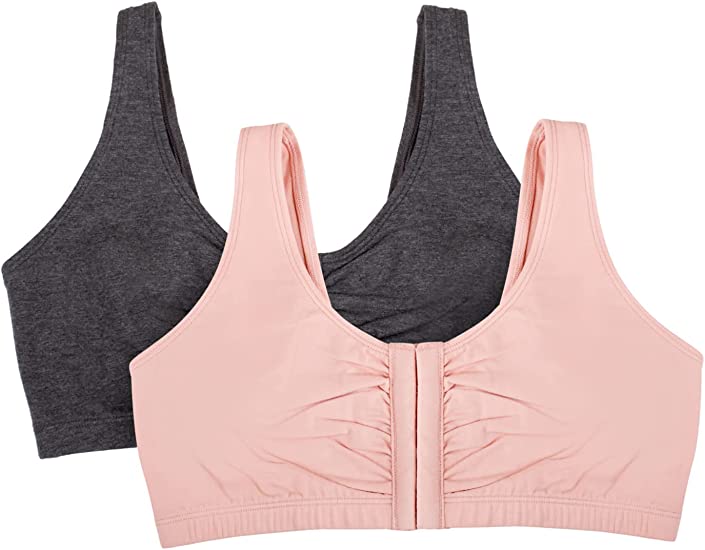 Fruit of the Loom Front Closure Cotton Bras
Care+Wear
Care+Wear has useful tops if you need port access during chemotherapy. There is also a good choice of bras for post-surgery.
Care+Wear Chest Port Access Shirt
Ovidis
Ovidis is designed with senior women in mind, and may be one to consider for those with dementia. It is created to be easy to wear, while providing dignity, and looking like separates.
Reboundwear
With two-way zippers, the Reboundwear pants (below) are easy to get on and off. Reviewers say they are good looking, and functional.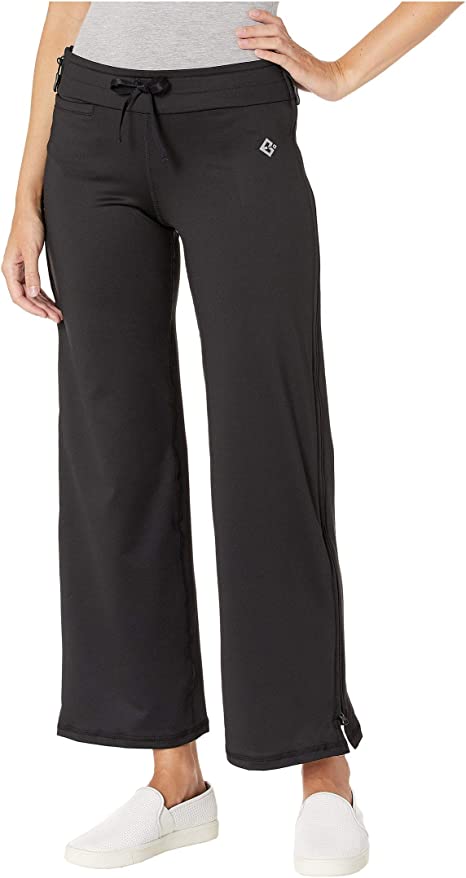 DIBAOLONG
Another choice if you want pants that are easy to get on and off, but you don't necessarily want adaptive clothing is a pair of drawstring pants. The capri pants (below) have good reviews from women who say they are super comfy, and perfect after surgery such as a knee replacement.
You could also take a look at the most comfortable pants for women.
DIBAOLONG Drawstring Capri Pants
Lands' End
Lands' End is also a good go-to for pull-on pants. Reviewers say the pull-on pants (below) are made from heavier material that is ideal for cooler months.
Lands' End Elastic Waist Pull-On Pants
Friendly Shoes
If you find it tricky to get your shoes on and off, Friendly Shoes could be a good place to look. The mid-top sneakers (below) open at the side and back.
Friendly Shoes Excursion Mid-Top Sneakers
Slick Chicks
The Slick Chicks underwear, below, fastens at the sides, which makes these panties easier to get on while sitting down.
Slick Chicks Side Fastening Adaptive High Cut Briefs
Vive
If you are a wheelchair user, you may not want a tote or crossbody bag. To keep your hands free, you could look for a bag that fits over the arm of your chair like this one from FINPAC.
FINPAC Wheelchair Side Storage Bag
I'd love to hear your own recommendations for adaptive clothing, so we can make this article a great resource for other women? Let me know in the comments below.
Continue reading:
Like this article on the best adaptive clothing for women? Share it on Pinterest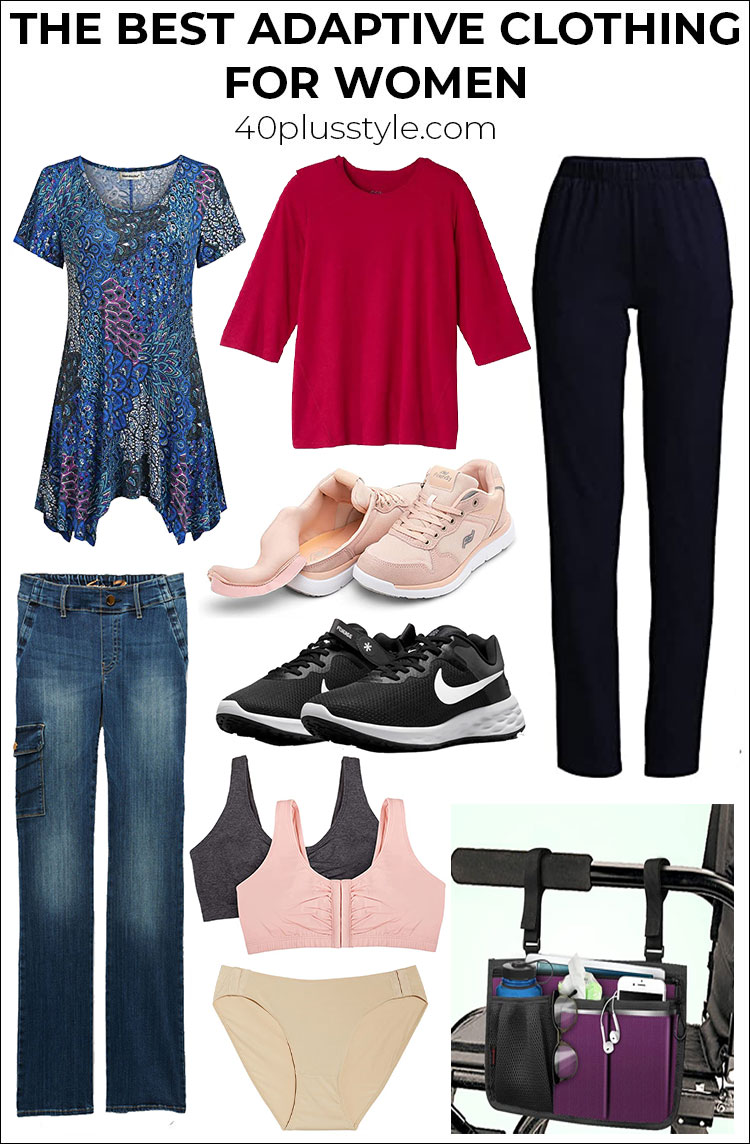 Want to get more articles from 40+style in your inbox, subscribe here.
You can also connect with 40+style on Facebook, Instagram or Pinterest.
Support 40+style by using the links in our articles to shop. As an associate for Amazon and many other brands, we receive a small commission (at no cost to you) on qualifying purchases which enables us to keep creating amazing free content for you. Thanks!