No one likes falling over. But when you get a bit older, the consequences of a fall can be worse. Unfortunately, with aging, also comes the increased likelihood of injury with a fall. I know from experience as I broke my upper arm last year.
Therefore, wearing the best non-slip shoes for women is a must in rain, snow or ice.
And, the good news is, while non-slip shoes may have looked rather frumpy in years gone by, there are now plenty of stylish pairs to choose from. In fact, chunky and lug soles are very much on trend right now, and should help you keep a grip as you walk.
Why you might need non-slip shoes
There are so many reasons you might want a pair of non-slip shoes. Perhaps there is slippy weather like rain, ice or snow where you are, or you are working in conditions where the floor might get slippery.
Or you live in a place like Portugal where the pretty cobblestones can be very slippery too. Stores now realize that there's a big demand for non-slip shoes.
Zappos, for example, has a whole section of slip resistant shoes.
What to look out for in your non-slip shoes
Dress (similar here and here), sandals (similar) and necklace (similar)
Traction
Look for soles with some texture to them when choosing the best non-slip shoes for women, and take a look at the tread pattern. Generally, slip resistant shoes have tread and groove patterns, such as hexagons or circles, that are specifically designed to allow water to escape rather than trapping it under foot.
Material
Generally, non-slip or slip resistant soles are made from rubber.
Can you make soles non-slip?
If you already have shoes that you find are slippery, you could try adding a pair of additional soles. These pad sole protectors from Amazon can make your shoes non-slip.
Best non-slip shoes for women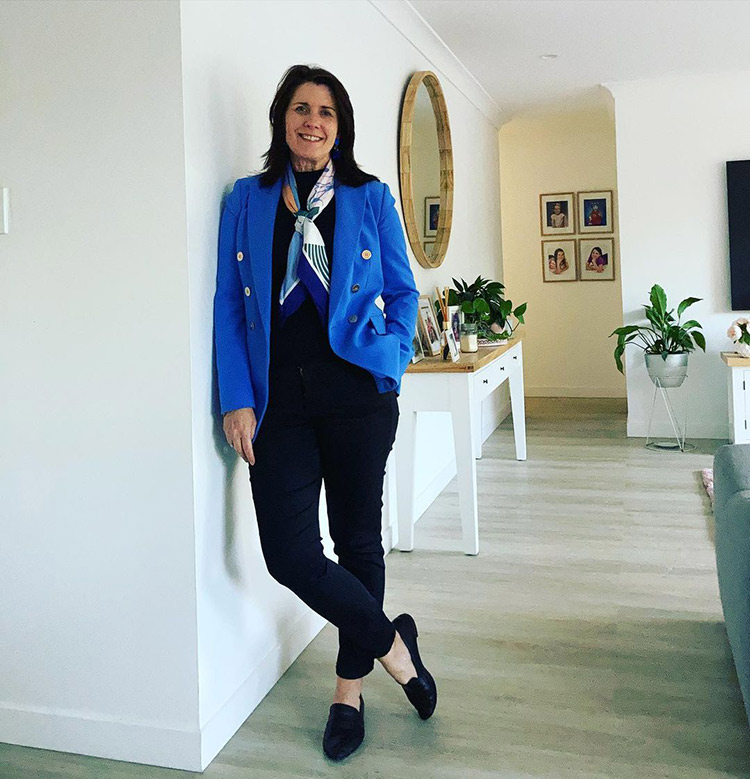 Now let's take a look at some specific non-slip shoes you could try.
Shan @teachingonthegc above chooses flat loafers with her classic blazer outfit.
Steal her look with this similar top, blazer, pants, loafers and scarf.
Naturalizer
Naturalizer are well known for making comfortable shoes with arch support. But they're also a good go-to for slip resistant shoes. The loafers (below) have a nice chunky wedge sole that should help to grip the pavement.
Naturalizer Adiline Loafer
Amazon / Nordstrom
If you're looking for dressier shoes, you can often find the soles are very slippy, but the slingbacks (below) have a rubber sole with some grip.
27 EDIT Naturalizer Avrie Slingback Flat
Zappos / Nordstrom
FitFlop
FitFlops are best known for their flip flops, but they have branched out into other styles. The ballet flats (below) come in a choice of colors, and they have rubber, slip-resistant soles.
FitFlop Allegro Ballet Flat
Amazon / Zappos / Nordstrom
Vionic
While not designed with a criss-cross treat, the Vionic soles (below) should provide some traction, and they're very much on trend. Reviewers say they feel like walking on clouds.
Vionic Kensley Loafer
Amazon / Nordstrom
Skechers
If you need a serious pair of non-slip shoes for work, you could try the Skechers slip-resistant loafers (below), which are health and safety compliant. Reviewers say they are cute, comfy and lightweight.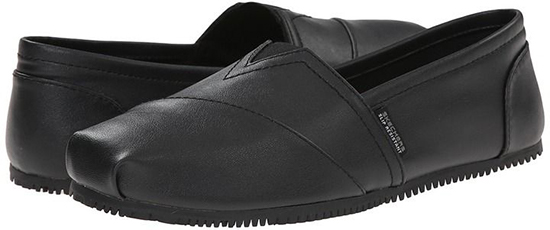 Skechers Kincaid II Slip Resistant Loafer
Softwalk
Take some inspiration from menswear with the derby shoes (below). They have a wavy-patterned grip, and come in a good choice of colors.
SoftWalk Willis Derby
Amazon / Zappos / Nordstrom
Or, you could try the ballet flats style (below), also from SoftWalk.
SoftWalk Sonoma Flat
Amazon / Zappos / Nordstrom
Linea Paolo
While they don't look like non-slip shoes, the pointed flats (below) come with a rubber, slip-resistant sole. These could be a good option if you have a party or event and you don't want to wear heels.
You'll find more inspiration in this article on low-heel party shoes.
Linea Paolo Cammy Slingback Pointed Toe Flat
Amazon / Zappos / Nordstrom
Dr. Martens
If you last wore Dr. Martens in your student days, they could definitely be worth another look. Originally designed for work, they have tough, slip-resistant soles, and are particularly on-trend at the moment.
Dr. Martens Audrick Platform Derby
Zappos / Nordstrom
Tory Burch
You might not think that Tory Burch's classic Minnie style would be anti-slip, but they have a slip-resistant, split rubber sole that folds up, making them ideal for travel. Or if you want to wear heels but pop these in your bag in case you want to change shoes.
Tory Burch Minnie Travel Ballet Flat
Tory Burch / Amazon / Zappos / Nordstrom
Arcoédico
The arcoedico shoes (below) are good for a range of foot conditions including if you have bunions, or need arch support. You can pop them in the washing machine when they get dirty, and they have a patterned rubber sole. Reviewers say they are suitable for people with minor mobility issues.
Arcopédico L15 Ballet Flat
Amazon / Zappos / Nordstrom
Comfortiva
Comfortiva's loafers have a slip resistant outer sole and a memory foam insole.
Comfortiva Ryen Flat
Amazon / Zappos / Nordstrom
sneakers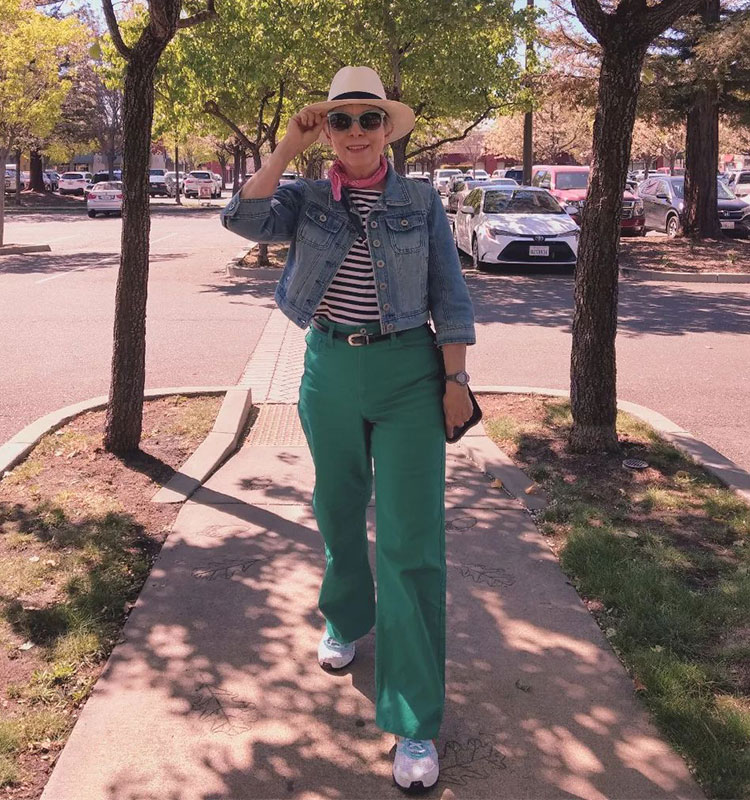 When you really want to be comfortable and casual, sneakers are perfect.
Eileen @eileenternullo above wears hers with wide pants and a denim jacket.
Check out this similar top, denim jacket, jeans, sneakers, fedora, scarf, sunglasses and belt.
Ariat
Ariat specializes in making clothes and shoes for equestrians and outdoor sports, do they definitely have stickability in mind when designing their shoes. The Ariat sneakers (below) have a grippy sole and cushioned insole.
Saucony
With a rugged rubber sole, reviewers of the Saucony sneakers (below) say they are good for uneven ground, as well for those who work on slippy floors, such as nurses. One reviewer said these are one of her favorite shoes ever.
Saucony Grid Excursion TR12 Sneaker
Nike
The contrast between the white sole and black upper gives the Nike sneakers (below) an on-trend look. Reviewers say are a nice design and comfy fit.
Wonesion
In an eye-catching design, the Wonesion walking shoes (below) come in a huge choice of colors, and reviewers say they offer good shock absorption.
Cestfini
In an on-trend style that should appeal to the minimalists among you, and those with an urban style personality, the Cestfini sneakers (below)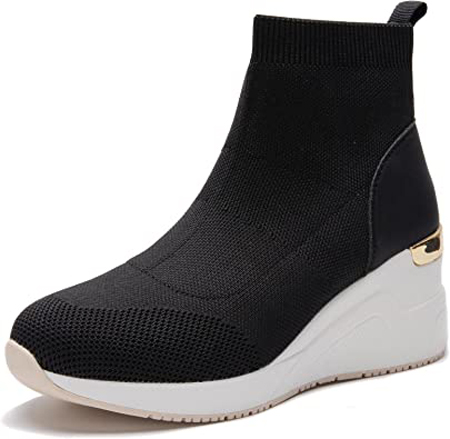 AprilSpring
The AprilSpring sneakers (below) com in a good choice of bright shades and neutrals. The hollow carve detailing of the sole is designed to increase slip resistance, and they are particularly well-reviewed by women who are on their feet all day for work.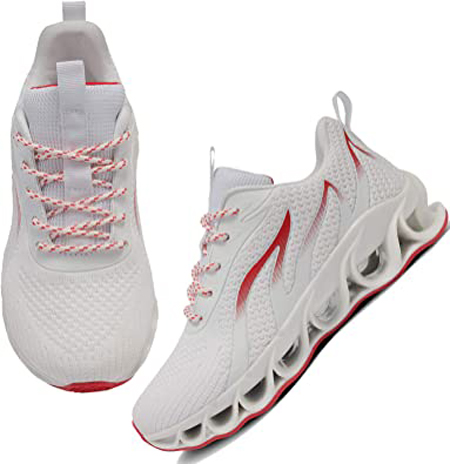 Maiitrip
In a simple, slip-on style, the MAIITRIP sneakers (below) have a sole designed to be non-slip and to spread impact. One reviewer described them as the most comfortable shoes ever.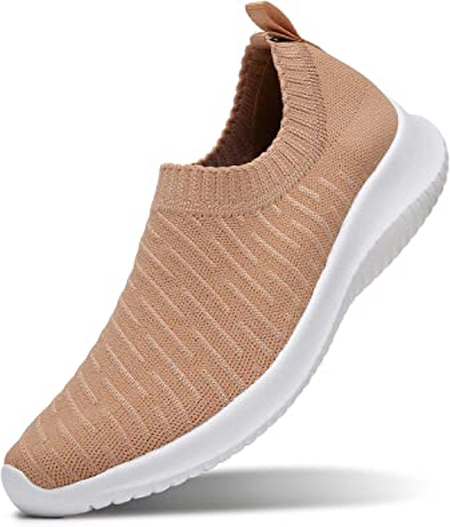 MAIITRIP Elastic Sock Slip-On Walking Shoes
Feethit
The slip-on sneakers (below) have a slip resistant EVA outsole. Reviewers say they are lightweight and fashionable.
Akk
Another style you could try is the Akk tennis shoe (below). They come in a huge choice of colors, and reviewers say they are easy on, easy off, and really comfy.
Booties and boots
Barb @barb_styling above wears her booties as part of a classic black and tan outfit.
Recreate her outfit with this similar sweater, coat, jeans, boots and belt.
Söfft
In waterproof leather, the Söfft Pecola boots (below) have a non-slip EVA outersole with increased traction, so they should be a good choice for inclement weather.
Fly London
Fly London is a 40+ favorite for their wedge heel sandals, but you could also try a pair of Fly London boots like the Chelsea booties (below), which have a chunky, rubber lug sole.
Fly London Jeba Chelsea Bootie
Zappos / Nordstrom
ECCO
Another on-trend lug sole choice for you, the ECCO booties (below) are deliberately designed with technology designed to provide stability and grip.
ECCO Modtray Chelsea Boot
Amazon / Zappos / Nordstrom
Sorel
SOREL's wedge booties are made with waterproof leather and suede. They have a non-slip EVA sole, and reviewers say they are stylish, comfy and high quality. One even described them as phenomenal.
SOREL Evie Pull-On Bootie
Amazon / Zappos
Merrell
If you want a higher boot, you could try the Merrell waterproof booties (below) which would look good worn with your skinny jeans and leggings. They have an EVA non-slip sole and cushioned sole.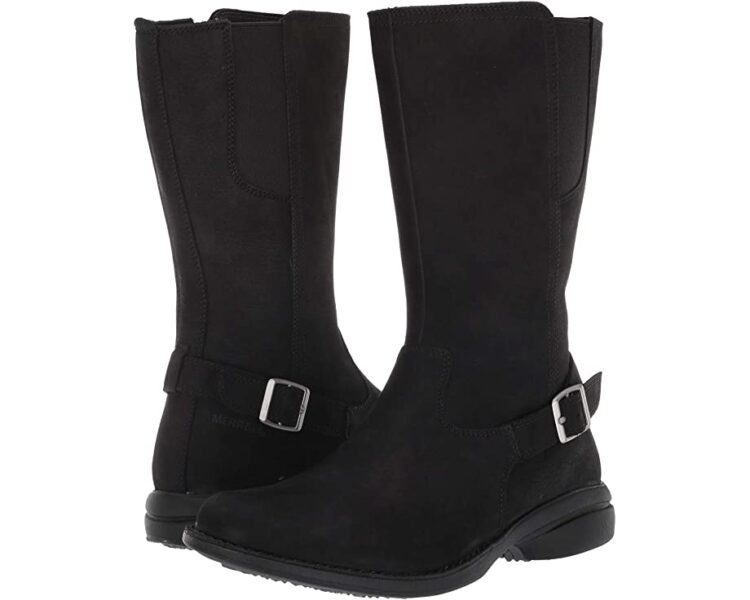 Merrell Andover Peak Waterproof
Amazon / Zappos
LifeStride
With a traction sole for stability, the LifeStride boots (below) come in a choice of black or brown.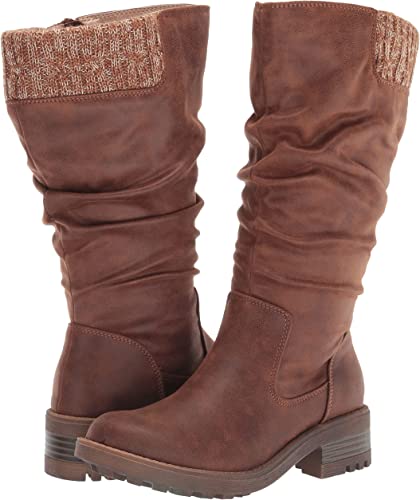 LifeStride Kaden Knee High Boot
cottimo
Hiking boot styles are not only practical, but are also very much on-trend. They come in a good choice of neutrals, and reviewers say the Cottimo boots (below) are cozy with a good grip.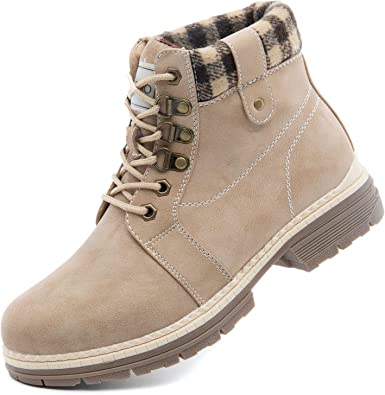 Cottimo Non-Slip Outdoor Hiking Boot
Snow and rain boots
Depending on where you live, you might want to choose a pair of boots specifically for the rain or snow
The North Face
The North Face is well-known for cold-weather clothing. The thermal booties (below) should keep you cozy, and they have a traction sole to stop you from slipping.
The North Face ThermoBall™ Traction Bootie
Amazon / Zappos / Nordstrom
Sperry
If you live somewhere rainy, you could try the Sperry wool boots (below) for everyday style. They have a microfleece lining for warmth, and reviewers say are cozy and comfy.
Sperry Saltwater Emboss Wool Boots
Amazon / Zappos
Columbia
For colder weather, the Columbia snow boots (below) have advanced traction. Wearers say they are the best investment for keeping your feet warm.
Columbia Minx Shorty III Snow Boot
Amazon / Zappos
What are your recommendations for the best non-slip shoes for women? Let me know in the comments below.
Shop the items above here:

Continue reading:
Like this post on the best non-slip shoes for women? Share it on Pinterest!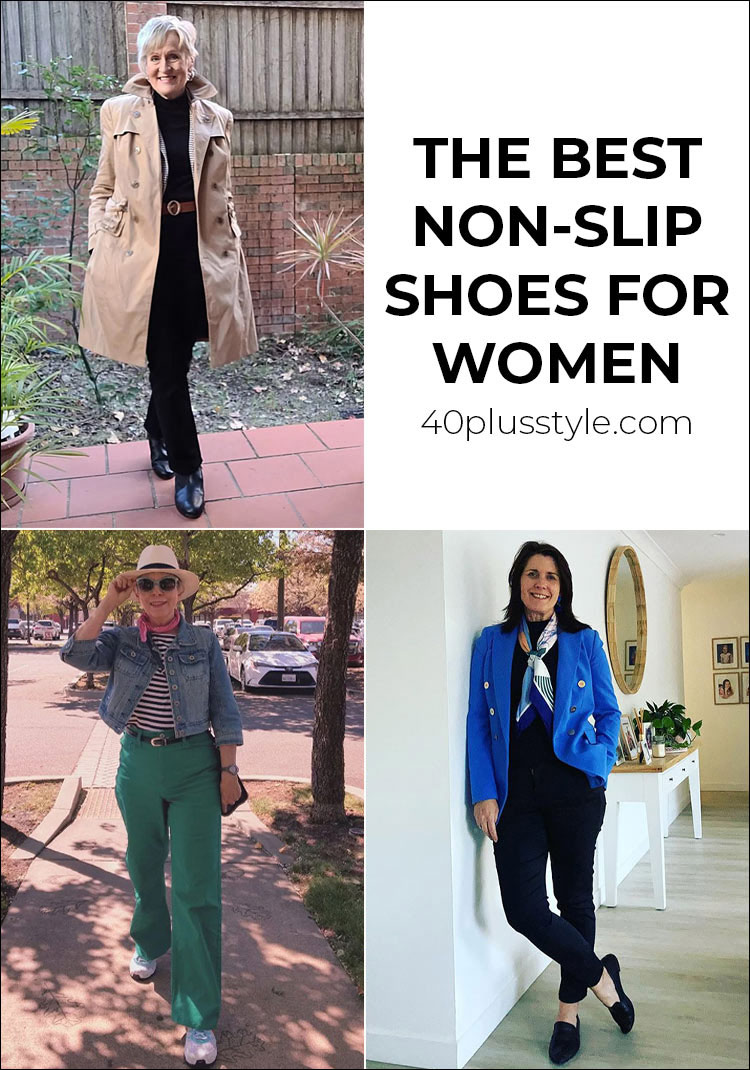 Feature image by Barb @barb_styling
Want to get more articles from 40+style in your inbox, subscribe here.
You can also connect with 40+style on Facebook, Instagram or Pinterest.
Support 40+style by using the links in our articles to shop. As an associate for Amazon and many other brands, we receive a small commission (at no cost to you) on qualifying purchases which enables us to keep creating amazing free content for you. Thanks!