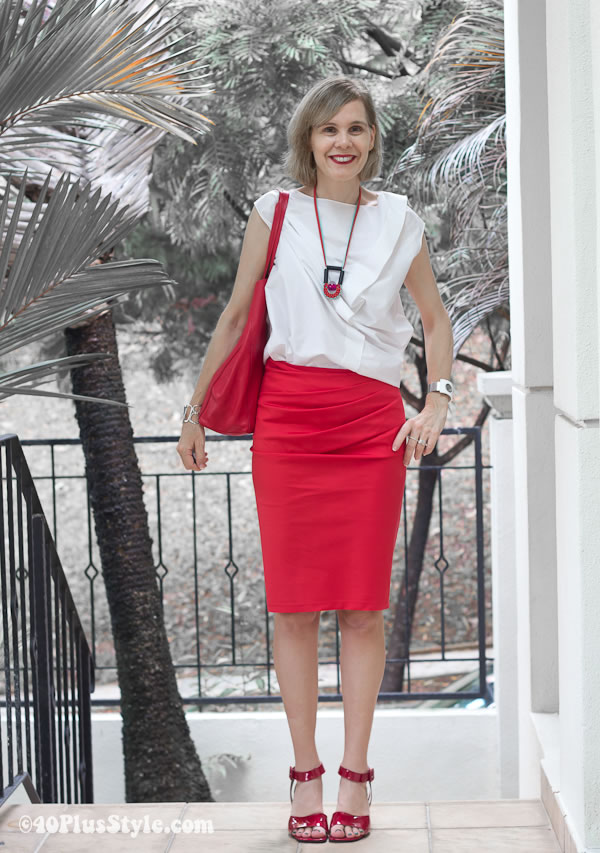 Last week I was invited to the presentation of Voila Singapore, a 2 week French extravaganza in Singapore that features art, film, food and of course fashion!
It was held at the mansion of the French Ambassador to Singapore, whose house was a treat in itself. As you can see his living room is big enough to stage a fashion show! Can you spot me?
Highlight of the afternoon was of course Maurizio Galantes haute  fashion show. We were shown 7 exquisite ensembles by the Haute Couturier, who flew in specially to meet with the media.  These pieces were simple, yet elaborate, with its seemingly-looking 'pleats' turning out to be individual slivers of exquisite materials stitched and held delicately together with intervals of pearls or bugle beads.  Truly works of art!
Here are some of my own close-up photos, which highlight the incredible workmanship put into each of these garments.
Have a look at the intricate details of the lace dress below!
My outfit was not nearly as extravagant as the models', as I had gone for a far more minimal look. This combination was snatched up at the recent super discount sale I mentioned before and included a Donna Karen skirt and CK Calvin Klein top. Although these pieces are from old collections, they are still current today. The top has a bit of an oversized feel and has both a pleat in the front and back.
The skirt is very stretchy and comfortable and red and I love the draping elements in the front.
I had planned to wear this outfit with my new ultra-hip pony hair Opening ceremony booties I got at that same sale, but the weather turned a bit nasty and I certainly did not want to ruin them on their first outing. But, although I loved my red skirts with the outfit, I also love the look of wearing booties with skirts. What do you think?
Looking back on these pictures now, it may have been even more fun to wear this outfit with a brightly coloured bag in yellow or green or even animal print, although this red tote bag turns out to be very handy indeed when I want to bring my (heavy) camera.
The 2nd Women's Fashion Week And French Couture Week 2012 Singapore kicks off from 23 – 25 November and 29 November – 2 December 2012 respectively at Marina Bay Sands. Let's hope I will get an invitation to the fashion shows so I can show you a lot more later on! The haute couture designers that will present this year will be Christophe Josse, Gustavo Lins, Alexis Mabille, Bouchra Jarrar, Julien Fournié, Maurizio Galante, Livia Stoianova and Yassen Samouilov and Yiqing Yin. But there will be many other shows from main stream designers as well. For more details on shows and schedules visit this website.