Have you been taking notice of the 2020 handbag trends and do you know what's on trend this spring and summer?
One of the big benefits about accessorizing with a new bag or a new pair of shoes is the way you can transform an outfit and make it look more modern simply by adding an on-trend accessory.
If you are treating yourself to a new bag for the new season, you'll find plenty of inspiration in this article.
1. Handbag trends 2020: Raffia and crochet bags
Crochet and craftwork were big trends for clothes on the catwalks for summer 2020. And, this trend has also translated to accessories.
The beauty of it is that it's such a simple way to add a touch of "summer" to your outfits. This look is perfect for your summer vacations.
Alexander McQueen – Prada – Celine

2. Soft bags, slouchy
If you don't like a very structured look such as a tote or a satchel, these bags are perfect for you.
Slouchy styles were featured on the catwalks of everyone from Salvatore Ferragamo to Altuzarra. Although I'm not sure about the size of Bottega Veneta's woven style (below, right) – I can't imagine anyone needing to carry quite so much around with them day-to-day.
Find out the other accessory trends for spring and summer.
Salvatore Ferragamo – Altuzarra – Bottega Veneta

3. Green
If you've been following along with our trends articles so far, you'll have noticed that green is a major color for spring and summer 2020.
You can choose any style of bag you want, just so long as it's green! A green handbag would look beautiful with white summer outfits.
Also check out this article on how to wear green.
Chanel – Valentino – Fendi

4. Bucket bags
This style has been a trend for a couple of seasons now, so you may already have a bucket bag in your closet.
If you want to go for two trends in one, you could choose a woven style like that of Prada, or a bag adorned with feathers like Valentino's design.
Prada – Stella McCartney – Valentino

5. Round bags
Another trend which was definitely here last summer, and which isn't going anywhere.
As you can see below, all textures and colors work, just so long as it's circular. A woven bag like Stella McCartney's (below, right) is a great option for summer.
Salvatore Ferragamo – Marc Jacobs – Stella McCartney

6. Chain bags
Chains on bag straps are nothing new. Just think about Chanel's classic bag styles.
However, they are particularly on-trend this summer. You could choose a structured bag like the ones below for a summer event.
Alexander McQueen – Gucci – Michael Kors

7. Hip to be square bags
Shoe trends also feature square edges for spring and summer 2020.
And, while round bags are still very much on trend, if you prefer a bag with more angles, you can opt for square.
These work really well as a stylish alternative to a clutch bag when you simply need to take a few essentials with you.
Dries Van Noten – Bottega Veneta – Lanvin

8. Choose your clutch
Of course, having said that you could use the option above for your clutch, you could, of course, always use a clutch!
There are three major clutch trends for this summer season. The first is a clutch featuring triangles (left and right), or a bag that you slip your hand through (middle).
Or, if you have more to fit in your bag than your credit card, phone and lipstick, take a look at the next option on our list.
Balenciaga – Valentino – Bottega Veneta

9. Oversized clutch
There were plenty of mini and micro bags on the catwalks for spring and summer, but there were also lots of oversized styles, including these large clutches (below).
You could choose to add some bright color to your closet like Dries van Noten (below, left), or stick to neutrals.
Dries Van Noten – Chanel – Tod's

10. Animal print
A perennial style staple, you can guarantee if you opt for an animal print style, it will still be in style for many years to come.
As you can see (below) any style of bag goes when it comes to animal print, so choose your favorite depending on what catches your eye and whether you want an everyday or an evening bag.
Celine – Bottega Veneta – Dolce & Gabbana

11. Saddle
Again, saddle bags were all over the catwalks for winter and fall, so if you did treat yourself to one, then don't put it away in the bag of your closet.
Some had a preppy vibe to them, such as Celine's style (below, right), while Christian Dior revived the fashion house's very classic saddle bag (middle), which first made its debut in 2000.
Stella McCartney – Christian Dior – Celine

12. Woven
Woven styles were prevalent in shoe designs too, so it's no surprise that this trend has made its way to bags.
You could opt for woven leather, or simply a bag which has been textured to look as if it is woven.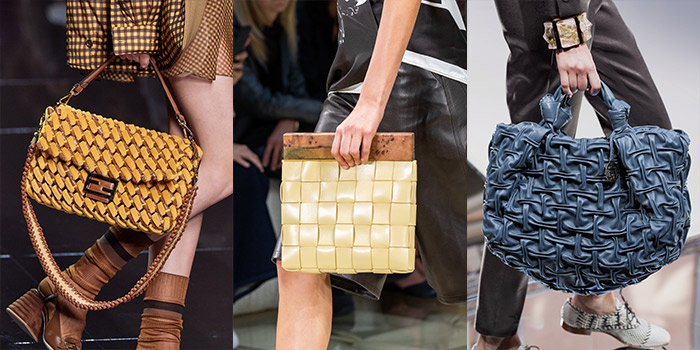 Fendi – Bottega Veneta – Giorgio Armani

13. Florals
No big surprise here for you! Florals are always a major trend for clothes and accessories during spring and summer.
After all, nothing says spring better than fresh blooms. To make sure your florals are really on trend, you could mix them with another major style for 2020 and choose a square bag featuring flowers.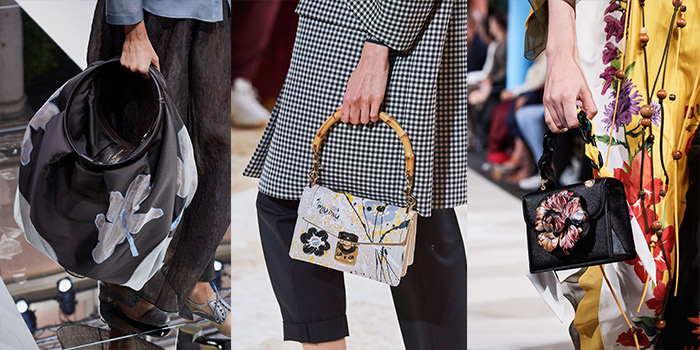 Giorgio Armani – Miu Miu – Oscar de la Renta

14. Bamboo handles
Just imagine. when Gucci first unveiled its iconic bamboo-handled bags, World War II was still ongoing. Apparently, the bamboo handle was invented because of a scarcity of available materials.
Now, although bag designers could have their pick of just about any material, they still opted for bamboo.
It was little surprise that Gucci featured bamboo handles, but there were plenty of other designers who got in on the bamboo bandwagon.
Prada – Gucci – Miu Miu

15. Checks & spots
Talking about perennial patterns, as featured in #10 and #13, here are two more for you.
If you don't want to choose a square or a circular shaped bag, you could opt for your squares or spots to be featured ON your bag instead.
Michael Kors – Lanvin – Lanvin

16. Animal adornments
Many designers for spring and summer had a more playful take on the animal print trend.
Rather than choosing animal print, they choose to feature animal imagery, shaped their bags like animals or opted for brass-wear in the shape of animals.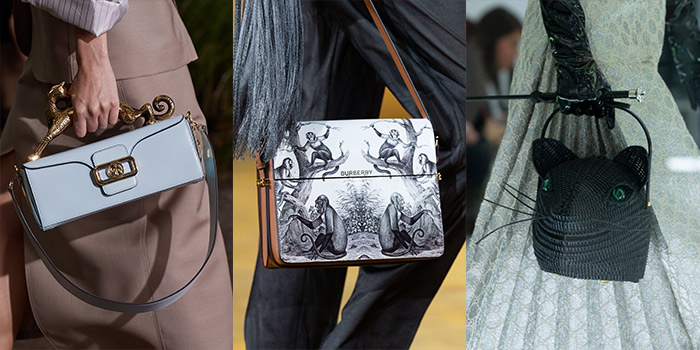 Lanvin – Burberry – Gucci

I'd love to know which of these 2020 handbag trends are your favorite. Let me know in the comments below.
Continue reading:
Like this article on handbag trends for 2020? Share it on Pinterest
Want to get more articles from 40+style in your inbox, subscribe here.
You can also connect with 40+style on Facebook, Instagram or Pinterest.
Support 40+style by using the links in our articles to shop. As an associate for Amazon and many other brands, we receive a small commission (at no cost to you) on qualifying purchases which enables us to keep creating amazing free content for you. Thanks!