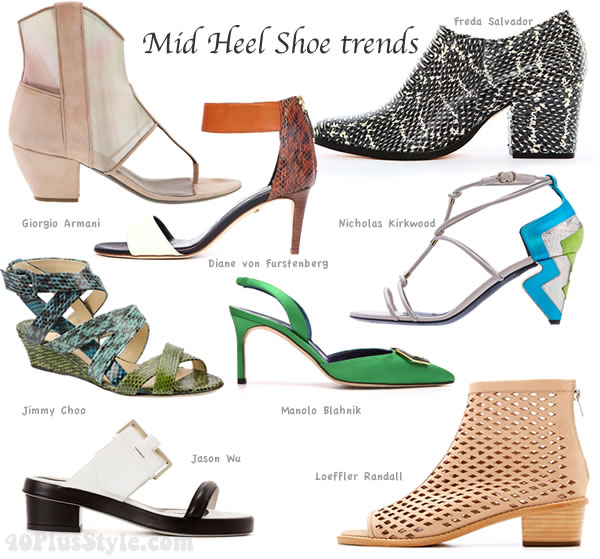 After showing you the major trends for spring & summer 2014 in terms of clothing, it's now time for the all-important shoes!
As most of you will know, I believe that the right shoes can add a lot to an outfit. Shoes can set the mood and often they will add a young & hip element to your outfit. There is no limit to what you can do with shoes. For more on this topic also see my article on how to have fun with shoes.
This week we will focus on mid heel shoes. Yes, I realise that some of you may not consider some of these shoes mid heel, but wait until you see the high heels!
Mid heel shoes are a great option for those days and evening when you want to wear heels, but still want to be able to walk decently. They are my shoes of choice whenever I have an event.
This season we have a lot of fun shoes to choose from! From closed to open booties, funky sandals and pretty pumps to blocky color blocked platforms.
Texture, open toe booties and color blocking
Some of the themes for this year's shoes include the use of texture, color blocking, open toe booties. Examples can be found in the image above.
Arty, textured and colorful
Another major trend are colorful and arty kitten heels. Gold is very popular both for flats (more on that next week) and heeled shoes alike. The arty heels fit right into the arty and colorful trend. Pumps tend to be pointy toed.
Platforms and blocked heels
In direct contrast to the pretty pointy kitten heels are the platform and block heeled shoes. These are round and bold and often color blocked or textured.
This is just a small selection of all the shoes available and all these are from top designers. The top designers determine the trends, so I'm sure we will see plenty of affordable options in stores soon. Use as inspiration or add them to your shopping lists!
Here are just some shoes that are available in stores right now.
I will keep track of all great shoes and will add them to my online shop. If you see great mid heel shoes, that you feel should be featured in my shop, be sure to let me know!
Which is your favorite shoe from the above? What kind of shoes are on your wish list this year?