What could be more perfect for the festive season than a sequin dress? Or, actually, anything with sequins on it? If you're still searching for stylish sparkly dresses, here are some of the best in stores right now.
Did you know sequins can be traced all the way back to the time of King Tut, whose clothes were found covered in gold sequins in a bid to make sure he was rich in the afterlife?
But, I'm definitely not waiting for the next life to wear mine. There are some very stylish sequin pieces in stores now, which will make sure you sparkle at Christmas and New Year parties.
I love the way 40+ stylist Ruth Essex talks about sequins in her style interview here, when she says sequins are associated with having fun with the dressing up box as children. They definitely have those associations, and you certainly don't have to give up your sequins after 40!
Tips for wearing a sequin dress and other sequin outfits
First of all a few tips for wearing sequins
Less if more if you opt for a sequin dress. The great thing about sequin dresses is you really don't need to worry too much about the rest of your outfit. A pair of heels and a clutch bag, and you're good to go.
You can wear sequins as daywear. In fact, this has been a big trend over the summer. For fall, team a cozy sweater with a sequin skirt or sequin pants.
If you don't want to go full-on with your sequins, look out for sequin accessories such as shoes, belts and clutch bags.
Keep your silhouette simple so you don't look too fussy. So think about simple sheath dresses, or wearing a plain silk shirt with sequin skirts and pants.
Here are some of the most stylish sequin pieces of this season…
Embellished sequin dress
If you have a formal black-tie dinner coming up, a gala ball, or a plush New Year's Eve event, then you have the perfect excuse to wear a long sequin gown! While some sequin dresses can be unforgiving, often showing up every lump and bump, this dress from Pissaro is super flattering because of the mesh overlay.
It's also a good option if you aren't so keen on your upper arms, as it has little cap sleeves to provide a bit of coverage.
One shoulder sequin dress
If you have toned shoulders this one shoulder dress is a great way to show them off. Less formal than a full-length sequin gown, but still completely party ready. You only need to add a black clutch, sandals and a pair of drop or stud earrings to finish off your outfit.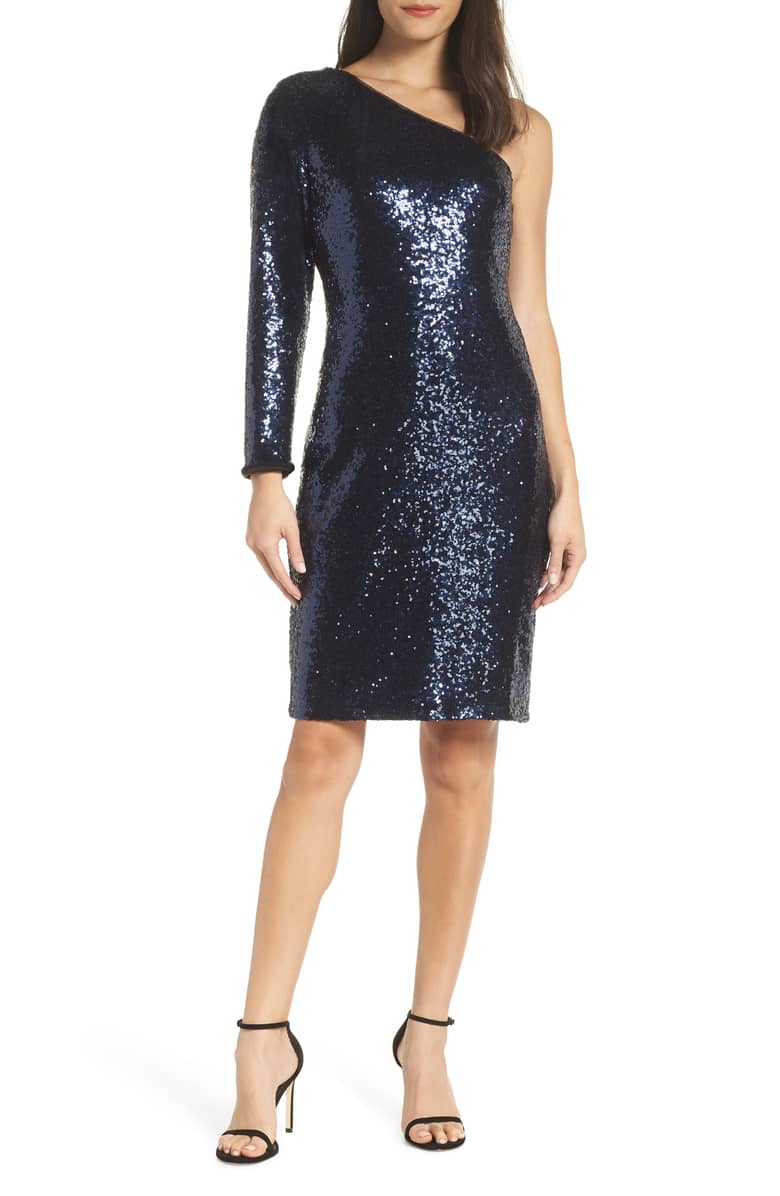 Halterneck sequin dress
I love a halter neck dress as I find it is a flattering shape on my rectangle/slightly inverted-triangle figure. If you aren't so keen on other parts of your body, such as your tummy, then drawing attention to your shoulders can be a great way to divert the eye from elsewhere.
Sequin sheath dress
A simple sequin sheath dress is given a huge shot of glam with the use of sequins. This can be a beautiful silhouette for most body shapes.
Sheath dress with sheer neckline
A great option if you want to cover your arms and show off your legs! This navy sequin dress sits just above the knee and would be a fabulous look for a New Year's Eve event.
High low sequin dress
I'm a big fan of pockets in dresses and I think the marriage of the formal sequin dress from Calvin Klein with the casual nature of the pockets works well here. I'd simply pair with black sandals and a black clutch and keep the rest of the look simple.
Sequin overlay dress
Featuring a sequin skirt and sequin detailing on the neckline, this sequin overlay dress could be a great option if you aren't too keen on your midriff. The sequins draw your attention down to the skirt and up to the neck, and away from the mid-section.
Plus, there's an overlay of chiffon to disguise any lumps, bumps or arm areas that you aren't too keen on.
Burgundy sequin dress
If you really want to stand out at a festive party, then what could be better than combining sequins with the beautiful wine color of this Jessica Howard sheath dress?
This also features ruching around the tummy area to make it more flattering. While many sequin pieces come in cooler colors, this could work for you if warmer hues suit you better.

Sequin wrap dress
You don't have to wear sequins top to toe in your look. Just one sequin element, like the belt detailing here this sequin wrap dress can create a wow factor for your festive wear.
Mango sequin dress
While sequins are usually ultra-formal options for evening wear, I love the slightly relaxed silhouette of this faux wrap dress from Mango. Again, it has great arm coverage if you prefer a party dress which has arms.
Other sequin pieces
Of course, sequins don't have to be worn just on dresses. There are lots of other stunning sequin pieces in stores now, from sweaters to skirts, scarves to pants.
This Eliza J gold skirt popped up as one of the newest pieces on Nordstrom just as I was finishing up this round-up of sequin pieces, and I couldn't resist including it. It would definitely get you noticed at any event.
Sequin sweater
A sequin sweater can be a great piece to wear for Christmas dinner. If you are home with friends and family, you can wear a pair of jeans and your sequin sweater and still look very stylish and festive, without having to wear anything too formal.
This sequin sweater from French Connection also comes in a dark gray, but I quite like the softness of this soft blush color.
Sequin pants
I love the idea of these sequin pants as an alternative to dresses. I can't imagine anyone else would have the same outfit. I'd wear with a white silk shirt and black sandals, and let the pants be the statement piece of the outfit.
I think they'd also be a good outfit for more casual occasions too like a festive lunch. You could wear them with a fluffy cream sweater for a more relaxed feel.
Sequin skirt
A sequin skirt is a more versatile piece for your closet than a sequin dress as it's easier to dress up or down. You could wear a beautiful silk camisole with this Vince Camuto sequin skirt, for example, and finish off your outfit with a pair of chandelier earrings for evening.
Or, for a more casual look, you could wear with sweater.
Sequin jeans
Who says sequins have to be just for formal wear? I love the playful nature of these sequin jeans, which feature sequins in the ripped sections. I would keep the rest of my look formal, and wear with a cream silk shirt, a navy blazer, and court shoes.
Sequin scarf
Another great piece if you want to add sequins in a more casual way. This navy sequin scarf is from Marks and Spencer. I love the styling here and would wear with a leather biker jacket.
Sequin midi skirt
Midi skirts have been a big trend for spring and summer, and are definitely not going anywhere for fall and winter. This Boden skirt is another piece which could be styled for an evening out, or worn with a sweater for lunch or a more casual dinner.
Do you already have a sequin dress in your closet, or other sequin pieces? Do you save your sparkly dresses for the festive season, or do you wear them all year round?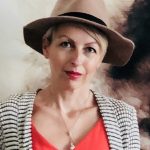 Author bio: Liz Hands is a fashion journalist and stylist who has styled fashion shoots for newspapers, magazines and high-end clients including 5* hotels and BMW. She's now happiest either blogging about style, or donning her favorite Barbour jacket and Brogini boots.
Like this article? Save it on Pinterest!
Want to get more articles from 40+style in your inbox, subscribe here.
You can also connect with 40+style on Facebook, Instagram or Pinterest.
Support 40+style by using the links in our articles to shop. As an associate for Amazon and many other brands, we receive a small commission (at no cost to you) on qualifying purchases which enables us to keep creating amazing free content for you. Thanks!