I've now spent a week in Rome and experienced a lot of Roman style! (If you want to know what I packed, check out my article on how to pack for Rome in November).
I'm tired but fulfilled. My average steps per day is 16,000 which is a LOT more than what I usually walk.
My feet can manage ok. My back needs a bit more work so there I'm doing stretching and massaging (with a roller and tennis ball) at night.
But all that doesn't matter. It's worth it for the enjoyment of slow walking in Rome. Although I have been in the city multiple times, I have never been able to walk here at my own pace. Taking all the time I want and stop as often as I want.
I actually took the time to read all the descriptions from any monuments I passed along the way. Equipped with the extensive knowledge I now have of Rome's history, the city has really come to life for me.
I'm in awe of the immense history of this place but also by the Italians and their sense of style.
Want to know what I packed? Check out the video below
Italian & roman Style
Yes, style is still here in full force. It's easy to spot the Italians and Roman style in the crowds of tourists. They are the ones with the stylish woollen coats, beautiful leather handbags and fabulous shoes.
If you like to fit in perfectly, make sure you wear a long woollen coat. More on that later.
I was astonished about the extend the Italians go to to look good even on a rainy day. Very few were wearing a rain coat or super practical shoes. That goes for both men and women by the way. Looking put-together is a way of life here.
It is reflected in the many shops you see everywhere. It feels like big malls have not yet made way for the small boutiques as they are literally everywhere. In Portugal I hardly ever see anything I want to buy. Here I spot something I'd at almost every street corner.
the importance of style
Although I love the Italians' sense of style and enjoying seeing their elegance on the streets, I also wondered if style is perhaps too important here?
I know that if I lived here, I would want to look the part too.
On the other hand I assume that looking this good comes at a cost as well. The clothes here aren't cheap and most Italians don't look like they went for the budget option. Max Mara is extremely popular here and that's not cheap!
Then again if the pursuit of style gives them pleasure, then what is the problem? It only becomes a problem when you only do it to 'fit in' or you spend more than you earn.
It's very possible that appearance and style is just something the Italians truly enjoy. Remember how I mentioned La passeggiata (https://www.tripsavvy.com/what-is-la-passeggiata-1547544) previously? This is all about seeing and being seen. It's about being stylish and admiring style. Forget about showing up in your casual clothes here.
What's Italian & roman style?
I devoted a whole article on Italian style here. In Italy, it's mostly about elegance. Not too colourful. Not too outlandish. Rather, simple elegance in (mostly) subdued color combinations.
Similar items – Look 1: sweater, puffer jacket, bootcut pants, booties: Look 2: dress, hat, boots. Look 3: mock neck top, puffer jacket, pants, shoes. Look 4: top, pleated skirt, belt, booties
For more inspiration, check out our article on how to wear navy and pale blue.
Does this mean you need to dress the part when you come to visit?
No, casual style is popular too, as are jeans.
I even bought a new style of jeans here. Other than that, I've not yet been tempted to buy anything. For me personally, I hope that the coming years will be years of travel. Especially to warm places as I like to avoid the winters and cold weather. Owning lots of beautiful (and winter heavy) things is simply not practical. I aspire to do more with less for now.
I will talk more about what I wore and packed for Rome next week.
Roman style Trends I spotted
That doesn't stop me from admiring the beauty of what I see here. And of course I want to share inspiration and ideas with you on 40+style.
coats
The first major 'trend' I want to highlight is the emphasis on coats in this city. The coat is everything. Right now most women like to wear a long straight woollen coat.
As you can see it looks super elegant layered with jeans too.
Similar items – top, denim jacket, cardigan, handbag and pumps.
A printed black and white version is always a good idea.
Similar items: coat, sweatshirt, wide leg pants, handbag and sunglasses.
Or a red one.
Similar items: wrap coat and tall boots.
Love wearing red? Here are some some of our tips on how you can wear them.
These women looked spectacular. Beautiful color combinations and the perfect stylish comfortable shoes.
Another popular coat is the puffer coat. Especially short puffer coats are right on trend now. Combined with bulky Chelsea boots of course.
Similar items: white puffer coat, striped sweater, skirt, pants, knee high boots and Chelsea boots.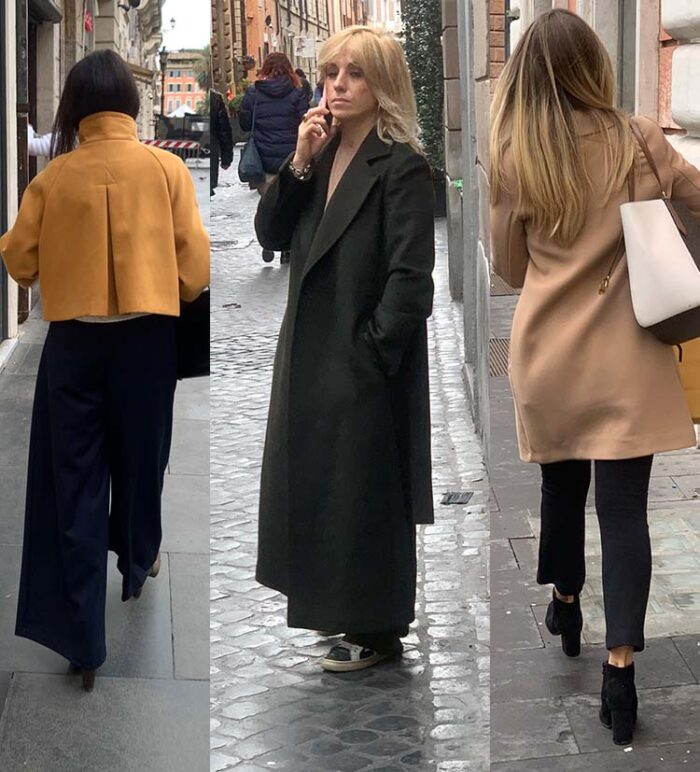 A few more coat options from the streets of Rome.
Loving these green combinations too.
Similar items: belted coat, skirt, booties, leather coat (another option here) and gloves.
Here are some stylish ways on how to wear green.
Here is how you can make a long woollen coat super trendy. Combine with printed crop flare pants, fancy shoes and a pop of color. I'm loving the yellow sweater with the grey coat.
Similar items: coat, plaid pants and oxfords.
Gorgeous coats.
Similar items: green coat and beige coat.
I fell in love with all the beautiful coats and when I spotted this gorgeous coat at a bargain price at H&M (similar coat here), I was tempted to buy it. But as I already mentioned, I don't intend to spend a lot of time in cold weather. So I left the coat in the store.
Later, my friend Saskia visited and I mentioned the coat to her. She loved it and promptly bought it!
Monochromatic cream outfits
One trend I spotted frequently was all kinds of combinations with cream and white. I love monochromatic cream looks.
Harder to pull of in bad weather, but an all cream or white look always looks classy.
Similar items – Look: belted coat, wide leg pants, boots, hat. Look 2: dress (another option here), booties, hat. Look 3: sweater, pants, lace-up boots, beanie.
Adding a short jacket to a long dress is a great way to elongate your legs and emphasize your waist (even if you don't have one).
Similar items: sweater dress, boots and puffer vest.
Cream and camel
Another classic combination is cream with camel for a very elegant look.
Similar items – Look 1: sweater, skirt, boots, jacket, beret. Look 2: dress, belt, necklace, boots. Look 3: coat (another option here), jeans, boots,
A gorgeous casual look with the best boots.
Similar items – Look 1: hoodie, puffer vest, pants and boots.
The accessories
In Rome, italian women pay a lot of attention to their accessories. Bags is one of the biggest accessory but there are also gloves.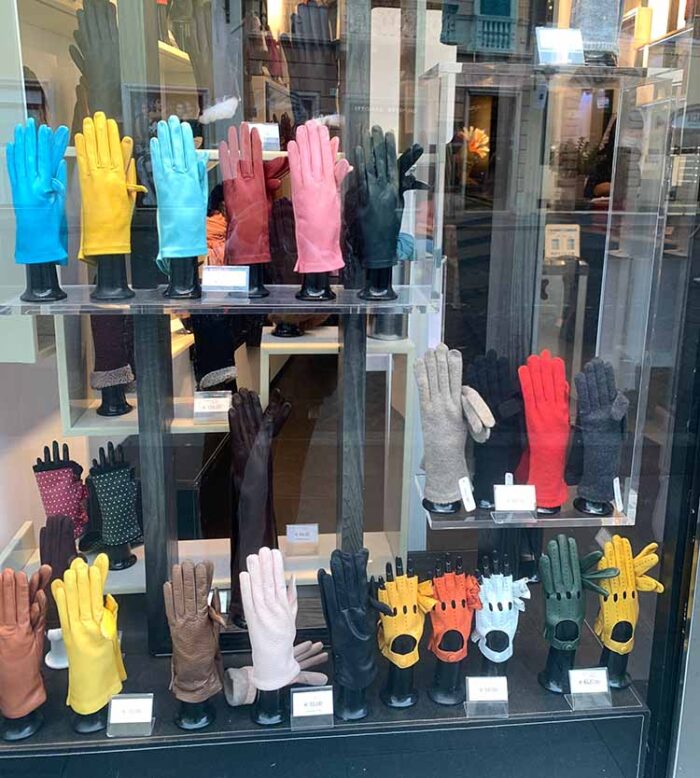 What do you think of roman style? And which of the styles I listed above is your favorite?
shop the similar items here:


My personal Roman style for the month
How I mixed & matched outfits.
Continue reading:
like this article on roman style? share it on pinterest!
Want to get more articles from 40+style in your inbox, subscribe here.
You can also connect with 40+style on Facebook, Instagram or Pinterest.
Support 40+style by using the links in our articles to shop. As an associate for Amazon and many other brands, we receive a small commission (at no cost to you) on qualifying purchases which enables us to keep creating amazing free content for you. Thanks!