Whether you prefer timeless or trendy, you'll find both among the new fall handbag styles on the runways for winter and fall 2020. Take a look at the fall handbags below and see if there is a style you might like to add to your closet.
Handbag trends for Fall 2020
Just adding a new handbag, or a new pair of shoes, can make all the difference to the outfits you already own. There are 17 handbag styles below from the catwalks for fall 2020, so you're sure to find one which fits in whatever you need and which suits your style personality.
1. Fall handbags: Necklace bags
More of an accessory than a functional handbag, many designers chose to finish off their outfits with teeny necklace-style handbags. You might just about manage to fit a lipstick in for an evening out!

2. Structured handles
You could choose a crossbody or a long shoulder strap, but the most on-trend way to carry your handbag this season is to choose a structured hand strap.
Fendi – Bottega Veneta – Off-White

3. Fur and shearling fall handbags
Shearling featured among the shoe and clothing trends for fall 2020, and there were plenty of fluffy, furry bags on the runways too. You could choose a touch of shearling as shown at Christian Dior (below, right) or go for a less subtle approach.
Christian Dior – Dries Van Noten – Michael Kors

4. Chains
Chains are a major trend across all accessories and shoes for fall. So, it makes sense that there would be plenty of handbags featuring chains. You could either choose a handbag with a chain adornment or with a chain strap.
JW Anderson – Stella McCartney – Michael Kors

5. Fringe and feathers
Another major trend seen on clothing and shoes for fall is fringing and feathering. You can also add this trend with your handbag. If you don't want to go too full-on with your fringing, you could wear it subtly on a clutch bag with your evening wear.
Altuzarra – Bottega Veneta – Fendi

6. Crocodile
Animal textures and prints are a style staple which is always on trend. This fall, the texture to choose is definitely crocodile. You can see below that many designers chose to mix a number of trends. Fendi went for a structured handle with its crocodile bag, while Dries van Noten added chains to its styles.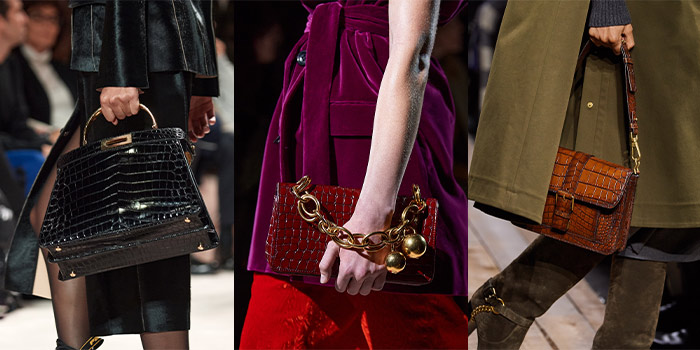 Fendi – Dries Van Noten – Michael Kors

7. Embellishments
To add an extra element to your evening looks, then choosing a bag with embellishment could be a great choice. You could look at three-dimensional styles such as at Valentino (below, left), add a touch of bling or choose a textural fabric such as velvet.
Valentino – Erdem – Dries Van Noten

8. Angular and playful
You don't have to stick to traditional shapes such as rectangles and squares when it comes to your handbags. Many designers chose to add a playful element to their outfits with bags in interesting shapes.
Coach – Oscar de la Renta – Stella McCartney

9. Padded bags
Padded, or quilted, bags are certainly nothing new for 2020. They're a style staple which won't date. In fact, Chanel's iconic quilted bag was created in the 50's. This year, the style is definitely having a moment, with many designers choosing to create quilted bags, particularly in shades of peach, pink and red.

10. Hard case
If you're looking for a new clutch bag for the new season, then adding a hard-case clutch could be the perfect way to bring a new trend into your closet.
Bottega Veneta – Lanvin – Off-White

11. Boxy
While you've already seen some unusual shapes in the trends above, there were also some square or rectangular shapes on the catwalks, but they were given a new, structured feel for fall. Choose a clutch or a crossbody.
Balenciaga – Fendi – Oscar de la Renta

12. Crafty fall handbags
If you prefer a less structured approach to your closet, then an arts and crafts inspired bag could be the way to go. You could look for a knitted, or a soft fabric style.
Louis Vitton – Bottega Veneta – Dolce & Gabbana

13. Petite crossbodies
If you don't need to carry much with you – perhaps you're simply looking for a bag to fit in a phone, credit card and a little bit of make-up – then you could try a small crossbody style.
Alexander McQueen – Fendi – Chanel

14. Oversized fall handbags
At the other end of the spectrum, maybe you need to fit in lots during your day. Perhaps you need a bag for work that will fit in your laptop and files. Or, perhaps you're looking for a weekend bag if you are lucky enough to be heading on a short trip. In that case, an oversized tote could fit the bill.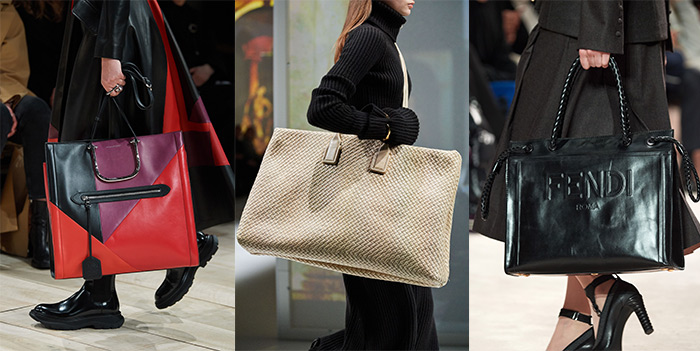 Alexander McQueen – Bottega Veneta – Fendi

Like travelling? Check out our article on the best travel purses for vacation and everday use.
15. Vintage style
There were plenty of vintage styles on the catwalks when it came to shoe trends, and the same nod to the past was seen with handbags too. To create a real vintage feel, look out for bags with a clasp-style fastening.
Lanvin – Christian Dior – Tory Burch

16. Patchwork
While the jewelry trends for fall 2020 showcased bohemian styling with plenty of charm necklaces and bracelets, there was also a bohemian feel to the patchwork handbags on display for the upcoming season.
Alexander McQueen – Marni – Versace

17. Bottle bags
Many of us want to make sure we are staying hydrated throughout the day. You could choose to carry your water bottle in a style bag especially made for the purpose.
Chloé – Marie Serre – Stella McCartney

Continue reading:
Like this post on fall handbags? Share it on Pinterest!
Feature image by Vogue
Want to get more articles from 40+style in your inbox, subscribe here.
You can also connect with 40+style on Facebook, Instagram or Pinterest.
Support 40+style by using the links in our articles to shop. As an associate for Amazon and many other brands, we receive a small commission (at no cost to you) on qualifying purchases which enables us to keep creating amazing free content for you. Thanks!