Are you planning a trip to Rome in November? Great idea! It's an incredibly beautiful city that you will love exploring. But what do you pack for Rome in November?
November is at the end of the high season with September and October being very popular months to visit Rome.
It's a bit colder and the weather a bit more unpredictable with a high chance of rain, but for most days the weather is pleasant to explore Rome. All you need to make sure is to pack clothes for all kinds of weather conditions. Let's explore how to pack for Rome in November.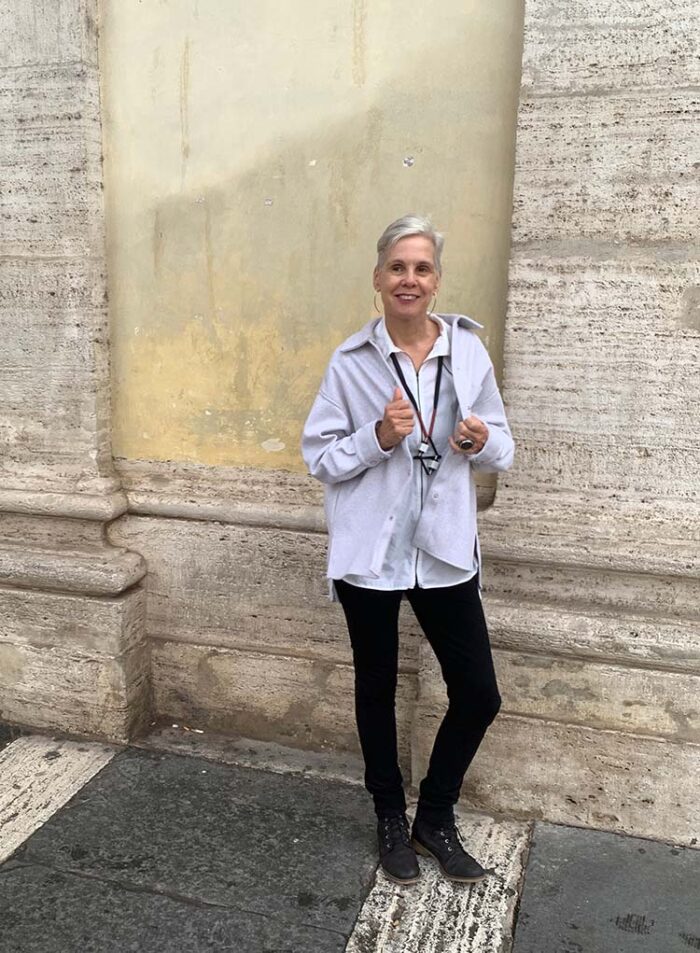 Stella Carakasi blouse, black jeans (similar), lace-up boots (similar), necklace (similar), gold hoop earrings (similar)
What to pack for Rome in November
Romans are stylish people. They love elegance and both men and women look chic on the streets of Rome.
They also embrace casual style but with an elegant edge. You definitely don't need to keep your jeans at home.
November is one of the least popular months in Rome (so I'm told) because it tends to rain a lot. The weather is certainly unpredictable from day to day. It can get cold, really sunny and yes, there's also rain.
That's why I've taken the layered approach to pack for Rome in November. That way, you can take layers on or off as you go through the day.
Video: how to layer for winter
I've also taken a very practical approach to the clothes I packed for Rome. I knew that I would be out and about a lot in all kinds of weather. I would do lots of walking. So I focused on practical clothing and practical shoes and accessories.
With casual style and elegant touch, you'll still fit right into Rome.
Here are some of the stylish Roman styles and trends I've spotted in the city.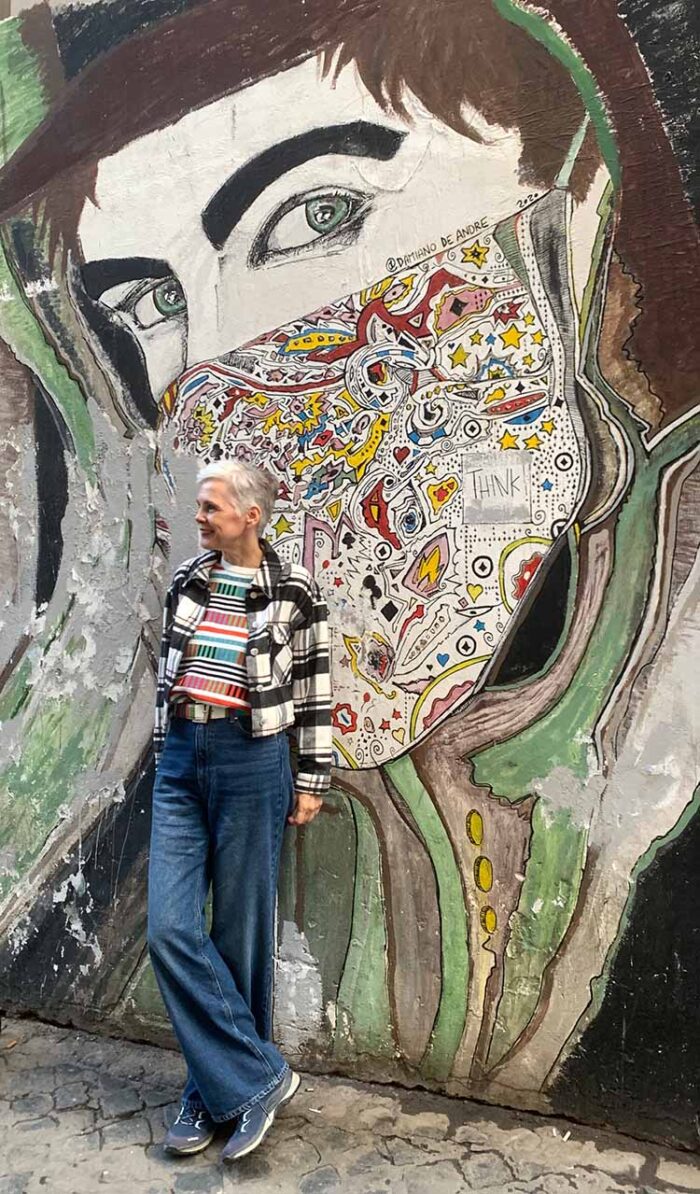 H&M jeans, sweater (similar), Zara jacket (similar), walking shoes (similar)
What to bring to Rome in November
Let's dive into the details of packing for Rome in November.
Jackets & coats
It's going to be chilly in November so you need to pack some jackets. Since temperatures vary broadly in November, it's good to pack a light, medium, and warmer jacket.
I just acquired a few shorter jackets so I wanted to bring them all.
Lighter jackets that are easy to layer
I LOVE my lighter short jackets. I've had my black jacket and jean jacket for years and I hardly travel without them. The black one especially doesn't wrinkle and it fits in any size handbag. It's a great layering piece. The jean jacket looks good with anything.
Mine are short which means they highlight the waist, therefore lengthening the legs and creating a beautiful 1/3-2/3 (golden ratio) silhouette.
For more tips check our guidelines on how to wear a short jacket.

Rain coat
A good rain coat is essential in November as you get some rain from time to time. It also works as a great windbreaker. It helps if you bring a light version rain jacket as it can always easily fit into your backpack or handbag. I invested in a good one for my trip to Iceland a few years back and it's still going strong.

Medium weight jacket
The Chanel style jacket (similar) I brought is of a medium weight and is perfect as an outer jacket for those days when it's not really that cold. I can combine it with almost all the clothes I brought.
Stella Carakasi sweater, black jeans (similar), Zara jacket (similar), black boots (similar), Freida Rothman sunglasses (similar)
Warmer jackets
You absolutely need a warmer jacket in Rome in November. If you want to fit right in the classy Rome style, you can consider bringing a long woollen coat.

Another great option that's currently very popular is the shorter down coat. If I would spend more time in winter weather, I would invest in one of these.

However, I opted for shorter thicker flannel jackets. Although a long woolen coat is more stylish, it's also a lot heavier to carry. It's also not easy to carry around when you want to take it off.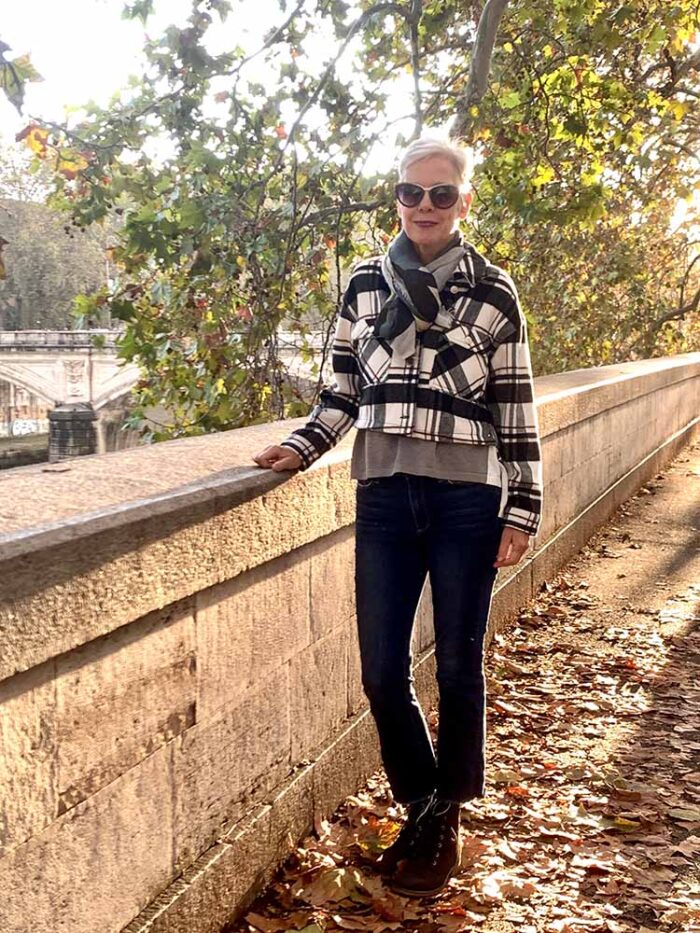 Paige Jeans (similar), Stella Carakasi sweater, Zara jacket (similar), black boots (similar), Freida Rothman sunglasses (similar), scarf (similar)
My 'system' of jackets has worked really well so far. I've loved wearing my slighly oversized light grey jacket (similar) with all my pants. Combined with a scarf it keeps me really warm. I can have multiple layers underneath if I need to and also add my raincoat on top if it gets really cold or it starts to rain.

The pants
The most practical pants you can bring to Rome in November are a pair of jeans and black pants. I've also added cream pants (no pictures yet) if I want to get extra stylish. They look great with all my tops and I can even pull off a currently trendy 'all cream' look.
Paige jeans (similar), Stella Carakasi sweater, black boots (similar), sunglasses (similar)
I've also wanted to try wider leg jeans so when I spotted these ultra high waist jeans in the windows at H&M, I couldn't resist adding those into the mix as well. They look fabulous with short jackets.

The tops
Tops are essential both as layering pieces and as the final layer. Here are the tops to pack for Rome.
Singlets & camisoles
I always wear a camisole under my tops in winter. They are the perfect first layer.
Check this article on the best camisoles for great shopping options.
Thermal wear: Heattech tops
If it's a colder day, I also wear a heattech top (or I change the singlet for a heattech top). This is a thin layer that allows you to wear any kind of garment (like a blouse) on top, while still staying comfortably warm.

The outer tops
My top layer tops are the most fancy. They have a nice color and often an asymmetrical element. These are the tops I want to show off to the world.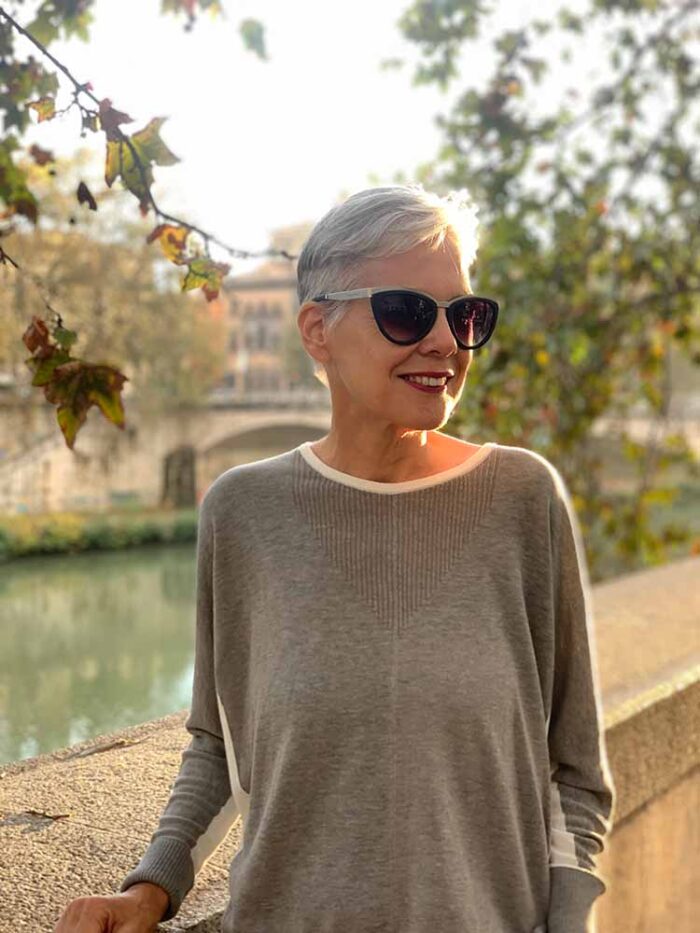 Stella Carakasi sweater, sunglasses (similar)
Of course all of my tops can be combined with my jackets as the ultimate outer layer.

Cape or Poncho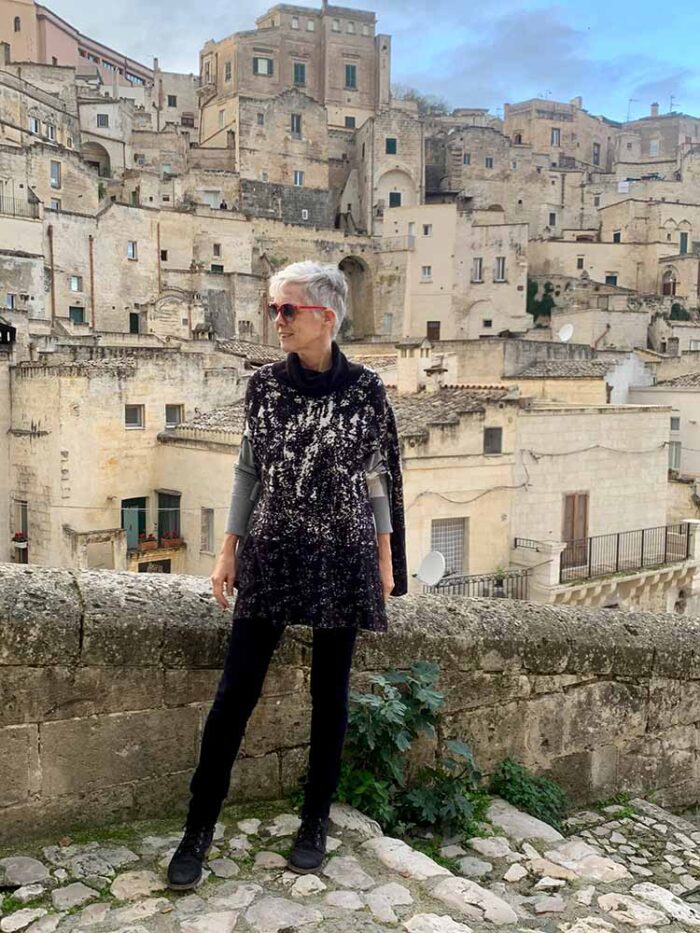 I absolutely love my black & white cape from Stella Carakasi. Easy to layer over my outfits if I need an extra layer. Although mine is no longer available, below are a few more capes I found online for you to consider.

The dresses
You may also like to bring a dress for a fancier occasion. I brought 2 midi dresses that I can style casually or more fancy. I can layer these just like my tops so I can make them as cool or as warm as I want.
They look great with my Stella Carakasi leggings and fabulous with my tweed style and lighter jackets.

The shoes
I kept it super practical for this trip. As I knew that I would walk a lot, I brought my most comfortable walking shoes. I also brought my version of Chelsea boots which are also super comfortable. If I would live in winter temperatures for longer, I would definitely get myself some Chelsea boots in black or cream leather as well.

I also brought my trainers for sports and sunnier or lighter walking days.
Super comfortable walking shoes
I also packed my purpose built walking shoes. These are my most comfortable shoes so I can go for longer walking trips (especially in parks) these are my go-to shoes. Since you'll probably be doing a lot of walking in Rome, you may want to get yourself a comfortable pair as well. I'm loving my Lowa walking boots.

Of course, if you have more fancy events on your trip, take a fancy pair of shoes as well.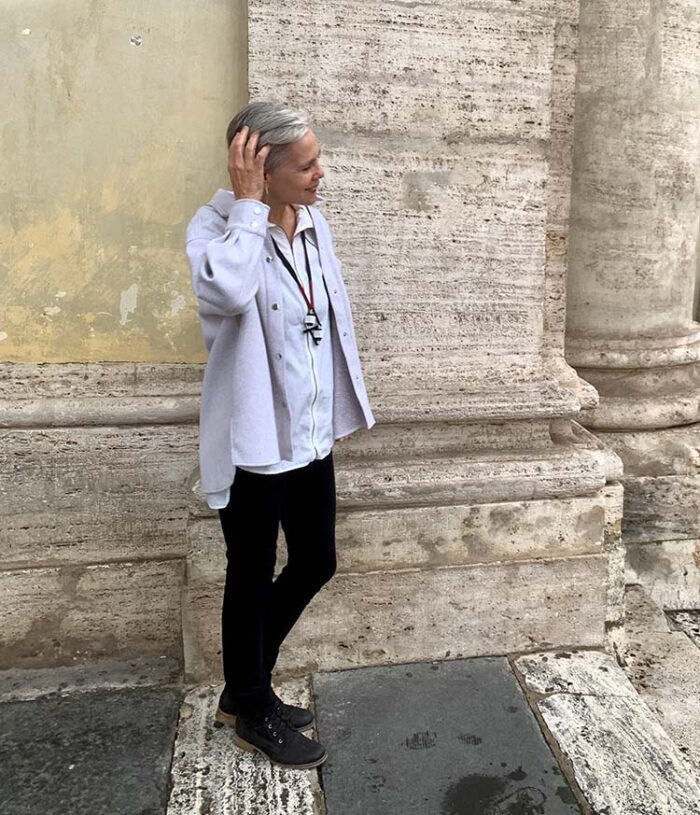 Stella Carakasi blouse, black jeans (similar), lace-up boots (similar), necklace (similar), gold hoop earrings (similar)
The accessories
Accessories complete any outfit so it's good to always bring a few.
I always like to pack a few necklaces, sets of earrings, bracelets, a hat and a belt. Absolutely essential for this time in Rome are some good scarves.

I also prefer a backpack over a bag. Below backpacks are on my wish list.

Another video where I show you all items I packed in detail
A few questions you may have
Why isn't there more color in this capsule wardrobe?
The new jackets I acquired and pants I brought were all neutral which is why this turned out to be quite a neutral capsule. However, some of my tops and scarves were colorful (even though I forgot to include one fuchsia top in my videos) which always provided a pop of color. I'm currently reluctant to invest more in colorful winter clothes as I prefer to spend my days in warmer weather and aim to avoid winter temperatures as much as possible. I don't want to buy more clothes than I need.
What kind of changes would you make if you could pack again?
I've been mostly happy with the way I packed for Rome. The capsule wardrobe for Rome has been versatile and fun to mix & match but I didn't make that much use of my super light jackets. One dress would have been enough as I preferred wearing my pants more.
Do you want to visit Rome? What would you be packing for Rome and southern Italy in November?
Continue reading:
like this post on what to pack for Rome in November? share it on pinterest!
Want to get more articles from 40+style in your inbox, subscribe here.
You can also connect with 40+style on Facebook, Instagram or Pinterest.
Support 40+style by using the links in our articles to shop. As an associate for Amazon and many other brands, we receive a small commission (at no cost to you) on qualifying purchases which enables us to keep creating amazing free content for you. Thanks!