It used to be that when you were younger, you wore a bikini and then when you reached a certain age (I'm not sure who decided what that age should be!) you started to wear a one piece swimsuit. However now one-piece bathing suits are definitely having a moment, with every age group choosing one as a stylish option for the beach or pool. In this article, you'll find the best one-piece bathing suits for women.
Glamorous one-piece bathing suits
One-piece swimsuits pretty much went full circle. They went from being the glamorous swimwear to wear on the beaches of St Tropez in the 1950s, to being seen as somewhat frumpy.
Now, the boundaries have definitely blurred. You are just as likely to see a 20-something wearing a one-piece on the beach and a 50-something (or older) wearing a bikini. Who remembers Helen Mirren in that stunning red bikini vacationing in Puglia, Italy?
I wear a mixture of bikinis and swimsuits and think that a one-piece can look incredibly sophisticated. What could be more elegant that a stylish one-piece with a big, floppy sunhat and over-sized sunglasses.
Benefits of one-piece bathing suits for women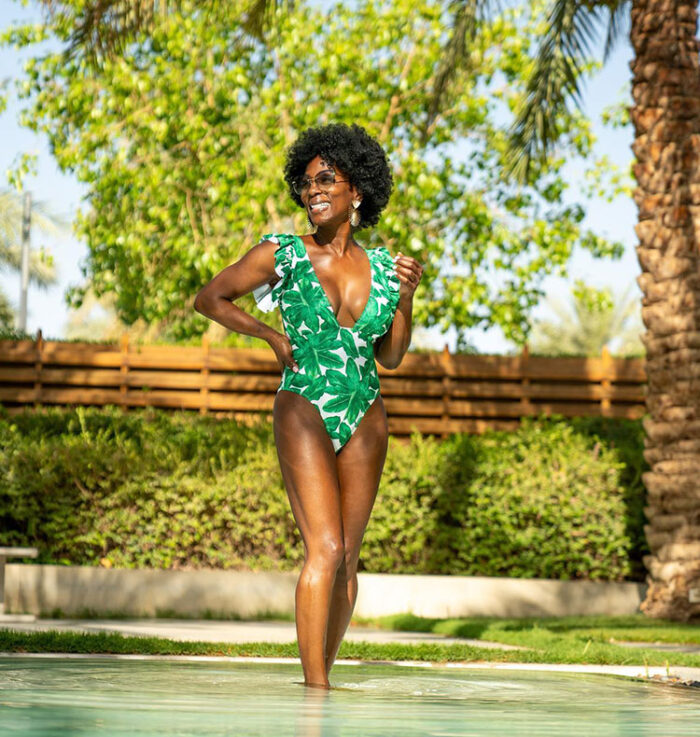 Apart from exuding elegance, a one-piece swimsuit can also be incredibly flattering for your figure.
You can opt for different neck styles to suit your body shape, from v-neck to halterneck, depending on what suits you best and how much coverage you prefer.
Angela @angelamashelle above chooses a v-neck with cap sleeves.
Check out these similar swimsuits from Hilor, SPORLIKE and SOCIALA that you can wear with this similar pair of earrings and sunglasses.
Tummy control swimwear: Flattering one-piece swimsuit options
Many swimsuits also offer figure flattering fabrics which suck you in in all the right places. Miraclesuit, for example, promises to give you the illusion of being 10 pounds lighter, making the brand one of the best choices when searching for one-piece bathing suits for women.
You could also take a look at Magicsuit, Tommy Bahama, and Spanx swimsuits if you are looking for slimming options, as well as British brand Boden.
Plus, you can always flatter your figure and express your style personality with a one-piece, opting for a playful print, some ruffles or an asymmetrical detail.
How to choose a one-piece swimsuit
Before I look at the best one-piece swimsuits in stores, below are a few tips for choosing a one piece.
1. Think about what you want to enhance and downplay
Just as with any other outfit in your closet, you can choose a swimwear style to flatter your body type.
For example, you could choose a suit with tummy control, or you could opt for one with padding, or without, to either emphasize or downplay your chest. If you want to look as if you have longer legs, choose a higher cut swimsuit.
If you are a pear shape, you could choose a swimsuit with a darker color on the bottom and a lighter shade on the top to draw the attention upwards.
2. What is your suit for?
If you are snorkeling or doing some serious swimming, you are likely to want a totally different suit to if you are choosing one for a vacation at the beach.
3. What color do you want?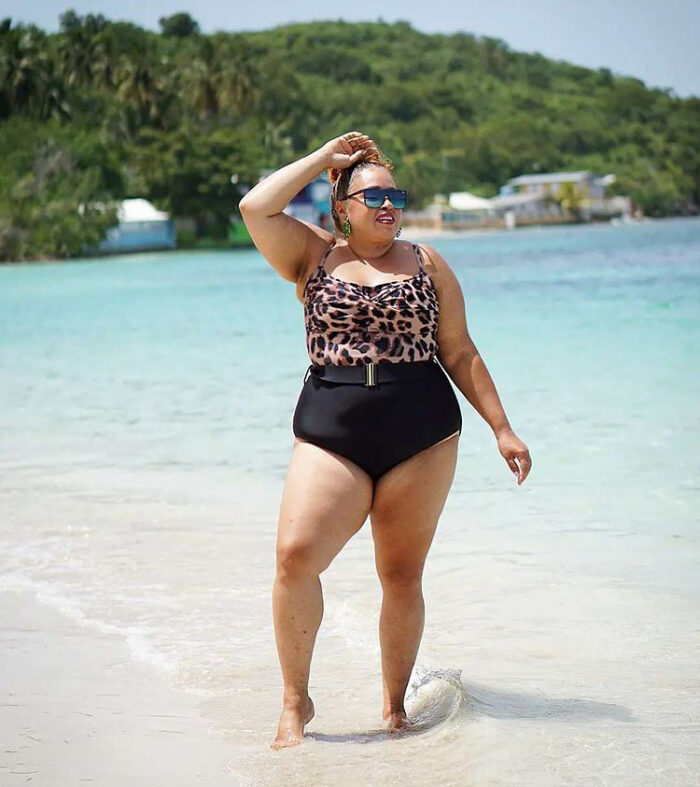 If you want a suit with longevity, you may want to choose a classic color like black, navy, red or white that will never date. But, you could opt for a print or the latest on-trend color for something different.
Sandra @lapecosapreciosa above shows off a suit with a classic print that won't date. If you want to downplay your lower half while emphasizing your bust, this would be a good style to choose.
Check out these similar bathing suits from CUPSHE, Aqua Eve and KUNISUIT that you can wear with this similar pair of sunglasses.
20 of the best one-piece swimsuits in stores now
Below are 20 of the best swimsuit options for this summer. You'll find all of the best one-piece bathing suits for women from classic black one-pieces to those which will pull you in, in all the right places, retro styles and playful prints.
1. Tummy control swimwear
If you aren't confident about your tummy area, the swimsuit below has a slimming illusion. It comes in a huge choice of colors and reviewers say it is quite possibly the most flattering swimsuit for the 'older demographic'.
Smismivo Tummy Control Halter One Piece
2. One piece for women – classic black one-piece swimsuit
If a one-piece swimsuit is the most elegant piece of swimwear you can own, then a black one piece swimsuit has to be the most sophisticated, and classic, option you can choose.
Like the little black dress, the black one-piece swimsuit will never date. So, as long as you make sure you rinse it out when you have been swimming in chlorine-treated pools (otherwise, your suit will develop a saggy bottom), your black one-piece should last you year after year.
That's why a black swimsuit can be considered an investment piece, just like any other investment piece in your closet, so you can look at spending a little more to get something you really love.
Miraclesuit Sanibel One Piece Swimsuit
3. One piece swimwear – white one piece swimsuit
A white one-piece swimsuit can be tricky to wear, but it can also look beautiful if you find the right one.
I'm always worried when I wear white swimwear that it will be see-through, so it's vital to choose a quality piece with thick enough material so you don't end up showing off more than you intend to at the pool or the beach.
Miraclesuit Rock Solid Europa Asymmetrical One Piece Swimsuit
4. One shoulder swmimsuit
If your shoulders are part of your body you like, then a one shoulder swimsuit option could be a good choice like this Hilor swimsuit (below). Reviewers say it is super flattering and the quality is very good for the price.
Hilor One Shoulder Asymmetric Ruffle Bathing Suit
5. Strapless one piece swimsuit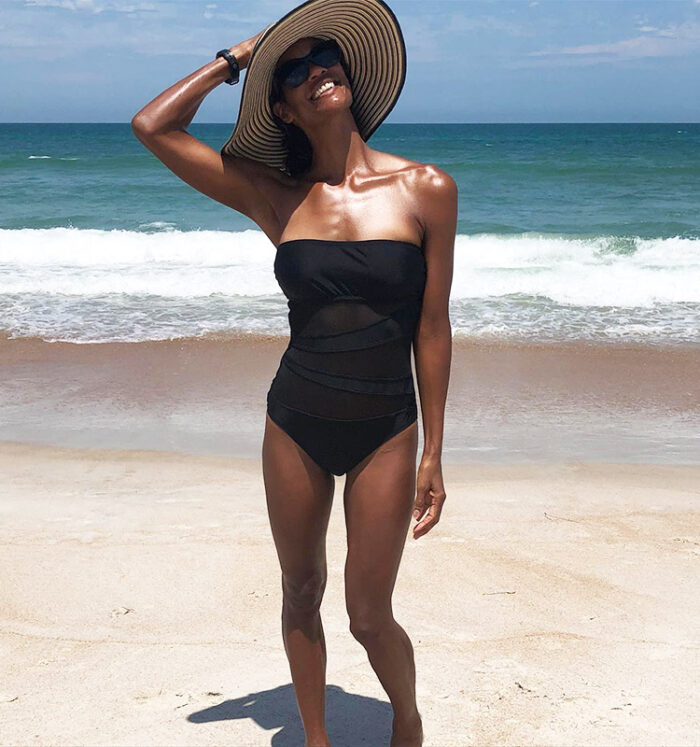 If you are heading somewhere sunny and you want to make sure you don't get tan lines (although, of course be sure to put plenty of high factor sun cream on!), then a strapless or bandeau swimsuit could be a stylish option.
Diane @fashiononthe4thfloor above (read her style interview here) looks fabulous in her strapless swimsuit and oversized hat.
Check out this similar one piece swimsuit, sun hat and sunglasses.
Women who have tried the ruched strapless swimsuit say it sucks the tummy in and keeps the bust in place.
Smismivo Ruched Strapless One Piece Swimsuit
6. One-piece swimsuit with skirt
If you prefer a little more coverage at the beach or pool than that offered by a traditional swimsuit, you could look for a swimsuit which has a built-in skirt.
It can be easier to find swimsuits with skirts for girls than for women. But you can try a lovely retro style which will look sophisticated and womanly rather than girly. Reviewers of the swim dress below say it provides coverage without looking matronly.
SHEKINI Ruched Tummy Control Swimdress
7. Halter one-piece swimsuit
Just as with any other piece of clothing, you can choose a swimsuit to suit your bodyshape. I always think a halterneck style is particularly flattering if you have an inverted triangle shape, although it can look beautiful on any shape.
The shaping of this swimsuit style (below) would also look lovely on hourglass and pear shapes. Women who have tried the halterneck style below say it is soft, comfortable and flattering.
CUPSHE High Neck Tummy Control Swimwear Bathing Suit
Here are more tips on dressing the inverted triangle if your shoulders are wider than your hips.
8. Ruffle one piece bathing suit
The bardot-style bare shoulder look has been a key style for tops and dresses for the past few seasons, and the style has made it's way to swimwear.
You could wear this style on or off the beach. Simply pop a maxi skirt on over your swimsuit and you'll be ready to go to the bar or out for lunch. The off-the-shoulder swimsuit below has plenty of good reviews from women who say it makes them feel confident on the beach.
Tempt Me Off Shoulder Ruffled Bathing Suit
9. Sexy one-piece bathing suit
I don't know about you, but I always feel sexier in a one-piece bathing suit than I do a bikini. I think it's because I feel more sophisticated.
I guess everyone's idea of what is sexy is different, but I don't necessarily think you have to be showing off any more flesh to sexy. You can just opt to bare a little bit of skin, choosing the area of your body that you feel most confident about.
The mesh cutouts of the swimsuit (below) provide coverage while giving more than a hint of sex appeal.
Miraclesuit Illusionist Palma Tummy Control One Piece Swimsuit
You may also want to check out our article on the most stylish fashion pieces women over 40 couldn't resist.
10. Floral one piece swimsuit
Do you have a romantic side? Then perhaps you would love a pretty floral print rather than a block color on your swimsuit.
The pattern on the Cupshe swimsuit (below) has a modern edge as it only covers half of the swimsuit. This could also be a good belly hiding technique as the different sections confuse the eye, visually breaking up your midsection.
CUPSHE Floral Print Tie Strap Bathing Suit
11. Red one-piece swimsuit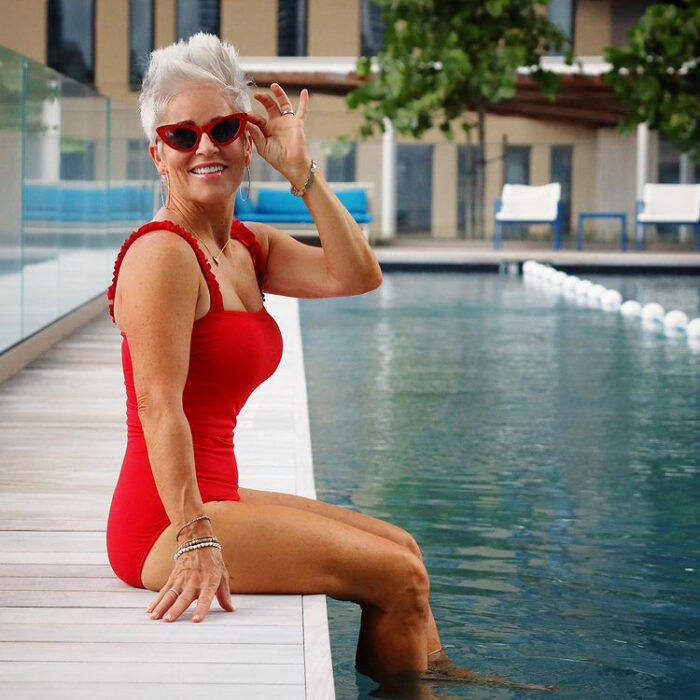 Red can also be a very striking, classy color to wear by the pool or on the beach. You don't have to choose a skimpy all-red piece if you don't want a vibe which is too akin to Pamela Anderson in Baywatch.
Shauna @chicover50 above (read her style interview here) looks beautiful in her red swimwear and matching sunglasses.
Recreate her look with this similar swimsuit and sunglasses from Amazon.
Cromi Tummy Control High Neck Swimwear
12. Low back one piece swimsuit
If your back is one of the favorite areas of your body, how about choosing a low-back swimsuit like this one from Hilor (below), which has a flattering criss-cross detailing at the back.
Hilor Multi Strap Cross Back Bathing Suit
13. Best one-piece bathing suits for women: A retro one piece swimsuit
A 1950s styling particularly suits the one-piece swimsuit and can be beautifully flattering if you have an hourglass figure. You can channel your inner Marilyn Monroe in a retro shape swimsuit like the one-piece below.
Ekouaer Vintage Inspired Shirred Bathing Suit
14. High neck one piece swimsuit
While plenty of swimsuits have a low-cut neck, if you prefer to cover up your decolletage, you could look out for a swimsuit with a higher neckline, such as the Holipick swimsuit below which comes in a good choice of colors.
Holipick High Neck One Piece Swimsuit
15. Long sleeve one piece swimsuit
Do you do a lot of snorkeling or water sports such as paddle boarding or surfing, for example? Then you may want to make sure you have some extra coverage, either for warmth or to protect your skin from the sun. You could choose a swimsuit that is a rashguard-swimsuit hybrid.
American Trends Long Sleeve Swimsuit
16. Yellow one piece swimsuit
While swimsuits often come in very classic neutrals, if you want to opt for something a little different, you could always add a bright pop of color, such as yellow.
Hilor One Piece Front Crossover Swimsuit
17. Pink one piece swimsuit
Pastels are another lovely choice for your swimwear, but if you don't want to go for all-over pink, you could choose a color-blocking style, such as the wrap swimsuit below, which has a flattering wrap style across the bust.
CUPSHE Wrap Color Block Tie Side Bathing Suit
There are more tips on how to color block like a pro in this article.
18. Black and white one-piece swimsuit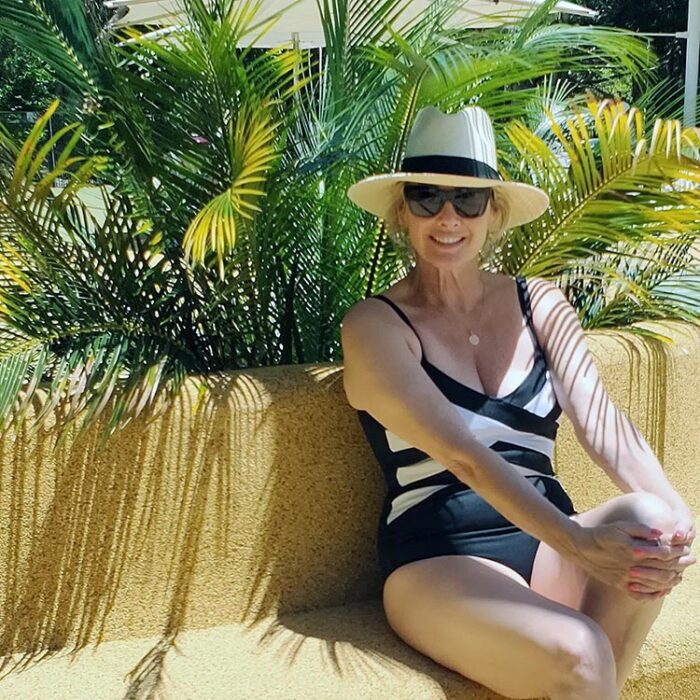 Just as a solid color black, red or white swimsuit can give you a very classy look, a monochrome suit is also very elegant.
Suzie @suzie.richetti above looks super stylish in her monochrome swimsuit.
Check out these black and white swimsuits from Longitude, Reebok and GRACE KARIN that you can wear with this similar hat and sunglasses.
The suit from GRACE KARIN (below) has a flattering cross over style and ruching at the tummy area.
GRACE KARIN Halter Stripe One Piece Swimsuit
19. Blue one piece
Blue can be another beautiful option for your summer swimwear, particular this lovely Boden swimsuit below.
Boden Kefalonia Halter neck Swimsuit
20. Green one piece
The green bathing suit (below) features a flattering back detail, as well as a ruched tummy section.
Hilor Shirred Halter One Piece Swimsuit
Which of these is your favorite one piece swimsuit? Don't forget to tell me what the best one piece bathing suit brands and styles are that you've worn in the comments below.
shop more one piece swimsuits here:
Do you prefer to wear a one piece swimsuit or a bikini? what's the best one piece you've ever found?
Continue reading:
Like this piece on the best one-piece bathing suits for women? Share it on Pinterest
Feature image Diane @fashiononthe4thfloor
Want to get more articles from 40+style in your inbox, subscribe here.
You can also connect with 40+style on Facebook, Instagram or Pinterest.
Support 40+style by using the links in our articles to shop. As an associate for Amazon and many other brands, we receive a small commission (at no cost to you) on qualifying purchases which enables us to keep creating amazing free content for you. Thanks!