I have been having a lot of fun this week! It is now the middle of the Audi Fashion Festival in Singapore and I have seen and spoken to many influential people in the fashion world like:
Nicola Formichetti, artistic director at Mugler and frequent style director of Lady Gaga
Daniel Saynt, founder of Fashion Indie and Socialyte and chief marketing consultant to Rebecca Minkoff
Ruth Marshall-Johnson, senior editor of the think tank at WGSN
Corrine Ng, founder of Asia Designer labels online store shopthemag.com and Group Editor at Mediacorp and
Leauren Indvik, Associate Editor marketing & media at mashable.com
I have been asking them about the influence of bloggers in fashion today, future trends and fashion for women over 40. I will tell you more about my conversations with all of the people above in the coming weeks.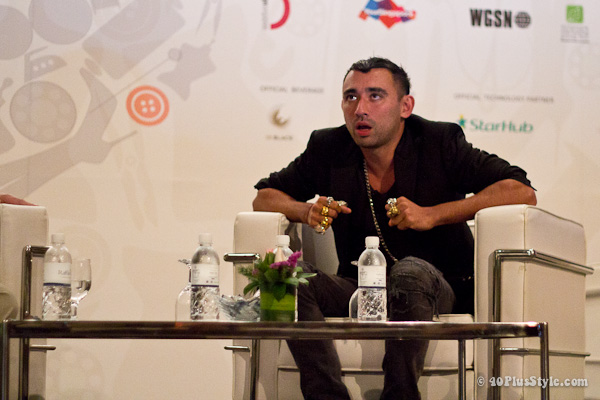 The only peson from the above list, that I did not personally speak to is Nicola Formichetti, who is the creative director of Mugler and a frequent styling collaborator of Lady Gaga. And if that wasn't enough he also works for Vogue Homme Japan and Japanese fast-fashion brand Uniqlo as their fashion director.  As you can expect Nicola is extremely poplular here in Singapore, so he instead opted for a public interview by known interviewer Colin McDowell. The advantage of someone else doing the interview is that I have plenty of time to film it! Not all of the videos are of great quality but the sound is pretty clear.
Nicola Formichetti on the infamous Lady Gaga meet dress
Find out how long it took to put it all together, how it was made, which meat was actually best and how the dress was 'stored'.
"I loved it when she hugged Cher"….. "She loved it, she was going crazy"
Nicola Formichetti on his first collaboration with Lady Gaga
Nicola talks about how he got to work with Lady Gaga and how difficult it actually was to get clothes for her at first.
"If you work in high fashion, you don't really work with music people. This was the rule".
He also goes into detail about which designers were supportive of Gaga from the start and both him and Colin McDowell speak about the fabulousity of Miucci Prada. Something I can only agree with!
"She is the coolest"

Nicola Formichetti on how to build a brand
Having built a very strong brand both for himself and Lady Gaga, Colin McDowelll asks Nicola what it takes to build a brand.
"You have to feel it… it has to be pure and it has to come from you"
Nicola on the future of Asia
Talking about the growing influence of fashion in Asia.
"It's a great, great time to be here in Asia at the moment, it's so exciting…"
"Also I love the fact that people just SHOP…. It's great… It's fun"
What is Nico Panda?
Oh so cute. Find out who he is…
I just had a lot of fun watching the Mugler show! Pictures and videos coming up soon!
Tomorrow, I will be off to Blueprint where emerging designers are showcased and promoted. I will be sure to take lots of photos there too and hopefully speak to some of the designers!
What would you like to know or see?

Related posts: