Debra achieved worldwide fame when she was one of the six women being featured in Ari Seth Cohen's inspirational film Advanced Style. She is a remarkable artist known for her wearable art and one of the nicest women you will ever meet.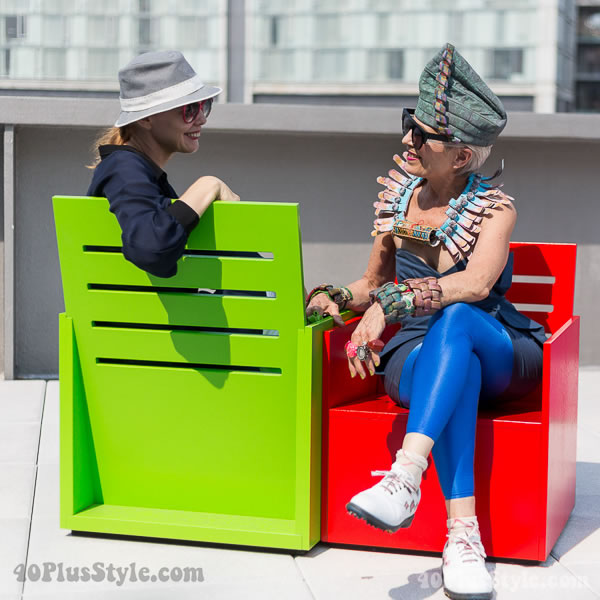 Extraordinarily creative and always energetic and full of life, Debra received me with open arms to New York and continued to invite me to her fabulous Advanced Style party in honour of Ari Seth Cohen's brief return to New York.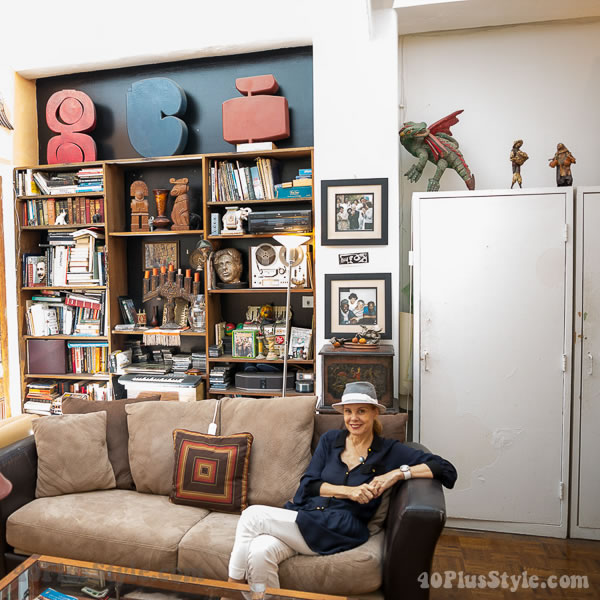 Of course I wanted to find out more about her and discover the secrets to her fabulous style, creativity and zest for life.
You will also be treated to some peaks into the wonderful New York apartment she shares with her partner Stan (pictured below) and I created a short video with her.
Can you tell us about more about yourself?
I am a native New Yorker born on the Lower East Side. Other than 11 years spent in the San Francisco Bay area I have only lived in NYC or the area.
I went to San Francisco when I was 22 to graduate school at University of California, Berkeley in the late 60's. Everything was happening then and there. I studied Textile Design but my thesis was on textiles related to the body and I called them Fibrous Raiments.
There was nothing traditional about them in form or materials but I used ancient and traditional techniques such as basketry, netting, knotting and knitting. This was even before Wearable Art.
I have dressed up and played with clothes and textiles since I am 3. It was encouraged and allowed…this gave me and my sister the chance to explore and experiment through play.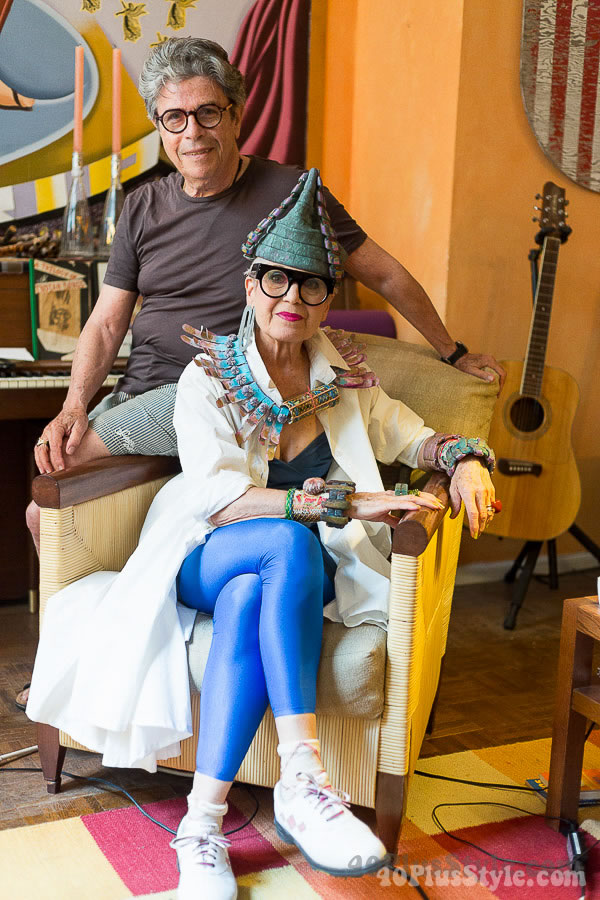 As a point of reference which age group do you belong to or perhaps you are willing to share your age?
I am proudly 70.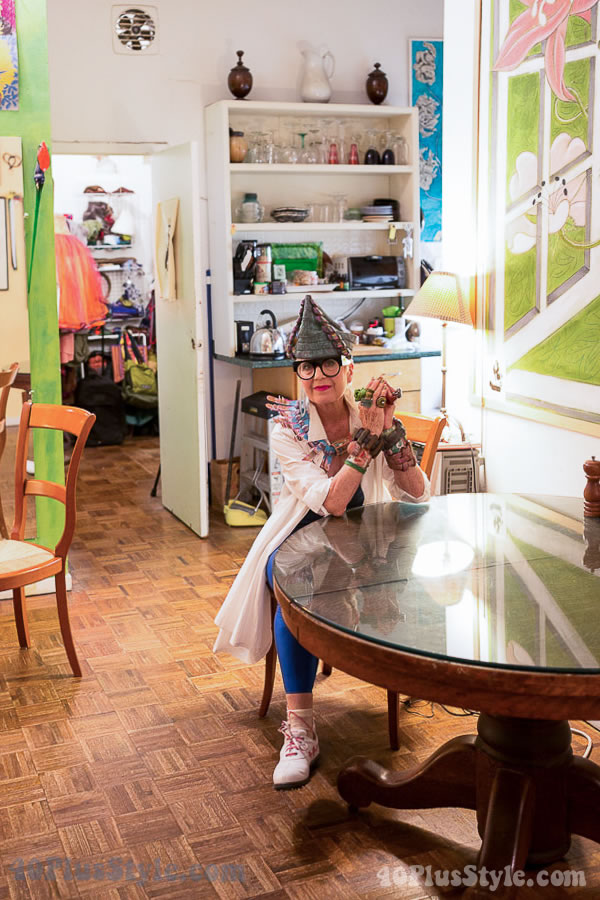 Can you tell us a bit more about your website Viva Le Hat and why you created it?
My website was done to promote and publicize my newest hats made from Viva paper towels.
I want HATS to LIVE, to come ALIVE again. I want to see more women bring hats back!! It is a simple website mostly with videos and articles about me, my process and Advanced Style.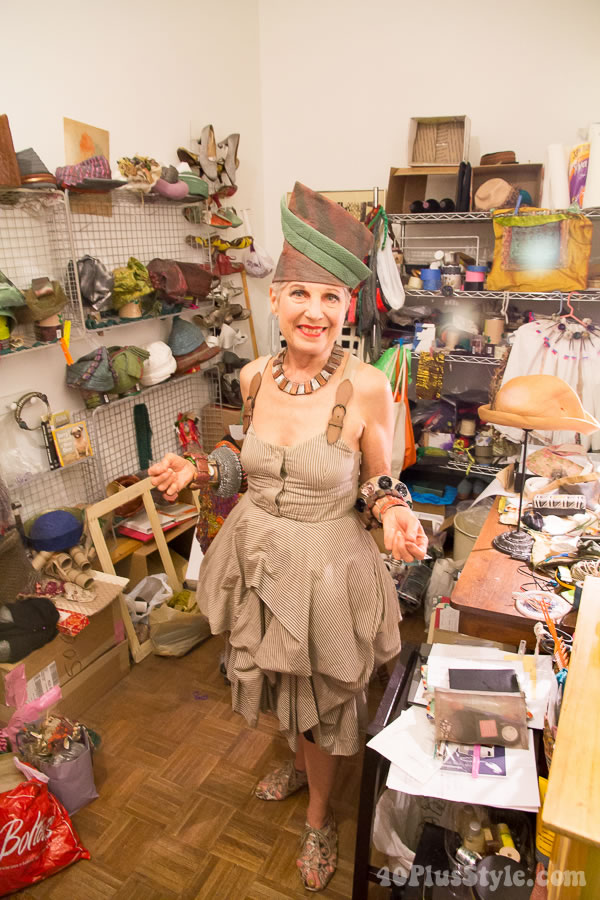 You are also one of the 6 amazing women featured in the Advanced Style movie. What impact has this had on your life?
It has had a very big effect on my life.
Knowing Ari and having him in my life as a friend has been very enriching.
The Advanced Style Movement has really become a movement! I enjoy meeting and greeting people who come to NY City, who follow and admire Ari's work and the film that Lina Plioplyte filmed and directed.
My partner Stan and I create gatherings often to bring Advanced Style ladies and men and younger admirers together. There is a lot of admiration and appreciation between the younger and older. It's always a joy to see the interaction. This helps to build and reinforce the community.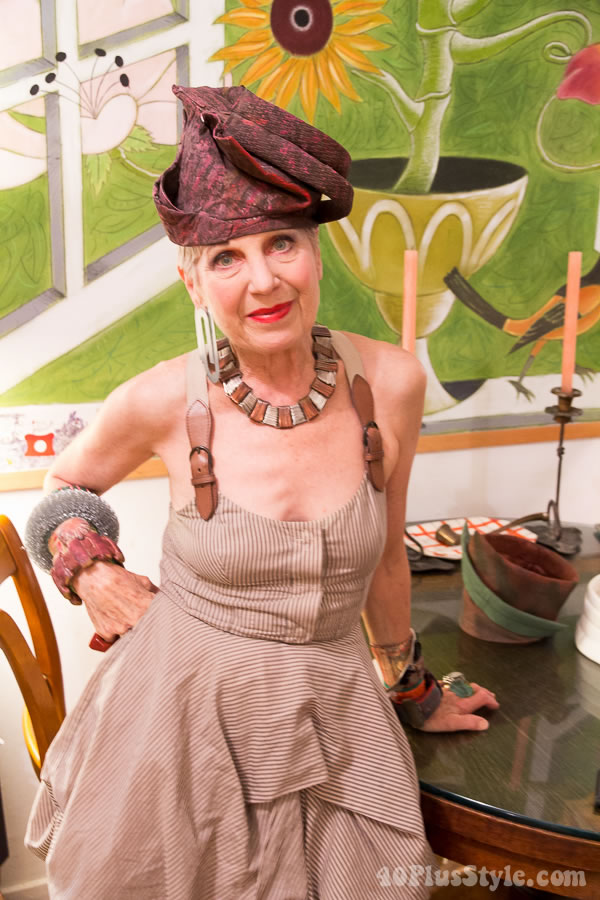 With my visibility it has opened more opportunities for me to continue to teach. I teach at MAD (Museum of Arts and Design) MOMA (Museum of Modern Art), Eileen Fisher's "Green Eileen" organization, up cycling and re purposing her garments into personal adornments, embellishments and hats. This is primarily what I like to teach as well as unique HATS.
I receive emails or comments on Facebook regularly. When I walk around NYC (and out of NYC as well) I get recognized at least 3 times a day…and it is most often by men and woman under 30. So the impact on younger people is quite astounding!!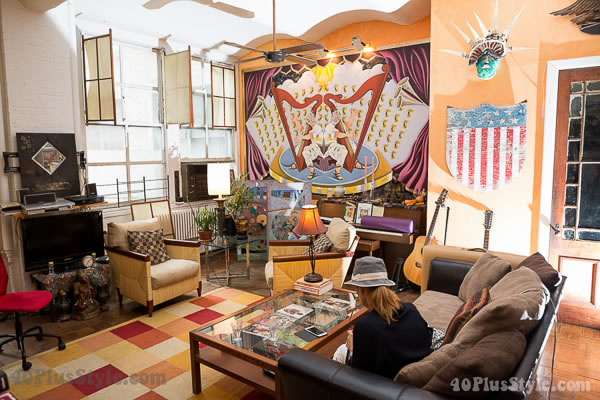 You wear and create the most amazing hats. Can you tell us a bit more about your craft and where you get your ideas?
HATS …well, anything is a hat! A vase, a lamp shade and a hat are all interchangeable! Think about it, I have often worn a lamp shade as a hat. I have used a hat as a vase. So a hat is merely a vessel.
The non-traditional materials I use are the point of departure…such as industrial felt, banana fiber paper or Viva paper towels. Then I just start building directly on my head.
That is where the inspiration comes from. I always have to start with my head and face; I can't build a hat on a hat block/form! Everything comes from MY A/B/Cs…I Assemble/Build/Construct with whatever materials I am working with.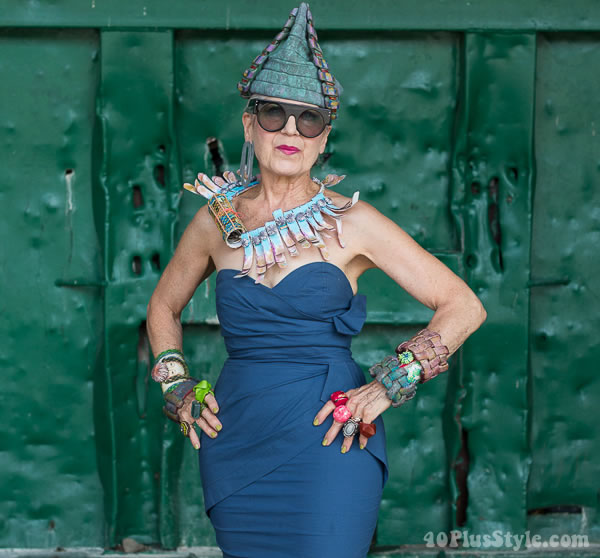 Why is a hat so important to your style?
It literally "tops off" a look…it is a finishing touch. Sometimes it IS the most important element. I believe in "Frame the Face". It is our most important feature so let's light it up! Besides a hat I feel a boa, scarf, breast plate or bib are interesting forms that enhance the face. This is often a title of my workshops "Boas, Bibs, and Breast Plates!"
It is always amazing what creations come out of this as a starting point.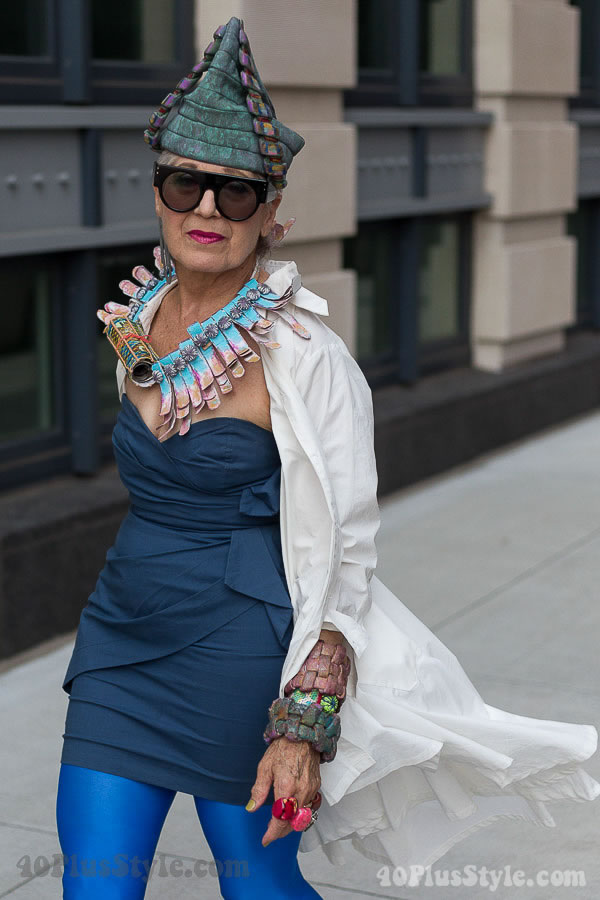 Do you have any tips for other women who would love to incorporate a hat or more creativity into their style?
Be bold but start slowly. Many women don't feel comfortable in a hat or they think they don't look good in one. Like anything new, play and experiment. At home put all kinds of things on your head to deviate from what you think a hat needs to look like.
When trying on a hat always wear some makeup…at least lipstick because you will feel more dressed and experience the hat as a new adventure. You will see your entire face and persona in a different way. It just might be scary at first…but go for it.
Discover who you really are!! Really!! This is the same approach to one's overall style. Nothing is permanent so you can't fall too far.
How would you describe your style?
Eclectic/artistic/personal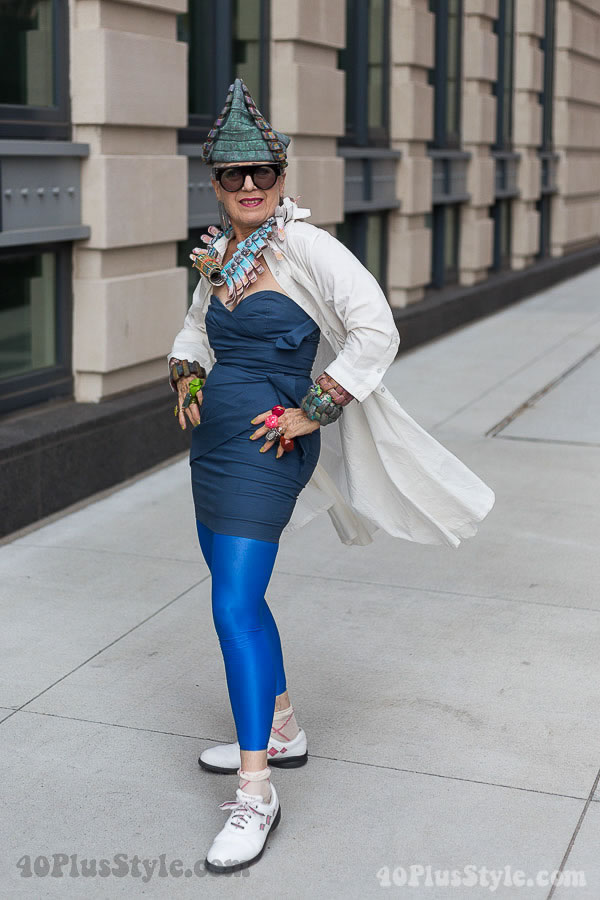 What would you consider the most important components of your style?
Well, I always start with the overall elements of color, texture and layering. Along with that hats and makeup are crucial. To me there are no natural beauties.
Everyone can stand a bit of enhancement and it's fun. The same elements of A/B/C – Assembling, Building and Constructing are how I create my style.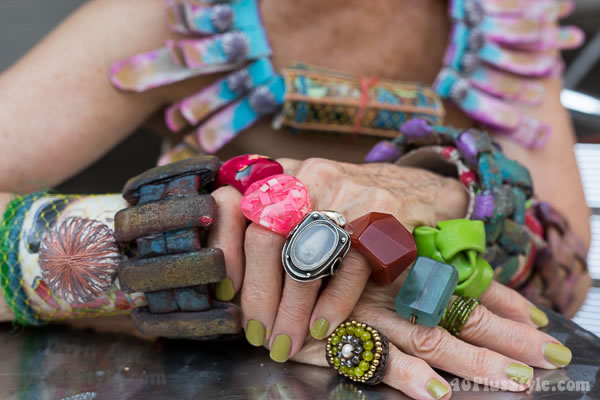 Where do you live and how does that influence your style?
Living in NY City allows me to really be my own person. Not only does it allow me but encourages me because people respond and react in a good way.
One woman on the subway sitting opposite me, watched me for a while and then as she was getting off at her stop, she leaned over and said "Thank you for making NYC a more beautiful place" I was actually astounded.
Do you feel you have a signature style?
Yes because it is not about trends or fashion per se. I own things for years and decades. When it is good, it is good and can continue to be right for you.
I love putting things together in different ways and combinations. I will sometimes purchase a garment for its fabric or a detail and then alter it to my liking.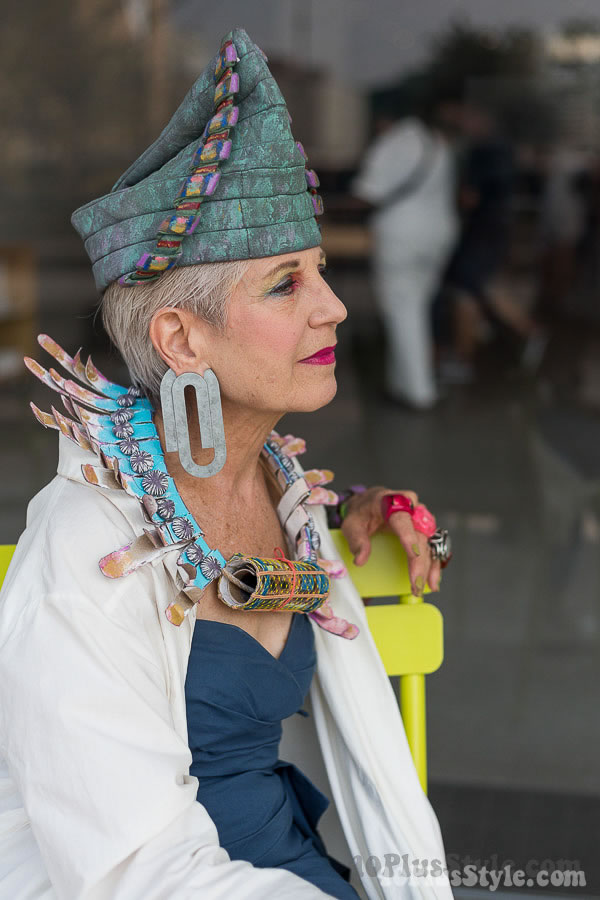 What inspires your outfit choices the most?
Whatever I have in front of me stimulates me in that moment. I don't shop often but do enjoy thrift shops (charity shops) because you never know what you will find. I love the search. That is the challenge. Also part of the challenge is that I'll only spend $5 because there is nothing I really need. I feel "frugality is fun".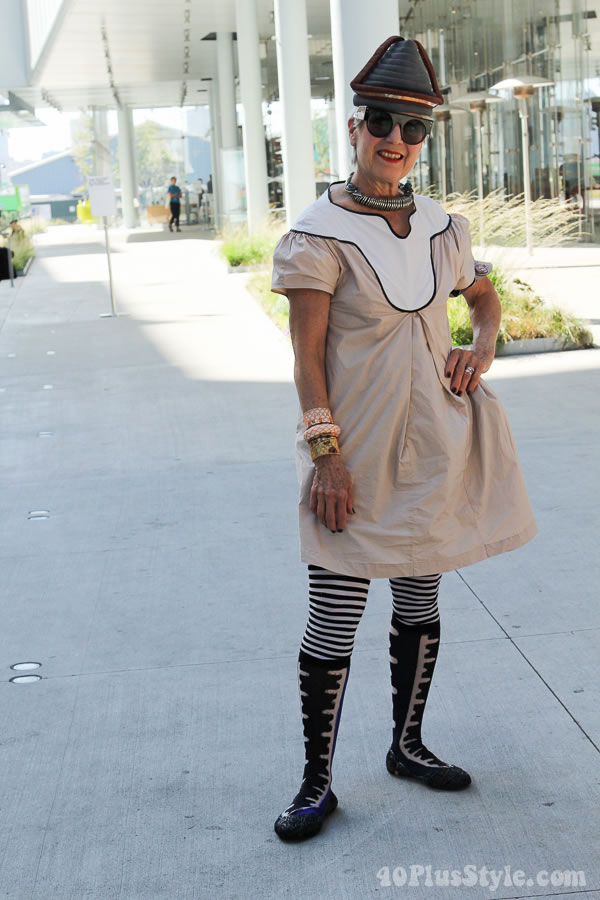 Do you take things like color profiling or body type into account when you dress?
I think I know what looks good on me and what makes me feel good so that automatically means I am considering my body type. I love color and there is no color I don't love to wear. I hardly wear black but occasionally as an accent because it can make things pop! It is all about how you put things together.
Has your style changed at all after turning 40?
Well I have always done the color/texture/layering story…as long as I remember. Actually after 50 my body changed somewhat and along the way I lost about 25 pounds.
Never really working at it and it has stayed off. I think as I get older I am more relaxed. I don't eat out of nervousness and I am not as stressed. I allow life to unfold at this point. I feel like I did most of the hard work and I can enjoy the fruits now. Part of that is feeling I can be as flamboyant and outspoken as I like at anytime.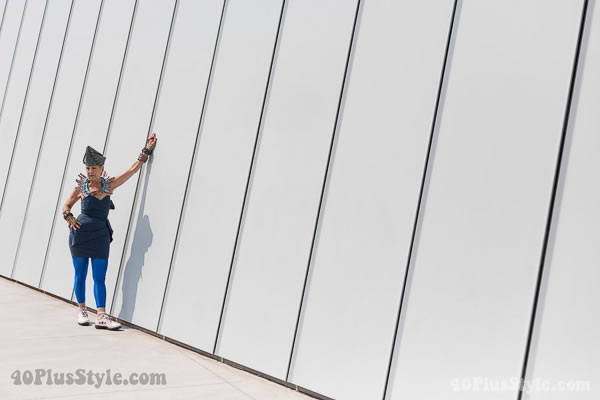 Do you believe in dressing 'age appropriately' and what does it mean to you?
I really don't know what that means. Don't look too foolish and don't go looking for youthfulness. Enjoy the age you are. It really is Better with Age. Focus on your health as part of the process and make that a fun thing.
Would you say that at this stage of your life you are now more, or less interested in fashion, style and the way you look?
Well, I now have a reputation to keep (smile). I do care because the better I look the better I feel. Also the process of dressing is a meditation and a way of having quiet creative time to get centered. It is not about the shopping and keeping up with fashion. It is about a creative lifestyle.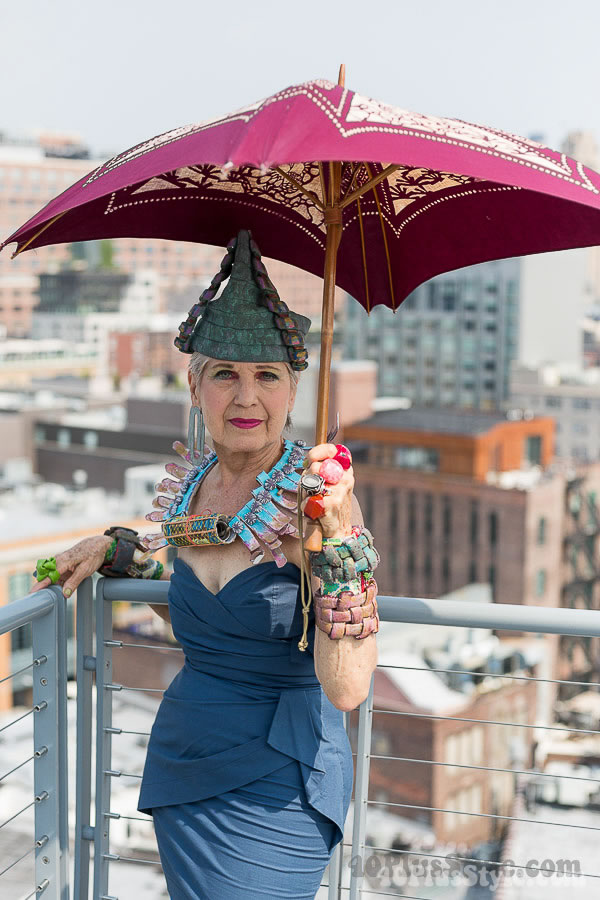 Why is the way you look important to you?
Because I'm an artist and it is a visual experience for me as well as a visual experience for those around me, I feel so much "brighter" or alive when I put myself together in a way that satisfies me.
Do you follow trends? And if yes, which trends excite you at the moment?
No I don't and l couldn't even guess what trend is current!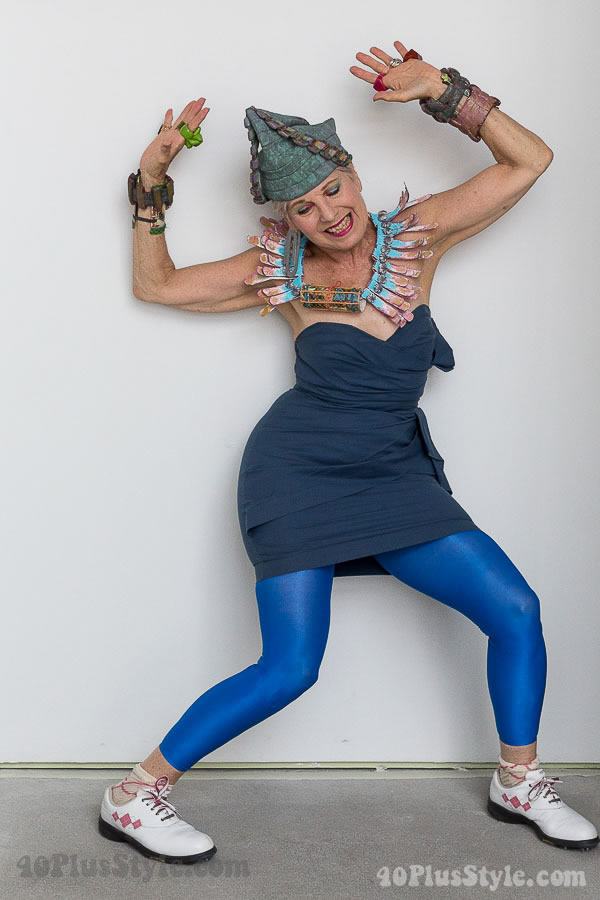 Do you have any fashion and style tips for women over 40?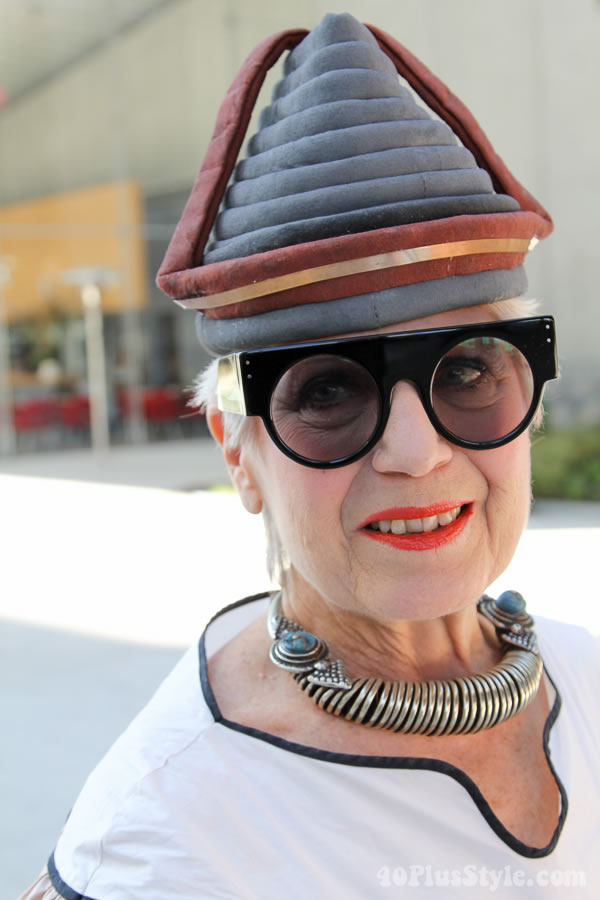 See what makes you comfortable, then stretch a bit and step outside the box. Start with an unusual color combination, or add something additional like a second or third scarf or a large neck piece. Even try a hat!
What are your plans for your website and your business and how do you see it develop over the coming years?
I am not really sure. I love the real people to people contact. I used to say I'd rather do ME-Commerce than E-Commerce. I do both. I see though how many new friends I have made because of the Advanced Style blog, book and film.
So I'd love for that to continue. I want to be the ambassador of Advanced Style and encourage others young and old to tap into THEIR creativity.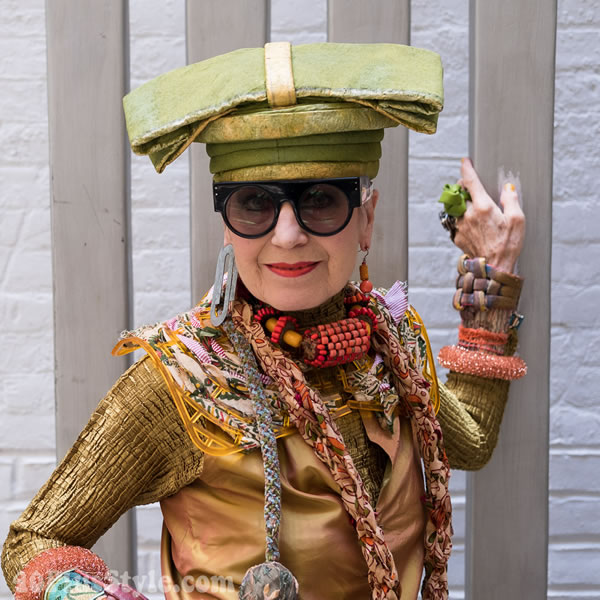 I love selling my hats and other embellishments because I love seeing them on others. I love knowing that they are excited to see something new and different. I want to continue to teach and encourage others to be creative and work with re cycled and non-traditional materials. It is about personal creativity.
"With creativity there are no rules. Where there are no rules, there is no fear!" This is my mantra!
Anything further you would like to add?
We must keep on doing what we love, at any cost, because this will keep us vital and content!
Watch Debra in the Advanced Style movie . She is also featured in both Advanced Style books Advanced Style and Advanced Style: Older & Wiser.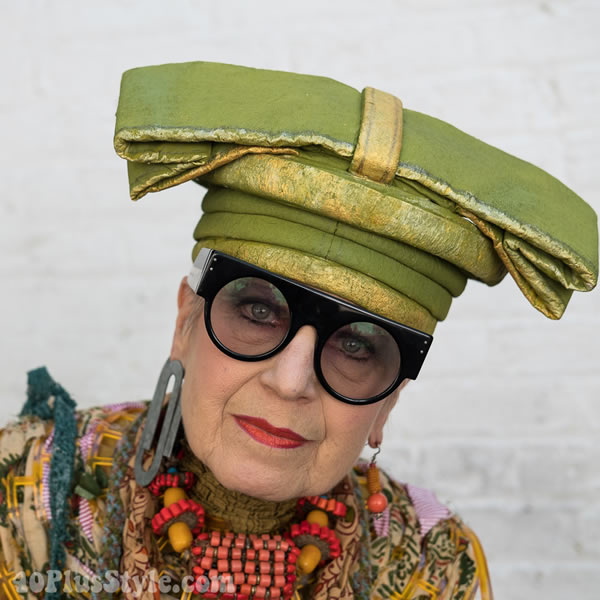 Like this post? Share it on Pinterest!
Most photos by Denton Taylor
2 photos in white, black and brown dress: Misja B
Photos in striped dress: Sylvia
Want to get more articles from 40+style in your inbox, subscribe here.
You can also connect with 40+style on Facebook, Instagram or Pinterest.
Support 40+style by using the links in our articles to shop. As an associate for Amazon and many other brands, we receive a small commission (at no cost to you) on qualifying purchases which enables us to keep creating amazing free content for you. Thanks!