So you've been invited to a beautiful summer wedding. Congratulations. No sooner do you put down that invitation than you start wondering; "What do I wear"?
Not to worry, we've got you covered with suggestions and tips on what to wear for lots of different types of wedding ceremonies, from a casual outdoor wedding to a more formal wedding in a church or place of worship.
OK, so let's get started! First of all, ask a few questions. If the invitation is vague, ask for clarification so you'll know what to expect. Is the ceremony in a church? Outside? Nothing is worse than showing up for a formal event in casual jeans, or freezing in a strapless dress at a nighttime outdoor wedding! So just ask.
What to wear for a church wedding
If the wedding ceremony is in a church or other place of worship, opt for a more conservative look. Take a wrap or cardigan that can be worn as a shawl to cover exposed shoulders. Or wear a scarf or shawl that you can also wear as a head scarf if necessary for that sanctuary.
And since it is summer, try some options besides a black dress. Opt for a colorful ensemble with some of this season's strong blues, reds, and yellows.
Here are several outfits appropriate for an inside, church ceremony
Here are some beautiful, 40+ Style, indoor-appropriate dresses for sale now:
What to wear to an outdoor wedding
If the wedding is going to be outdoors or is a more casual ceremony, try a pair of stylish trousers. Choose a pair of cropped pants with a fuller leg, or try a pair of higher waisted palazzo pants.
Another great option for an outdoor wedding ceremony is a maxi dress. Choose a romantic, flowing maxi dress in a pastel print.
Be sure to select the right shoes. Especially if the wedding is in a backyard or outdoor area, select your shoes carefully.
Choose flats, wedges, or a block heel for uneven terrain AND avoid a stiletto or kitten heel that will continually sink into the dirt, ruin your beautiful shoes, and make you very annoyed!
Wear long sleeves or makes sure to bring a wrap if you're in a climate that gets chilly at night.
Here are some ideas of what to wear to a casual summer wedding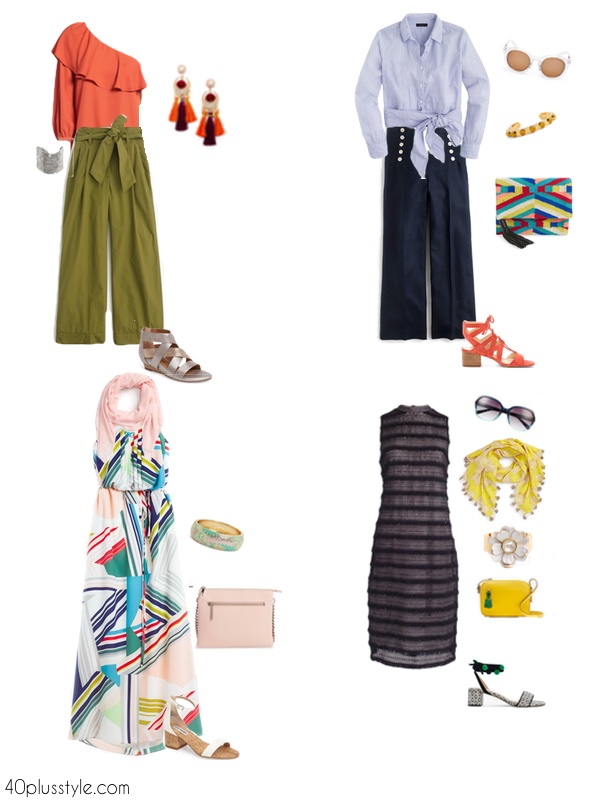 Want more ideas?
Here is what to wear to a bridal shower
If you're the mother of the bride, here are some tips on What to Wear When You're Mother of the Bride.
If you prefer to wear pants to a wedding check out our article on beautiful wedding outfits featuring pants.
Finally Lorraine and friends show their wedding outfits for a wedding in South Africa.
Whatever outfit you choose to wear to a summer wedding, here's to having a beautiful time sharing in the love and excitement of a wedding surrounded by family and friends.
What would you wear to a summer wedding? 
Feature image by Cloche
Want to get more articles from 40+style in your inbox, subscribe here.
You can also connect with 40+style on Facebook, Instagram or Pinterest.
Support 40+style by using the links in our articles to shop. As an associate for Amazon and many other brands, we receive a small commission (at no cost to you) on qualifying purchases which enables us to keep creating amazing free content for you. Thanks!