In the last results article of the black + white+ one color challenge, I asked you all to try the dress over pants look. I knew this was going to be a real challenge for some of you, but I'm glad to say that those that submitted their entries really stepped up to the plate! Have a look how gorgeous they all look and take inspiration for your own outfits. As always you are welcome to submit those to the style forum.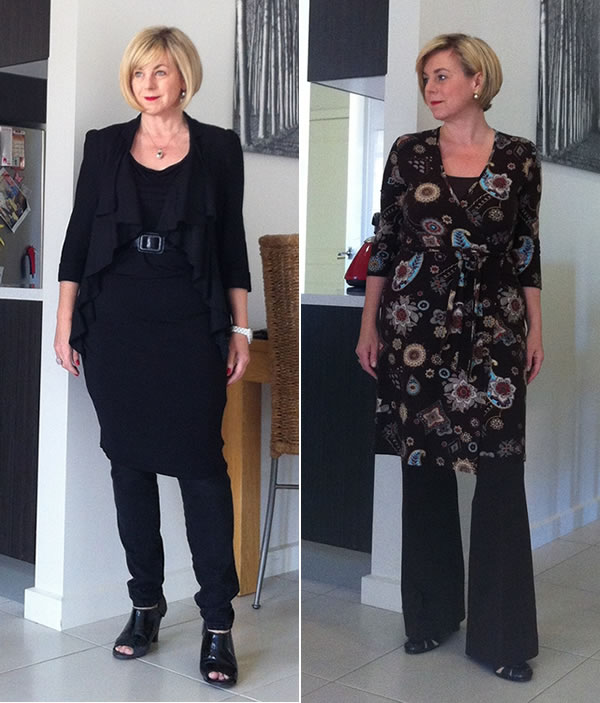 Gorgeous ladies. Well done! I know this was a new look for some of you and I applaud you for trying something different!
On to the next challenge: White!
Summer is fast approaching and more and more of you now experience better weather. Why not celebrate the arrival with better weather with a bit of white? White on white or wearing all round neutrals is a huge trend that I'm sure you will see a lot of this summer. But you can also combine your white with a fierce bright, another hot summer trend.
I also know that some of you are a bit afraid of wearing white especially as a bottom, so I challenge you to try it. I'm a huge fan of white. It's such a fresh and clean color and so easy to combine with almost any other color. For inspiration, here are some of my own examples of how I wear white:
I will leave it up to you on how you want to wear your white so long as at least your top half or bottom half is white. Just adding a little white accessory will not suffice!
It's easy to participate!
Participating in the dressing challenge is easy. Just send or publish 2 photos of you in an outfit featuring different outfits with 1 block of white. You can do any of the following:
You can upload your entries to the forum with 'white challenge' in the subject. Upload instructions for photos are here.
Send them by email to sylvia at 40plusstyle.com. Photos need to be at least 300 pixels wide, but you are welcome to send me larger pictures. I will show your photos side by side (as shown above) so if you could send the complete collage, then even better. The image needs to be exactly 600 pixels wide with a white 2 pixel (not cm) separator exactly in the middle (at 299 pixels). No white border outside the image.
Create a post citing this dressing challenge and put a link in the article back to this post. I will then find you automatically and get your images! You can also remind me by tweeting about it and adding my twitter handle @40plusstyle in your tweet.
Please have your entries in by May 25.
Good luck everyone with this new challenge!
For now, what do you think of the above dress over trousers looks? Will you be wearing this look in the coming season?