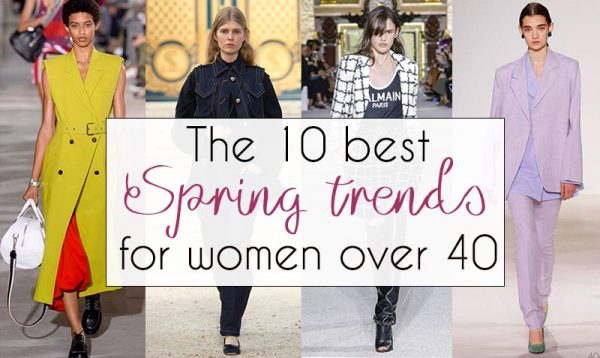 Being the wrong side (or, as we see it, the right side) of 40 means no longer slavishly following the latest fashion trends. Instead, we now have the confidence to dress stylishly, in a way which suits our age, our body shape, and our own signature 'look', rather than simply dressing in whatever the latest runway trends dictate, cherry picking the latest looks to fit in with our existing wardrobe.

While the SS18 catwalks gave us some outlandish aesthetics, including a plethora of sparkles, tassels and feathers, which wouldn't look out of place on a Vegas showgirl, and the return of the fanny pack (no thank you, we wore this one first time round in the 80s!), there was also a lot which was exquisite on the runway while also being practical for the everyday. Here's our round up of the best trends to wear this spring.
1. Vertical stripes

While too many vertical stripes could leave you looking like a deck chair, designers' love affair with stripes is showing no signs of waning this Spring. SS17 was mainly about the horizontal stripe, but this season, vertical stripes in bold hues are the order of the day, with everyone from Givency to Missoni, Kenzo to Fendi sending their models down the catwalk in stripes which were either up-and-down, or set on the diagonal for an easier-to-wear look which flatters most body shapes.
2. Sorbet shades

The big fashion houses are showing their softer sides this spring, with an array of pastel hues ranging from pale pink to mint green, baby blue to apricot. But the runaway runway winner was definitely lilac. While too much pastel can leave you looking a little mother-of-the-bride, choosing the right shade for your skin tone can lift your complexion. If you don't want to do top-to-toe ice-cream shades, mix and match with your existing wardrobe, pairing with neutrals.
3. Draping

Many designers chose to let their fabric do the talking, creating casually draped, knotted and twisted dresses, which looked sophisticated in a I-haven't-tried-too-hard kind of way. Key to this trend is finding a drape which falls in the right place to showcase your best bits and hide those you aren't so confident about. For example, a drape could help to hide a less-than-flat tum or glide across your upper arms.
4. Jumpsuits

This season, jumpsuits aren't strictly utilitarian affairs which would be best left to your local car mechanic, but designers instead chose to create all-in-ones with sophisticated cuts in every type of fabric from silk to denim. Wear with heels instead of that LBD, or pop a blazer over the top for a less frumpy alternative to the shift dress for the office.
5. The updated trench

Hardly groundbreaking, we know, but the trench coat is back for spring 2018. If you haven't got one in your wardrobe yet, why not? The trench is one of those wardrobe staples which every woman should own, along with classics like the white shirt, the LBD and a pair of court shoes. Even if you do already own one, the likes of Céline, Max Mara and Chloe gave us the perfect excuse to buy another with their takes on the beige trench.
6. Logo mania

Everyone from Gucci to Louis Vuitton decided to shout about their brand credentials by adorning their latest styles with logos, from the subtle to the big and bold. While we will probably steer clear of Moschino's My Little Pony-inspired pink sweater dress, we loved Balmain's take on this trend – teaming a logo tee with a blazer.
7. Sheer top layers

While the celebrity trend on the red carpets tends to be for knicker-bearing sheer gowns, the sheer trend for spring 18 is much more subtle, allowing you to bare as much or as little as you want by throwing sheer layers over dresses and separates. Wear a sheer wrap over a dress for a night out, or opt for a sheer trench for day-to-day dressing.
8. Denim

The popularity of denim hasn't waned since it was first invented in 1873, going from working men's clothing, to symbols of defiance and finally to fashion staple. While designers this spring are showcasing acid-wash styles which may have been best left in the 80s, there are also dark, crisp and tailored numbers, including denim blazers and wide-leg pants
9. Primary colours

While some designers opted for pretty-as-a-picture pastels, others have a much bolder take on spring 2018 dressing, with big, bright colours from reds to blues, cerise to lime green. Thankfully, you won't look as if you've raided your little one's Crayola box as the emphasis is on sleek silhouettes with classic lines, such as the sleeveless trench and the fitted, cropped blazer.
10. Pencil skirts

Another true wardrobe staple, pencil skirts are back for SS18. Moving away from the mini or the A-line, skirts have a sophisticated, grown-up vibe with a 50s aesthetic. Balenciaga and Hermés both based their spring collections around the pencil skirt. Bring yours up-to-the-minute by swapping your classic courts for pointed kitten heels (yes, they're also making a comeback).
As always, look to add a few new pieces into your existing wardrobe. You probably already have pencil skirts, a neutral trench and some pastel pieces. Think about new ways you could wear them and what you would like to add to make sure your wardrobe is on point for SS18.
Which trend are you looking forward to wearing this spring?
Like this article? Save it on Pinterest!