Who could have imagined what the year had in store for us when we looked at last spring's fashion trends? While the world may have thrown us the biggest curve ball, we have adapted and so have fashion designers – and that showed in the themes of the spring 2021 fashion trends.
The work-from-home routine has definitely had an impact on designers' thought processes, but there is also a feeling of 2021 being the year to dress up again.
So, no matter whether you're a minimalist or a maximalist, you will find something in the 2021 fashion trends to suit your style – and your current lifestyle.
the best spring 2021 fashion trends
You'll see from the images below that many of the big shows weren't so "big" – instead, designers relied on gallery-style images to showcase their ideas rather than being able to host traditional fashion shows.
There are definitely some of my own favorite ways of dressing included in the trends below – including asymmetry and wearing dresses over pants.
Take a look and see what you might incorporate into your own closet in the upcoming months…
Statement coats are among the 2021 fashion trends
Marni – Dolce & Gabanna – Dries Van Noten
After a year when you may have felt confined to your home or to your area, what better way to "break free" than with statement outerwear?
Even if you're just going for a walk around your neighborhood, a statement coat in vibrant colors and/or patterns should put a smile on your face.

spring 2021 trend: the dramatic trench
Louis Vuitton – Nina Ricci – Burberry
The trench coat is always a style staple. So, you may already have one in your closet.
But, for the upcoming season, designers decided to make the humble trench extra special by creating coats in bright colors, or adding layering and interesting textures.

spring trend: wide jeans
Victoria Beckham – Chanel – Valentino
Skinny jeans have been on trend for many seasons. And, slimmer styles can still look very stylish, particularly when worn with tunics.
However, wider styles are definitely having a fashion moment for the upcoming season.
Think about your overall silhouette to create a flattering effect – you may want to opt for a tighter top so you don't make yourself look larger by wearing an outfit which is baggy all over.
You'll find more inspiration in this article on how to wear jeans over 40.

wide pants
Victoria Beckham – Chanel – Stella McCartney
Given that wide jeans are on trend, it's little suprise that wide-leg pants also featured strongly among the 2021 fashion trends.
Choose neutrals, brights or even sequins, depending on your style preferences.
There are more ideas on how to wear wide-leg pants in this article.

Oversized shirts
Michael Kors – Schiaparelli – The Row
The button-up shirt will always be on-trend. This season, the button up has got a whole lot bigger.
You could wear with slimmer pants to create a more streamlined silhouette. If you're worried about an over-sized shirt making you look large or shapeless, you could choose to wear a waistcoat over it in the same way as at Michael Kors (above, left), or you could always add a belt to show off your waistline.

bold florals
Valentino – Tom Ford – Dolce & Gabbana
Florals are always a style staple as the cooler months turn to spring. This season, the way to wear your florals is big!
Choose oversized prints, or look for styles which combine different prints such as at Tom Ford and Dolce & Gabbana (above).
Make sure to keep the rest of your look hip and up-to-date, as florals can sometimes be tricky to style.

luxe sportswear
It's little surprise as so many of you will have been at home more than usual over the past months that comfort was at the forefront of many designers' minds.
There were plenty of loungewear and sportswear options on the "catwalks".

Chinos
Valentino – Tory Burch – Hermès
A pair of beige pants is one of the most classic items of clothing you can own. So, if you already have a pair in your closet, now is the time to dig them out!
You could wear yours with other neutrals, as showcased at Tory Burch and Hermes (above), or even with a bit of bling, such as at Valentino (above, left).
There's plenty of inspiration in this article on how to wear beige if you're thinking about other colors to wear with this neutral shade.

tye dye
Christopher Kane – Christian Dior – Y/Project
If you have a bohemian style personality, this trend with its nod to the 1970s could be perfect for you.
But, even if you prefer a different style aesthetic, you could still add a touch of tie dye to your look

bold shoulders
Richard Malone – Givenchy – Balmain
While the previous tie dye trend has its roots in the 1970s, this one has made a comeback from the 1980s.
You may not want to go quite as dramatic as the catwalk looks above when it comes to the size of your shoulders. However, don't discount a little volume.
Adding some width to your shoulders can be particularly useful to balance out your figure if you have a pear shape, for example.

beside the seaside
Stella McCartney – Versace – Baja East
You may have been lucky enough to get to the seaside over the past year.
However, even if you haven't, you can still evoke feelings of seaside vacations with your outfit.
Seaside prints were a micro trend on the catwalks; most notable at Versace (above, middle).

net on it
Fendi – Balenciaga – Ports 1961
You may traditionally think about fishnet as featuring on a pair of tights.
However, netting featured on may different items of clothing for spring and summer. You could opt for a net coat or a net dress worn as a layer.

statement collars
Another comeback from the 1980s! Statement collars featured on many designs for the upcoming season – partially as a result of tv series The Crown showcasing many of the outfits worn by Princess Diana.
You could choose a blouse, dress or a jacket with an oversized collar.

dresses over pants
Michael Kors – Adeam – Michael Kors
Wearing dresses over pants is one of my own favorite looks. You could wear with skinny or wider leg pants for a flowy look.
There's more inspiration in this article on how to wear tunics and short dresses with pants.

graphical prints
Ports 1961 – Schiaparelli – Louis Vuitton
Adding print and pattern to your look can be the perfect way to add impact to your outfits. Choose an oversized, modern, graphical print for a bold look.
You could look out for graphical print dresses, shirts or coats.

modern knitwear
Thebe Magugu – Michael Kors – Boss
Unless you live in an all-year-round tropical climate, you're likely to want to wear some knitwear to stay warm in spring.
You could wear a sweaterdress with boots for cooler weather and then switch to sandals when the temperatures rise (as shown at Michael Kors and Boss, above).

asymmetry
Michael Kors – Isabel Sanchís Madrid – Adeam
If you've been reading me for anytime at all, you'll know that I often favor asymmetry in my outfits. And, asymmetry was a strong look on many of the "catwalks" for the upcoming season.
Look out for asymmetric sweaters and skirts.
Here are more ideas on how to wear asymmetrical clothing.

capes
Rather than a coat as your outerwear, you could opt for a cape. You'll see (above) that your cape could either add a formal look to your outfit, or you could opt for a more casual choice.

one shoulder
Chanel – Stella McCartney – Balenciaga
Another take on asymmetry! Many tops and dresses for the new season featured one bare shoulder.
This can be a fabulous look if you have great shoulders as it can add glamour to your overall look.
Plus, it can have the advantage of drawing the attention away from areas of your body that you aren't so confident about. For example, a one-shoulder top can be a clever way to "hide" a belly as the eye is drawn to your shoulder instead.

feathers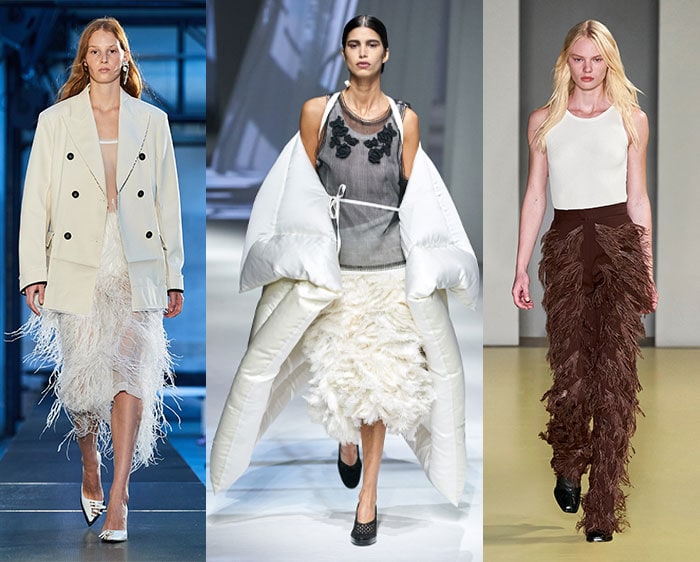 No. 21 – Fendi – Salvatore Ferragamo
Many designs on the 2021 catwalks were functional, but there were also plenty that evoked fun and flamboyance, such as the feather skirts and pants (above).
If you don't want to add quite so much plumage, you could always think about a feather bag, necklace or earrings.

And one I'll definitely be avoiding – G strings on show
So, you've seen some of my favorite trends from the spring/summer designs (above).
But there's one that I definitely won't be wearing, and that's the trend for visible g-strings, or g-string style cutouts.
Which of these spring 2021 fashion trends is your favorite? What will you be wearing?
Continue reading:
Like this post on the best spring 2021 fashion trends? Share it on Pinterest!
Photos by Vogue
Want to get more articles from 40+style in your inbox, subscribe here.
You can also connect with 40+style on Facebook, Instagram or Pinterest.
Support 40+style by using the links in our articles to shop. As an associate for Amazon and many other brands, we receive a small commission (at no cost to you) on qualifying purchases which enables us to keep creating amazing free content for you. Thanks!