Just as clothing trends change, so too do handbag trends.
Trendy handbags to try this season
There's a good mix of trends you'll have seen in past seasons (so you may already have some of these in your closet) along with some different twists on old classics and some brand new trends.
Here are the best handbag trends from the Winter/Fall 2019 catwalks just in case you're wondering what to dig out from your wardrobe, or you want to treat yourself to a new bag for the new season.
You'll see plenty of these styles are also mirrored in the clothing pieces and shoes seen on the runways.
You may also wish to check out this piece on the best shoe trends for fall and this article on the best trends for women over 40 this season. There's also a round up of fall 2019 color trends here.
Latest bags: the double bag trend
Last season, the double bags trend seemed rather ridiculous, if I'm honest. Then, the trend was for using two bags that were pretty much the same size.
This time around, the trend is much more practical as it's for one larger bag worn with a smaller purse.
So long as you aren't traveling somewhere where you're worried about security, this could be a good solution for finding the items in your purse easily without having to dig around in your larger bag.
Miu Miu – Tod's – Fendi

Mini bags
The trend for micro bags hit the headlines a few weeks ago, precisely because it was so silly.
You have teeny, tiny bags that were more of an accessory than a handbag because there was no way you could fit anything at all in them.
But, designers also showcased some mini bags that were more useful, providing that you just want to pop in your credit card and lipstick if you are heading out for dinner.
Tod's – Chloé – Dolce & Gabbana

Always on trend purse styles: Animal print bags
This is one of those styles that never goes out of fashion.
So, if you already have a snakeskin or leopard print bag in your closet, now is the time to get it out.
Givenchy – Marc Jacobs – Michael Kors

Crocodile skin handbag trends
It wasn't just about print on the runways, but also about texture.
Bags were embossed to look like reptile or crocodile skin. This is one of the most on-trend takes on the animal print bag this season.
Tod's – Miu Miu – Chloé

Stylish handbags for the minimal style personality
If less is more for you when it comes to your style, there were plenty of bags which opted for a more pared down style.
For more inspiration if you prefer to keep your pieces simple yet stylish, take a look at this article for the minimal style personality.
Fendi – Prada – Salvatore Ferragamo

Patchwork bags
As well as minimal styles, there were those which embraced a more bohemian way of dressing, by using patchwork detailing and different fabrics and colors.
Michael Kors – Louis Vuitton – Versace

Square bags
As well as the print or texture of a bag, the shape of a handbag is often updated for new seasons.
Round bags have been very much on trend for summer, and you'll see further on that they are definitely here to stay for winter and fall.
But, it seems it is also now hip to be square, at least when it comes to handbags.
Louis Vuitton – Oscar de la Renta – Burberry

Fashion handbags with totally unique shapes
I thought I'd include this as a bit of fun for you.
I could see myself using Chanel's perfume-bottle shaped evening bag, but I'm not sure about carrying around a dog-shaped bag and I definitely won't be heading out carrying a mask adorned with spikes!
Thom Browne – Chanel – Gucci

Shearling, fluff and fur
Another texture seen on the runways for both shoes and handbags was shearling.
Other designers opted for a faux fur which was less fluffy, or only covered part of their bags with some sort of fluff.
Tod's – Fendi – Chloé

Belt bags
I have to say, belt bags usually bring back memories of the not-so-stylish bum bags or fanny packs from the 80s.
But, the belt bags on display on this seasons runways were a much more chic affair.
Fendi – Givenchy – Versace

Popular handbags from last season: Round bags
While square may be the new bang-on-trend shape for fall, round bags were definitely still very much in evidence on the runways.
So don't put yours away just yet if you've treated yourself to a round handbag over the past couple of seasons.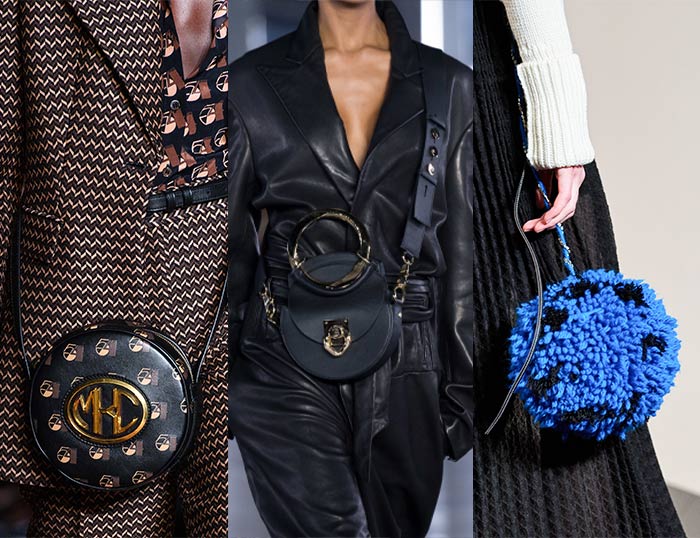 Michael Kors – Balmain – Loewe

Chain strap purses
An absolute design classic, Chanel's chain strap flap bag is arguably the best known chain strap bag.
But there were plenty of other designers than opted for a chain strap this season. You may well already have a bag like this among your handbags, given that it's a design that has been popular for ever.
Fendi – Chloé – Dolce & Gabbana

Floral bags
There were lots of florals on the catwalks, adorning clothes, shoes and handbags.
While some designers chose to use a floral print, others went for a 3-d effect and used flowers sewn onto their bags.
Miu Miu – Prada – Michael Kors

Two-toned bags
Another style which isn't a new idea, but which is bang-on-trend for this fall is the two-tone bag.
My favorite was Gucci's take on the trend, which used on color on one side of the bag and another for the other half.
Tod's – Chloé – Gucci

Gold and silver bags
Silver is definitely still on trend. And, if you have a silver clutch bag, this is still very much a lovely look for any evenings out, or seasonal parties you have coming up.
But, if you do want to make sure you are more on trend, gold is having a moment.
This was evident in clothing, with designers opting to dress their models in top-to-toe gold, but it was also used to great effect on handbags.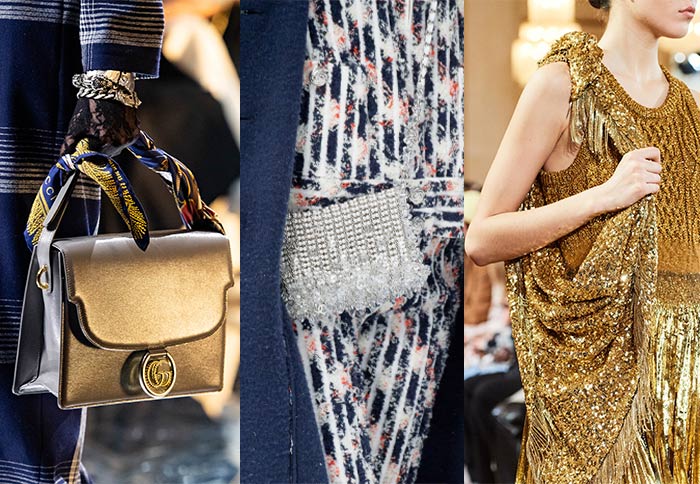 Gucci – Chanel – Altuzarra

Bright bags
Another trend was for brightly-colored handbags. I always think that a bright handbag is such a great way to update a monochrome outfit and add a pop of color.
This how beautiful these would look, for example, with a simple black and white outfit, or a pair of jeans and a white shirt. Or you could wear these against gray to make the color stand out.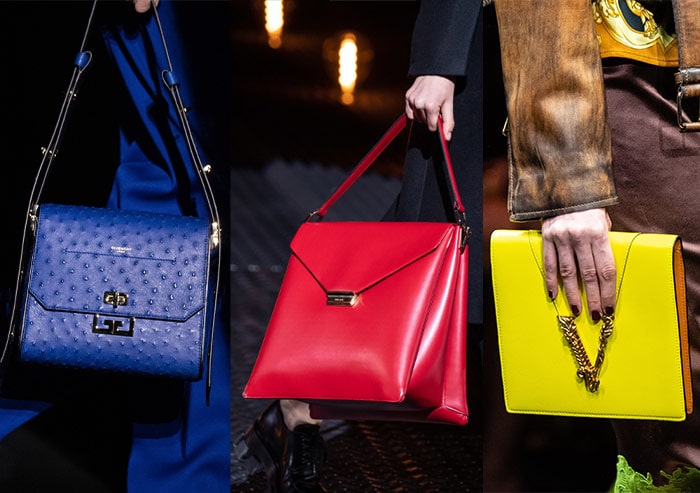 Givenchy – Prada – Versace

Suede bags in autumn shades
While many of the styles showcased above could work for any other season, there were some bags that definitely felt decidedly autumnal.
I always think suede is a perfect texture for fall and these lovely suede bags were the ideal autumnal color of falling leaves.
Gucci – Salvatore Ferragamo – Loewe

Checkered bags
I'm sure you've already noticed how much plaid, tweed, checks and herringbone have been on trend in recent seasons.
This trend has been carried through to handbags for fall 2019.
Dior – Louis Vuitton – Oscar de la Renta

Bucket bags
Fashion constantly mines history for inspiration and the bucket bag is a style designers reinvent season after season.
Taking inspiration from the drawstring pouches used in days gone by, the most famous bucket bag is probably Louis Vuitton's, which was apparently meant to hold bottles of Champagne.
Perhaps that's where Altuzzara got the idea (below) for a bucket bag which resembles a bottle.
Tod's – Altuzarra – Salvatore Ferragamo

Slouchy bags
If you like a more relaxed style rather than something structured like a tote or a satchel, then one of these slouchy hobo or clutch styles may appeal to you.
Chanel – Altuzarra – Salvatore Ferragamo

Like this post on the best handbag trends for fall? Share it on Pinterest!
Continue reading:
Want to get more articles from 40+style in your inbox, subscribe here.
You can also connect with 40+style on Facebook, Instagram or Pinterest.
Support 40+style by using the links in our articles to shop. As an associate for Amazon and many other brands, we receive a small commission (at no cost to you) on qualifying purchases which enables us to keep creating amazing free content for you. Thanks!