As I'm planning for an unexpected trip to Europe, I created a capsule wardrobe for winter. I think it may just have been my best one ever!
Although I'm using this technique for a trip, it is really a smart thing to do for your wardrobe.
Why should you create capsule wardrobes?
A capsule wardrobe allows you to create a large number of outfits with a small number of pieces. You can create one for every 'function' of your wardrobe, e.g. one for sports, one for work, casual, date night etc.
I created one for winter.
In my basic winter capsule wardrobe there are only 6 tops and 3 bottoms and 1 jacket. These tops can be worn on its own or layered over each other. Combined with 3 bottoms they create a large number of options and different outfits.
Let's have a look at a few
Black skinnies can be worn with white blouse on its own (1), white blouse and jacket (2) pink top (3), peach jumper (4) grey asymmetrical jumper on its own (5), grey jumper layered over asymmetrical shirt or pink sweater (6). brown/red top (7). Of course any outfit can be worn with the coat with either the blanket scarf (8) or silk scarf (9)
Cream skinnies, and faux leather skirt can be worn with the above too, adding 16 more outfit options, so in total you have 21 different options minus the coat outfits.
Of course not all options are equally great but I have tested a lot of them and many do work.
In addition there is also the possibility to either tuck in tops or wear them over the bottoms which gives you even more options.
And then there are the necklaces which also create different vibes with an outfit.
It's functional too as the capsule provides options both for cool and warmer days. For me it's especially important to have warm clothes, which is why I packed beautiful warm sweaters, which also happen to be super trendy right now. My blanket scarf will be easy to take with me, can be worn over antyhing and will be super warm.
Winter capsule wardrobe extras
The above capsule in itself is already sufficient for a week's travel or to use as your winter wardrobe, but if you wanted more options (as I always do) you can add some more variety with a few additional pieces.
Please note that the purpose of this capsule wardrobe was not so much to have a 'minimal' wardrobe or to create the most number of outfits with the fewest amount of pieces, but rather to create a versatile wardrobe for winter that gives you lots of options. The extras give you more fun and layering options and a great versatility of outfits.
Of course if you do like to pack for a holiday and prefer only to take carry-on luggage then the basic capsule would be sufficient.
As for myself, that is not my goal. I like to have options and fresh clothes every day if desired. I like to change twice during the day if necessary so bringing as little as possible is never really one of my goals. But I also don't want to bring too much as I only want to bring what I can easily carry..
I think this complete capsule hits the perfect middle ground.
I'm so looking forward to wearing these clothes!
What I love about this capsule is that it is warm, practical and has great color diversity. It's all too easy to stick to the standard black, white and gray. It's much more fun to add some colors too even if it's done in a subtle way here.
What you will need to do is to select colors that go really well together. I went for a softer, paler palette this time. I can wear a completely pastel look but can also opt for the typical black and white. I know I will indulge in both!
You may wonder about the shoes and it may surprise you that I will only bring the shoes that I wear on my feet, which are my brown silver booties. These booties have a silver shine with a brown undertone which means that they look good with both my black and white outfits as well as the pastel ones. They are so comfortable, I think I can manage with just these booties.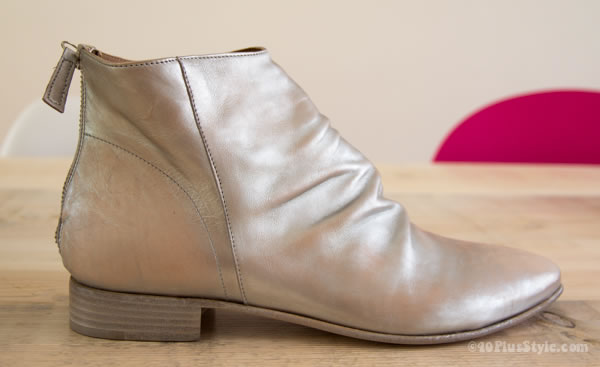 This is a bit risky (what if they break!) but the fact is, I don't have any other winter shoes here right now (all my winter shoes are in The Netherlands) and I did not see any shoes I like better than these. As I like the booties both with skirts as well as pants, I think I will be fine. And if I feel I need some more shoes, then of course there will always be shops around.
I have taken many photos of the outfits that I created from this capsule (in the heat no less, I'm still sweating..) and I will share them with you over the coming weeks!
Clothing details (clothes were from the Winter 2015 collection)
White asymmetrical shirt: Stella Carakasi
Black Skinnies: Cos (old)
Gray asymmetrical sweater: Stella Carakasi
Cream skinnies: Zara (old)
Peach sweater: Zara
Faux leather skirt: Zara
Black blazer: Stella Carakasi
Brown layered top: c/o Stella Carakasi
Pink sweater: Stella Carakasi
Blanket scarf: Zara
Silk scarf: present from Suzanne Carillo
Jewelry: Suzanne Carillo and Jewelry to your Doorstep
Grey coat: Zara
Grey sleevesless long vest: Stella Carakasi
Dress: Porto GetDressed2
Gray asymmetrical T-shirt: Stella Carakasi
Cashmere blue poncho: Black.co.uk
Leggings (worn as tights): Uniqlo
Cream corduroy pants: Zara
Layering tops: Uniqlo
Shoes: Laura Bellariva
Want to see all complete outfits?
Just click on the image below for the final roundup post.
Do you create capsule wardrobes?

Want to get more articles from 40+style in your inbox, subscribe here.
You can also connect with 40+style on Facebook, Instagram or Pinterest.
Support 40+style by using the links in our articles to shop. As an associate for Amazon and many other brands, we receive a small commission (at no cost to you) on qualifying purchases which enables us to keep creating amazing free content for you. Thanks!