Spring and summer clothes are hitting the stores so it's time for your seasonal trend update!  This time for spring and summer 2013.
I highlighted 2 major trends previously already, namely the large high contrast graphical prints and the sheer trend, but today I will give you a complete overview of all the best trends for women over 40.
It's going to be a fabulous season! So much great fashion to choose from and it was tough to narrow down the more than 550 favorites I pinned on my Spring / Summer 2013 trends board, to just a few looks. The overall trend is minimalistic, with a lot of black and white and layer play with sheer elements. Colour is still there, but there are also a lot of neutrals too.
Let's jump right in.
What else is new, you may wonder, which is true. Black and white is always extremely popular. But this season high contrast graphics in black and white were everywhere. It's certainly a trend I can never get enough of, and you can make it just that little bit more special but adding that pop of colour close to your face. You can apply the high contrast graphical trend with other colours too.
Sheer was one of the major trends this year. And often it was done in a classy and subtle way. This trend will be great fun as it will be interesting to play with layers and peekaboo details. When done in a subtle way, women over 40 can absolutely indulge in this trend.
Closely related to the sheer trend, it was especially the midriff that is highlighted this coming season! And if you think that this trend cannot be worn by women over 40, think again. Done in a classy way as in the above examples, I think it can be chic and sexy.
There was still a strong showing of leather in the collections, tailored in very elegant ways.
A lot of designers took their inspiration from world culture. Both Asian and African culture was widely represented and usually characterised by fabulous prints in beautiful colours.
I'm loving these amazing power suits. Take your pick of neutral or electric colour options!
Although there were a lot of neutrals to be seen on the runways, colour is not out just yet. Electric colour was especially strong with Gucci.
Emerald green is the colour of the year and variations of that colour were well represented on the runways.
As a reaction to all the colours of last year, lots and lots of neutrals were shown on the runway. Often with sheer elements and cut in a minimalist but interesting way.
Many of you will be happy to see that shorts are longer again and bit baggy. This can be a great trend, but be sure to style them well to avoid looking frumpy.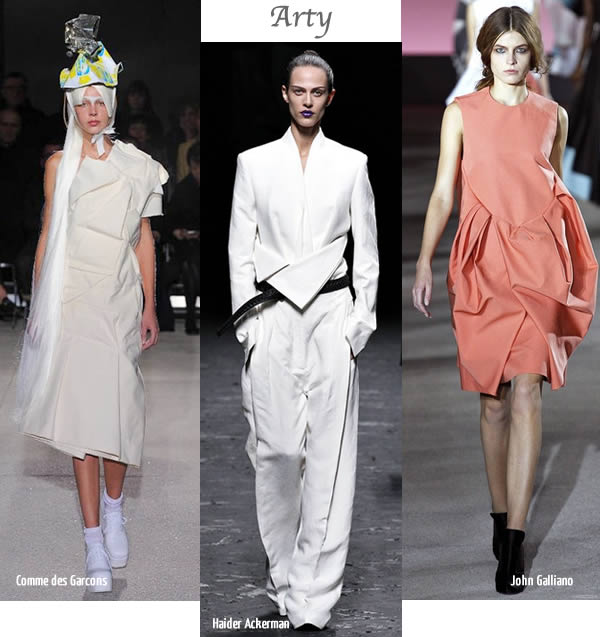 What I personally love about arty pieces, usually draped original creations, is that they are timeless. More avantgarde arty pieces never really go out of style and can be worn for a long time. It's a bold fashion statement and if chosen well, very body flattering. Above are some of my favorites from this year's collections.
Lots of skirts and dresses were at knee height this season, which is a great length for many women over 40!
Other trends that I will largely ignore
Big bold stripes, big rasters, 60s silhouettes and huge ruffles are just a few of the trends that women over 40 should be careful with. I am personally going to ignore them, since there are already so many wonderful trends to choose from.
Of course I will indulge in the high contrast graphical trend, but I will make sure to go for print and contrast that is a bit more timeless and classy, rather than the huge stripes that remind me more of a prison suit. Narrower stripes, more subtle rasters and graphical prints will definitely be on my wish list.
So that concludes my summary of the best spring / summer trends for 2013. For shoes please refer to my overview of spring 2013 flat shoe trends. Mid high shoe trends will follow shortly. Remember to choose with care and for those that took part in the style challenge, go back to your notes on style goals and missing items. Include only those trends that suit your (style) personality and lifestyle!
Which trends excite you? What will be on your wish list for the coming season?

All images by Style.com