Easter is coming and for many of you that may mean a short break.
You may be going for a short city trip or spend some time in nature. In any case, I think you will need a casual capsule that will easily fit in a carry on and that can take you from day to evening.
I've partnered with Nordstrom, one of my favorite online stores, and I'm 'm going to concentrate on creating a capsule that is both comfortable AND stylish.
Nordstrom is the ideal place to create your capsule as this one shop has it all. From affordable good quality clothing to high-end design. I've focused on quality pieces that are still affordable and that will last you for multiple years.
I'm envisioning a city trip where you will do lots of sightseeing and walking around. You will go out for meals in the evening, but you prefer to go to casual places. You want to pack light but still look stylish every day without having to wear the same thing all the time.
What you will need.
#1 A fabulous neutral top
This top can be worn on its own or layered underneath a jacket. Its cropped length is perfect for boyfriend jeans and high rise pants. You could also wear this with a skirt if you prefer to take a skirt instead of pants. You could even wear this over your dress.
#2 A printed top
A printed top adds some pizazz to your style and this bright top will make your neutrals shine. Wear with either your jeans or black pants and add your jacket if it's chilly.
#3 An asymmetrical stripe top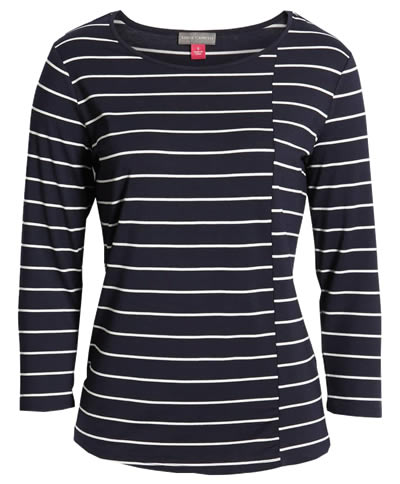 Striped top
A stripe is like another neutral but adds more interest. This is the perfect top to wear if you're more in a neutral mood but still want to to look stylish. Rather than just a standard stripe this asymmetrical stripe looks more edgy and fun!
(outfit stripe top, black pants, black jacket – 2, stripe top, blue jeans)
#4 A stretch cotton jacket
Stretch cotton jacket
A blazer makes any outfit just a bit dressier and is ideal to wear with jeans. The stretch makes this jacket good for both casual day-to-day activities and the evening. It looks great with your dress too!
#5 Stylish but comfortable blue jeans
Boyfriend jeans
Blue jeans are great for short trips as they are comfortable and you can dress them up or down. Be super casual with just a top or dress it up a bit with your jacket)
#6 high rise Skinny black pants

High rise is back in favor and is perfect to tuck your tummy in.
It also allows you to create the silhouette you need. Your tops can be a bit shorter which has a lengthening effect for your legs.
#7 A dress (that doubles as tunic)
Dress that can double as a tunic
This dress is comfortable and can be dressed up or down. And if you don't like this brighter color, then choose from the 5 other color options (including black).
Wear loose as a casual dress for day.
You can also belt it and wear over your skinny pants.
(If you prefer something dressier for evening, then I'm also loving this dress)
#8 Comfortable walking shoes
When you're visiting a new city you'll be doing a lot of walking. These comfortable sneakers will keep you comfortable.
The silver finish still give you lots of style and unsure that you can wear these shoes with almost anything (including your dress!)
#9 Comfortable dressier shoes
block heel shoes
If you prefer to wear dressier shoes for the evening, then these Eileen Fisher shoes will fit the bill. Edgy and fun, yet comfortable these shoes will take any outfit to a new level.
#10 statement necklace
A statement necklace is the finishing touch to your outfits. Our plain dress and tops especially will be further enhanced.
#11 A fabulous bag
Cross body bag
Your outfit is not complete without a fabulous bag and this Botkier cross body bag fits the bill.
The multiple, but still neutral, colors in this bag will instantly make any outfit more interesting. The asymmetrical details make your look more edgy too.
A cross body bag is super practical for traveling and this one can become your new day-to-day favorite!
Your easter break packing list in one view
Note that I didn't pick pieces in similar colors.
That is a mistake I see many women make when they create a capsule wardrobe.
Of course similar colors would look good on the image (or on your bed when you're sorting the clothes) but similar colors will also result in similar outfits.
You want to create variety in your capsule so that your outfits are very different. Even though the colors are different, every top can still be worn with every pants and the jacket goes with all bottoms.
And here are all the fabulous outfits you can create!
Want to further extend this capsule?
These 10 pieces will be (almost) everything you need for your trip.
But of course you can easily extend this capsule by adding additional items.
Adding new pants will immediately add 3 or 4 outfits to your capsule
Adding a new top can add up to 4 outfits to your capsule
Adding a few more accessories can transform looks and add multiple new outfits
Adding one more pair of shoes can further elevate your looks
But for a short 3-4 day trip, this is all you need!
Read our ultimate guide to creating a capsule wardrobe that works best for you.
Want to get help creating your wardrobe (as one big capsule)?
Why not create your whole wardrobe like one big capsule! Make sure any items you add to your wardrobe go with at least 2 other pieces in your wardrobe. That way you will create a wardrobe full of options and you will always have something to wear.
If you want more help creating your wardrobe you may want to try Nordstrom's stylist services. Professionals can help you create a wardrobe that will suit your body type, style and preferences.
It will ensure that you have a wardrobe that will always give you something to wear.
You can shop the complete easter break capsule below

How would you create your capsule wardrobe for an easter break trip?

This post was sponsored by Nordstrom
Capsule curated by Sylvia
This article contains affiliate links that may result in a small commission for 40+style
Want to get more articles from 40+style in your inbox, subscribe here.
You can also connect with 40+style on Facebook, Instagram or Pinterest.
Support 40+style by using the links in our articles to shop. As an associate for Amazon and many other brands, we receive a small commission (at no cost to you) on qualifying purchases which enables us to keep creating amazing free content for you. Thanks!