With spring right around the corner, here are 20 investment pieces for your closet that are the perfect balance of trendy and timeless style.
Pleated dress
Pleats offer both a flowy and structured look to dresses that is perfect for spring. They are especially great for highlighting your best features (from pleated hems to necklines).

Cold shoulder top
The cold shoulder top is considered to be one of those closet items that can be universally flattering. A great style tip is to tone down the trendiness of the minimally exposed shoulders by pairing your top with a classic piece (such as a classic a-line skirt).

White bag
A white bag in spring is almost a sure sign that warmer weather is here. It's a clean and effortless approach to adding a chic accessory to most any ensemble (especially when it contrasts nicely with silver or gold hardware).


Flat mules
It's the season of flats and sliders. For those looking for a dressier alternative to more casual flats, a flat mule style is heavy on both style and comfort, which is perfect for dressing up  casual  spring looks.

Marled sweater
The marled sweater is a perfect seasonal transition piece. It is perfect for layering and the newer styles offer modern cuts and lines that are a great spin on the classic sweater.

Lace-up flats and heels
Lace up flats and heels have been having their moment and it doesn't seem to be stopping as we head into spring. The perfect shoe for turning around any basic look, a number of options are available (very long to short laces).


Tie neck blouse
Tie neck blouses does not have to remain a fall staple. Selecting lighter fabrics and brighter tones makes these tops spring ready. Consider alternative ties (from organza to chains) and keep the rest of your look simple to keep the look balanced.

Sunglasses
Colorful mirror sunglasses provide a visually interesting and fun approach to sun protection this spring (and summer). From rose tints to full on polarized hues, aviator style sunglasses are a statement making accessory that instantly adds to any look.

Wrap skirt
The wrap skirt is a classic option with an almost universally flattering cut. The slit offers a little edge without being inappropriate and still retaining a chic look.

Flat Sandals
A classic spring and summer staple, a flat sandal is always a must have for the complete spring wardrobe. Consider adding some new elements to your flat sandal selections by going with bright colors, tassel embellishments, and buckle features.

Distressed hem jeans
Distressed denim is still going strong with designers experimenting with raw hems. We love this look for its broken in tone, and the immediate casual feel it brings to any look. There are a number of options from subtly to heavily distressed hems.

White sneakers
White sneakers are going strong, and for good reason. They add a crisp and clean edge to different looks, and offer a sporty chic look that doesn't look like you just stepped out of the gym. Keep it visually interesting by selecting a pair with unique embellishments of patterns.

Saddlebags
There is something very effortless and Parisian chic about saddlebags that makes them a closet workhorse. They can be dressed up or down, and can add a pop of color to a monochromatic look.

Cropped jacket
Cropped jackets are perfect for the bit of warmth needed in transitional weather. They are also a great approach to creating an elongated look by layering with longer pieces.

Trench coat
A trench coat and spring absolutely go hand-in-hand. From classic beige/tan options to bolder and punchier colors, a mid-weight to light trench can dress up the most casual looks (think jeans, a t-shirt, and flats) and perfectly complement a dressier look (such as a sheath dress).

Pointed toe loafers
Pointed toe loafers are the perfect balance between the chic edge of a pointed toe and the classic appeal of a loafer.  Extremely versatile (from slim fit jeans to dresses), pointed toe loafers can be dressed up or down for a comfortable and stylish look. For spring, go with a bright, punchy color for a warmer look.
'

Midi Skirt
Midi skirts can be universally stylish (this is where tailoring for your height makes a big difference) and are a perfect approach to dressing up your look.  From pencil skirt styles (we love the floral options) to the fuller a-line styles, they are the perfect skirt for a very feminine and classic spring look.

Suede
A flashback to the 70's, suede is a perfect material for spring when the weather is not too hot or cold. From rusty tones to the traditional sandy hues, there are a number of options to incorporate suede into your look. The key is not to go to heavy on the suede and add in other textures to maintain a material balance.

White oxford
The white oxford is a closet staple that will always be a must have for the perfectly tailored wardrobe. But, this spring designers are experimenting with creative takes on the classic white oxford. The new styles are more exciting to play with and add an exciting edge to a classic staple.

High heel mules
Yes, the high heel mule is reminiscent of the 90's. But, this style of shoe offers a chic and minimalist appeal that easily dresses up a look. Get the most mileage by selecting a neutral tone that will go with most any outfit in your closet.

What are your "must have" spring items?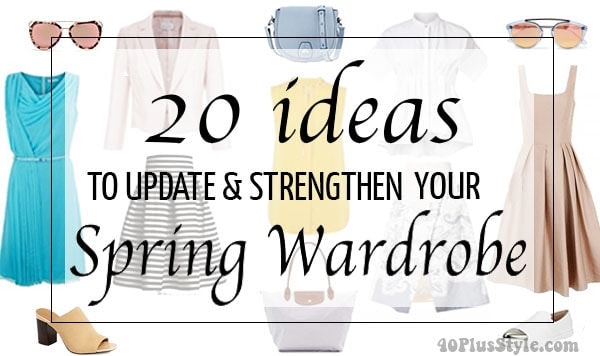 Want to get more articles from 40+style in your inbox, subscribe here.
You can also connect with 40+style on Facebook, Instagram or Pinterest.
Support 40+style by using the links in our articles to shop. As an associate for Amazon and many other brands, we receive a small commission (at no cost to you) on qualifying purchases which enables us to keep creating amazing free content for you. Thanks!