The short dress over pants is becoming a bit of a theme here at 40+ Style, which is mainly because I'm quite a fan of the style. Or, it is because I still feel like a 25 year old when I'm shopping and I actually believe that I can still wear these really short dresses by itself!
With this particular dress, I actually love how the dress looked on me. I looked incredibly sexy in it and was infatuated by the design and the color. In the shop I actually made myself believe that I would wear the dress by itself (the dress surely is not that short!) but in the back of my head I already knew that I would probably wear in it in different ways. I can actually still remember having those thought going through my head in the shop at that time!
This dress is actually quite versatile. Because of the big elastic band at the bottom you can easily lift it up higher and wear is as a regular top as shown top right. In some cases you could also tuck it in. Here, I actually enjoyed wearing it as a dress / tunic over my white wide legged pants. The red hat adds some extra fashion to the look!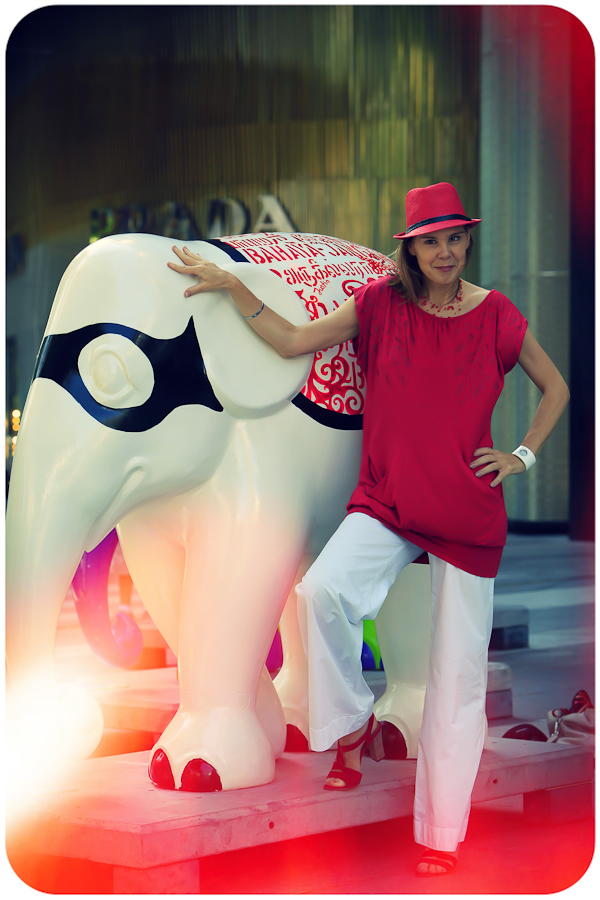 All photos were taken in front of the elephants displayed here in Singapore as part of the international elephants parade fund raiser. This initiative which was started by father and son team Marc and Mike Spits and started off in The Netherlands. It has toured several countries since 2007 and to date has raised more than $10,000,000 in support of the survival of the Asian elephant. A remarkable achievement! If you like to know more or want to assist, you can visit the Elephants Parade website.
All photos were taken by my friend and photographer Sabine Fink, who also took some of the pictures in my 40 plus models shoot. She managed to take some wonderful pictures from little old me. Photographing in Singapore is always a challenge with the harsh light and bright sun and we didn't bring any special equipment or lighting. She did have some fun with post editing though by adding some special filters, like film leaks.
Dress: Armani Exchange
Pants: Kookai
Shoes: Players
Necklace: China market
Hat: Singapore market
Has the elephants parade been in your town yet? How often do you wear dresses over pants?
All photos by Sabine Fink, from Fifo Photo.
Want to get more articles from 40+style in your inbox, subscribe here.
You can also connect with 40+style on Facebook, Instagram or Pinterest.
Support 40+style by using the links in our articles to shop. As an associate for Amazon and many other brands, we receive a small commission (at no cost to you) on qualifying purchases which enables us to keep creating amazing free content for you. Thanks!