Some of you have told me that you are keen to see how I dress in winter. However, since I have not shopped for winter clothes for 7 (!) years, winter dressing is never going to be all that exciting for me. Add to that, that I get cold easily and the options for fashionable winter dressing are very slim indeed.
Still, I thought you may like to see how I packed for my recent winter holiday. Above you can see my process of choosing outfits that all mix and match. Not everything I packed is included above, but a lot of it is and you will get a general idea.
I had to pack a small, yet versatile capsule wardrobe to give me some options, while at the same time having some fun with my clothes as well. The focus of this holiday was mainly going to be on a casual activities in (for the most part) very cold environments. My capsule wardrobe needed to be warm, practical and comfortable.
For convenience and due to the fact that my old winter wardrobe featured a lot of black, I stuck to a limited color palette of black, white, and blue with a bit of red thrown in. All my old winter jackets as well as my boots are black, so for my 2 weeks a year of winter travelling, this is really the only practical option.
I can tell you though that I so missed a colorful winter coat. As in previous years I was shocked by the amount of black on the streets and would definitely have owned  a (few) winter coat(s) by now, had I lived in a colder climate.
For the time being though I was left with black so I mainly played with black and white. The red skirt was thrown in the suit case in the faint hope for good weather in Holland, but throughout the holiday it was just bitterly cold. The black and white jacket (made of cotton and linen) that I added for a bit of trendy fun did not get much wear either as it was simply too cold. I opted for my cream woolen turtle neck a lot and paired it with either my black and white jumper, super warm long black cardigan. My red jumper got a lot of wear too, mainly combined with a black and white striped turtle neck which is not pictured above. The green trousers were left at home.
Although limited, the capsule wardrobe served me well. It kept me warm and gave me a bit of fashion fun, although of course I missed choice and variety. That just can't be helped on a holiday. But if you plan smartly. at least you can create a lot of variation with the limited choice of clothes that you do have.
I packed:
3 sets of shoes: long boots, ankle boots and snow boots

2 coats: short thick snow coat and thinner long woolen coot
2 scarves: 1 black and white and 1 colorful
4 trousers: jeans, black, blue and white snow trousers
1 black cardigan
2 jumpers: cream and red
1 turtle neck long sleeved t-shirt: black and white stripes
2 shirts: black and white
1 multi colored t-shirt
2 blazers: stripes and blue
1 red skirt
2 belts: polkadot red and thin black belt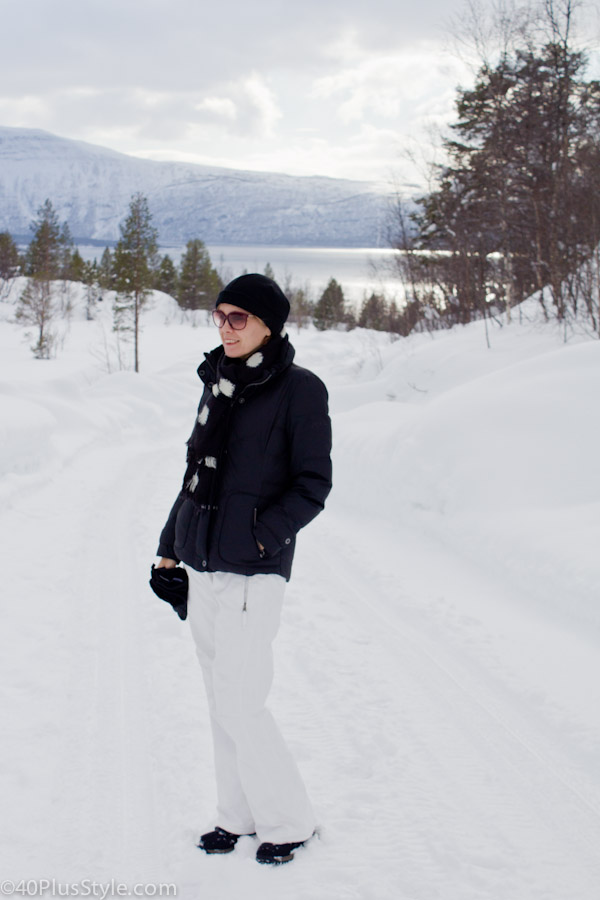 Dressing in winter is not easy. Certainly when you are used to hot weather like I am and can't bare to leave any part of your body uncovered in the cold. I know that a lot of you in Europe and USA are longing for some warmer weather and I can well imagine it. I will gladly send some of the heat of Singapore your way!
I'm sure the sun will arrive in your area pretty soon and I look forward to sharing more ideas on summer dressing with you again next week. In the meantime I will also add some travel reports of my trip for those that are interested.
How do you pack for a winter holiday?

P.S.: also check my latest capsule wardrobe for winter where I focus a lot more on clothes that are both stylish AND warm!
Want to get more articles from 40+style in your inbox, subscribe here.
You can also connect with 40+style on Facebook, Instagram or Pinterest.
Support 40+style by using the links in our articles to shop. As an associate for Amazon and many other brands, we receive a small commission (at no cost to you) on qualifying purchases which enables us to keep creating amazing free content for you. Thanks!