I love good photography. I think it's important that I offer you high qaulity photographs on this site, which is something I always endouvour to do. I'm continuously working on my own (self portrait) photography skills to show you my outfits, but nothing beats working with a good photographer. So I was very pleased that Juha Sompinmäki agreed to work with me on a photoshoot for this blog.
We chose Singapore's Arab quarter as the location and I packed 2 outfits with a couple of accessories for the shoot. Today I will show you one of the outfits, featuring some new clothes I acquired at the massive Club 21 sale that I attended last month. This is the least colourful of the 2 outfits I chose, but my other outfit had a few styling errors so that's why I'm showing you this outfit first. I will feature my other outfit next week. It was a super hot day with bright sun, so let me tell you, getting any decent photographs was quite a challenge. I'm very pleased with the results, however, and it was a delight to work with Juha.
Keen observers of this blog will have noted that this outfit was inspired by my own dressing challenge to wear 3 colours and 1 print. Or 2 colours and 2 prints. You will find that all back in the various combinations of this outfit. Black and white is of course one of the easiest colour combinations to add a colour or pattern to!
Another theme for this shoot was dandy chic. I chose this theme because I love masculine style with a feminine twist and I wanted to show you all some outfits with blazers that could work in colder climates. I don't get to wear these very often in Singapore as it's just too hot, but I love the particular dandy vibe worn in an elegant feminine way. I even painted my nails with cracked black and white nail polish for the occasion!
Although you may not want to wear white in winter, you could easily replace the white pants with black ones and then add a colourful blazer instead. There are just so many ways to add colour to a black and white outfit. A hat, scarf, cardigan, sunglasses, coloured belt, shoes or a colourful necklace like this one.
Here I added another colour into the mix with my versatile Heleen van der Meer bag.
Other clothing details: Blouse: Donna Karen, Pants: Houssein Chalayan, Jacket: CK Calvin Klein, Necklace: Alldressedup, Ring: Lindy McLarty, Shoes: Kenneth Cole, Belt: Anne Fontaine, Sunglasses: Burberry
Please note that although some items are new for me, all these items are from old collections (as they were bought in warehouse sales), so will probably not be in stores anymore.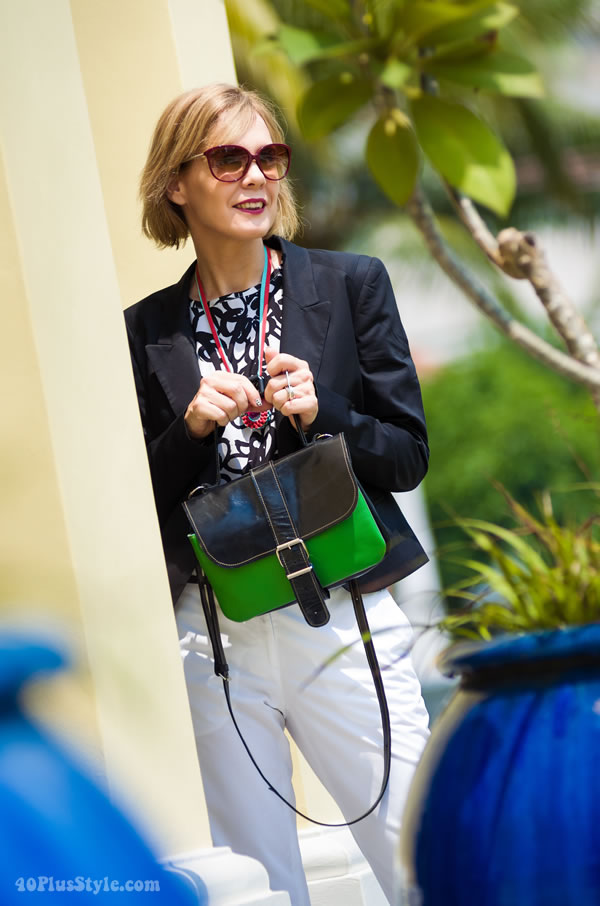 I have been so pleased with the response to my dressing challenge! Many women have been participating and sending me their pictures either through email or the style forum. Yesterday, I met some readers at a fashion event, who incorporated the dressing challenge into their outfit. And some of you have been experimenting at home and are having fun with it and discovering new outfits in your wardrobe. I'm going to show off all your fabulous creations on Wednesday and if you like to be included, you can still send me your outfits today.
Have you had a lot fun with fashion this weekend?
A big thank you to Juha for the photographs! Juha Sompinmäki is a professional photographer specialising in portraiture, weddings as well as corporate and commercial photoshoots. He is originally from Finland (no polar bears, yes Santa Claus) but speaks English like a super chinaman.
Want to get more articles from 40+style in your inbox, subscribe here.
You can also connect with 40+style on Facebook, Instagram or Pinterest.
Support 40+style by using the links in our articles to shop. As an associate for Amazon and many other brands, we receive a small commission (at no cost to you) on qualifying purchases which enables us to keep creating amazing free content for you. Thanks!