Last week I showed you the first outfit I shot on location that featured 3 colours and 1 print, which was part of my dressing challenge. This is my second outfit that is more colourful than the first, but which unfortunately has one major styling error. You see, I never intended my shirt to be so far open and for my singlet to show underneath. Unfortunately, I forgot to close my blouse properly at home and once you are 'in the field' there are no mirrors, so I was completely oblivious to the fact that my blouse was undone.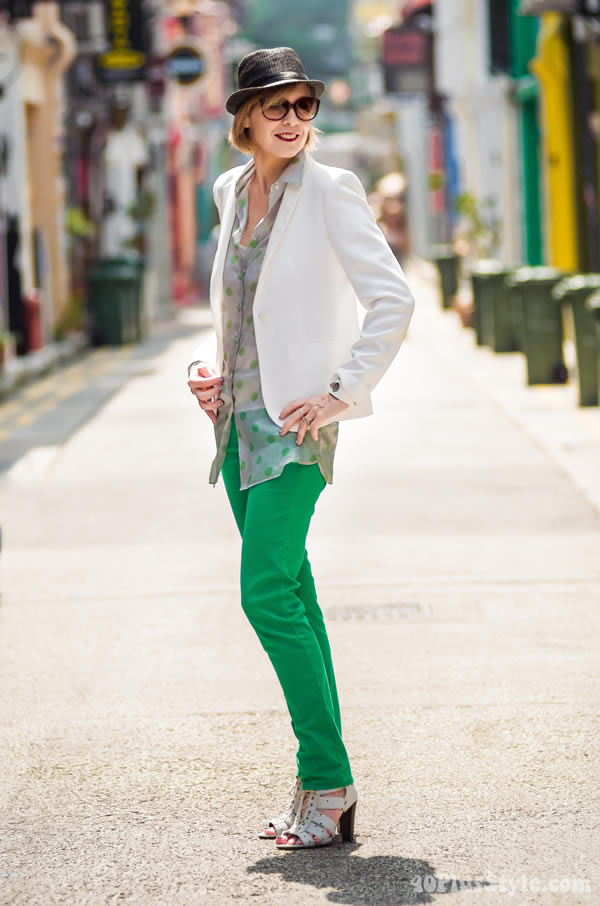 Add to that, that I forgot to put my blouse over my blazer a lot of the time and you end up with a lot of less-than-perfect pictures. It's a real shame because I really love the pictures themselves which were skillfully taken by photographer Juha. So please look at these photographs and pretend that my blouse is more closed. The whole outfit would look a lot less messy and my neck and chest would not be so bare. I had decided against a necklace since the double collars of blazer and blouse made the whole area busy enough already.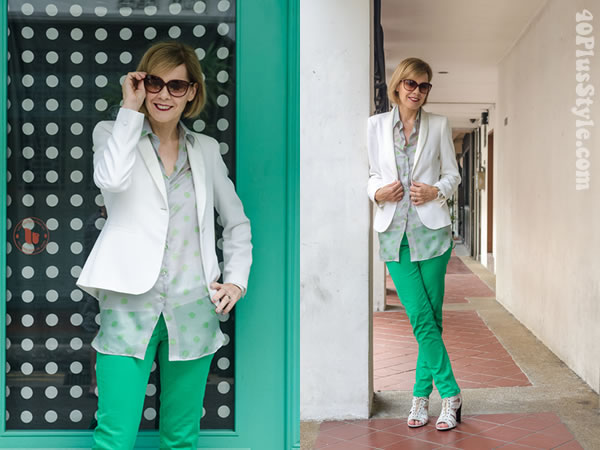 Regular readers will regonise these pants as coming from my affordable bright colours wardrobe capsule. They are sporty and funky and not always the easiest to style. But inspired by my own challenge, I was determined to create one dandy chic outfit (which was the theme for my shoot) to featuring a strong colour. After a bit of 'playing' with the items in my wardrobe, I discovered that this silk polkadot blouse was perfect to combine with these pants AND my new Opening Ceremony booties!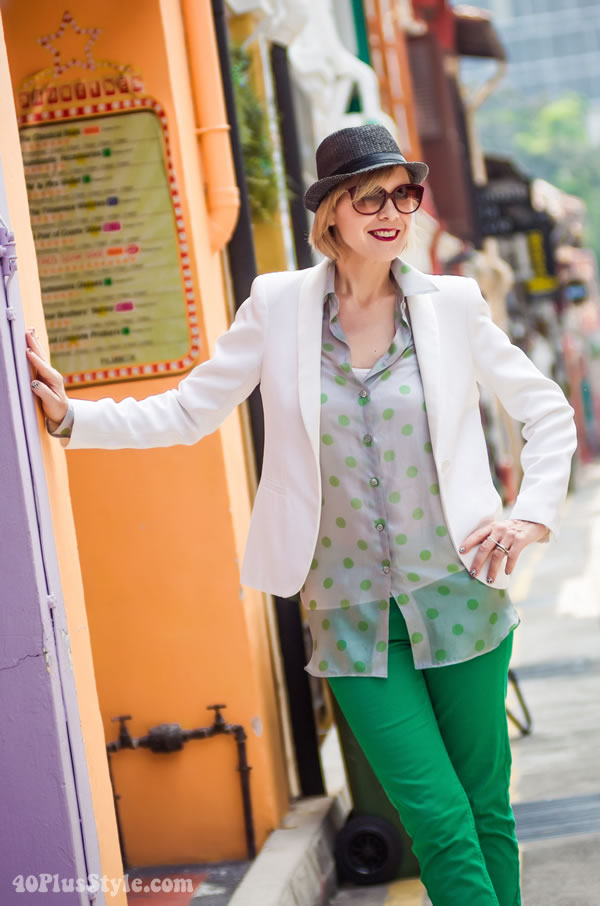 Dandy chic calls for a hat as well and although I would have loved to combine this outfit with a cream hat with a coloured ribbon, my grey hat works well too. You will recognise the cream blazer from my last year's christmas outfit, when I travelled to cold Holland.
This same outfit can also be combined with my black CK Calvin Klein jacket I showed you last week.
I still love my Zara hat, even though I don't get to wear it so often as it's really too hot for Singapore.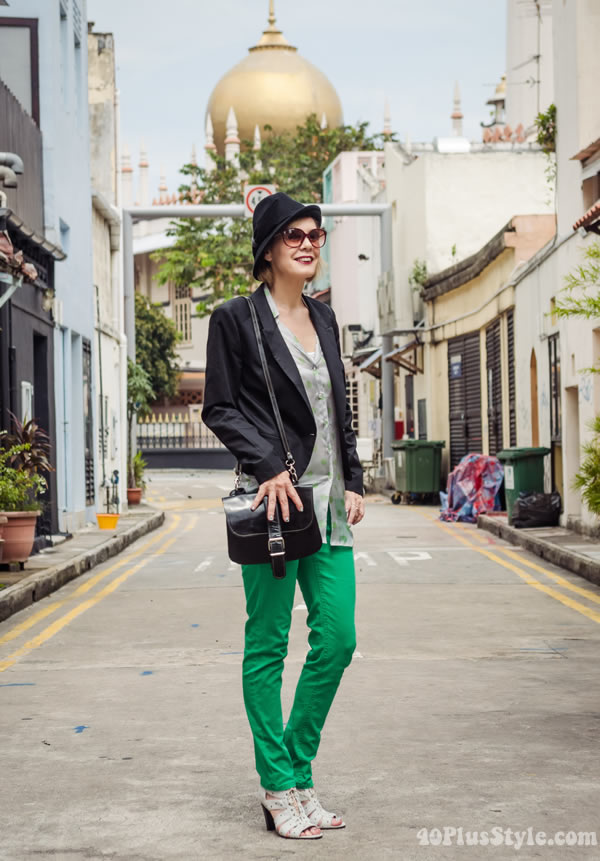 And I love my Opening Ceremony booties with this outfit which prove that they look just as nice with a casual chic outfit as they do with a more formal chic outfit that I wore to French couture week.
I had a lot of fun choosing and photographing these outfits, even though it was way too hot to wear 3 layers in Singapore outside at 11 am!
How about you, have you been having fun choosing and wearing your clothes this weekend?
A big thank you to Juha for the photographs! Juha Sompinmäki is a professional photographer specialising in portraiture, weddings as well as corporate and commercial photoshoots. He is originally from Finland (no polar bears, yes Santa Claus) but speaks English like a super chinaman.
Want to get more articles from 40+style in your inbox, subscribe here.
You can also connect with 40+style on Facebook, Instagram or Pinterest.
Support 40+style by using the links in our articles to shop. As an associate for Amazon and many other brands, we receive a small commission (at no cost to you) on qualifying purchases which enables us to keep creating amazing free content for you. Thanks!