If you want to create a capsule wardrobe to last you from season to season, year after year, then thinking about the types of fabric you want to wear is a great place to start.
Choosing beautiful, natural fabrics is really, I think, about treating yourself and your body in the way you deserve.
When you swathe yourself in fibers such as cashmere and silk, it brings about a sense of wellbeing that polyester and acrylic can't compete with. I'd liken it to the feeling of slipping between fresh sheets.
A couple of points before I get onto my favorite 5…
1) When investing in more expensive fabrics, I'd look for classic styles because you will definitely want to keep your pieces in your closet for a long time to come. You won't want to love the fabric in a few years, but hate the style.
2) These natural fabrics tend to be a great option if you are looking to stay warm in winter and cool in summer, or you are thinking about how to dress during hot flashes.
3) Think about how you will look after your new piece too. While many manmade materials are fine to be flung into the washing machine, you may have to handwash or dry clean your natural fiber pieces.
Want to know more about fabrics check out my articles on the properties of polyester and other fabrics.
Cashmere
If anyone is thinking about what to buy the woman in their life for a special occasion, then a bit (or a lot) of cashmere will always hit the spot.
Finer, lighter, softer and warmer than sheep's wool, cashmere comes from the fine hairs of the Cashmere goat.
A beautifully fitting cashmere sweater instantly adds a feeling of luxe and expense. It's like wearing a hug.
Or a cashmere poncho as Lisa so stylishly wears below.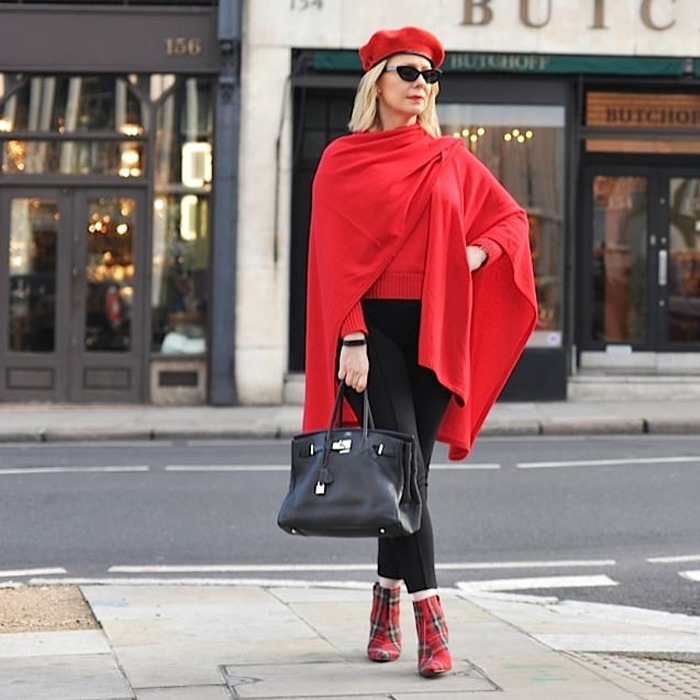 But, it doesn't have to be a sweater. You could add a cashmere scarf or poncho to your closet, a cashmere dressing gown to wrap up in or even a cashmere pair of socks.
You may also like: where to shop for the best cashmere sweaters
A cashmere vest like this piece from Nordstrom is also a great trick for hiding a belly.
Silk
I don't think there's anything more sophisticated than a silk blouse or dress. While you can buy similar styles, other fabrics simply don't drape the body in the same flattering way.
It's also very versatile. You can wear your silk shirt, like this red blouse by Ralph Lauren, tucked into a pencil skirt or pants for work, under a cardigan with jeans for casual days or with the next option on this list for an evening out.
Or, you could treat yourself, or a loved one, to a pair of silk pajamas.
You may also like our article on the best pajamas for women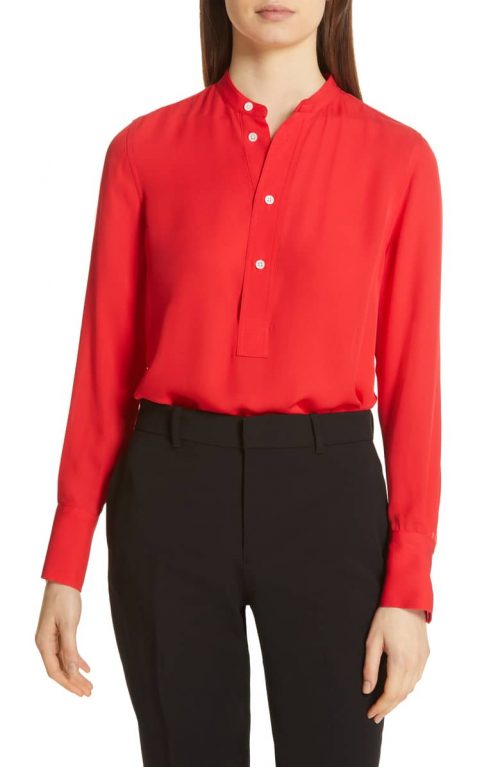 Suede or leather
An on-trend option season upon season, a suede or leather skirt, like this skirt from Ralph Lauren, is unlikely to date. You could wear during the week with your silk shirt, or dress down over the weekend by pairing with a tee and sneakers or booties.
A leather or suede biker jacket is another timeless option that you can wear over a simple jeans and tee to instantly elevate your look, or with a summer dress and booties to transition to fall.
Plus, suede trench coats, like those from the 70s, have been a big trend, albeit without the big collars.
Of course, it goes without saying that handbags and shoes are also great leather investment pieces.
If you like the look but don't like to wear leather, you could look for a good quality vegan leather instead.
Denim
The perfectly fitting pair of jeans is like the Holy Grail. And, it may be that the pair that perfectly fits your bodyshape is from Walmart or Target.
But, if you do find a pair that fits and flatters which is a bit more expensive, I'd definitely snap them up.
After all, how often do you wear your jeans? They probably work out cheaper than anything else in your closet if you are looking at cost per wear.
Some good brands to look at are Paige, like these crop jeans, NYDJ and Kut from the Kloth.
For more tips on jeans check out the best fitting jeans for women

Linen
While cheaper clothes can look cheap because they are made with shiny, synthetic fabrics, linen is the opposite. It has a muted feel which is very luxurious.
Linen is another great choice if you need to stay cool.
A pair of linen pants or relaxed linen top like the one below from Eileen Fisher will be a vacation staple for years to come.
Linen or linen-blend tops and sundresses are also great buys. Plus, you could look out for linen mixes in your jackets as they will help them to stay in shape.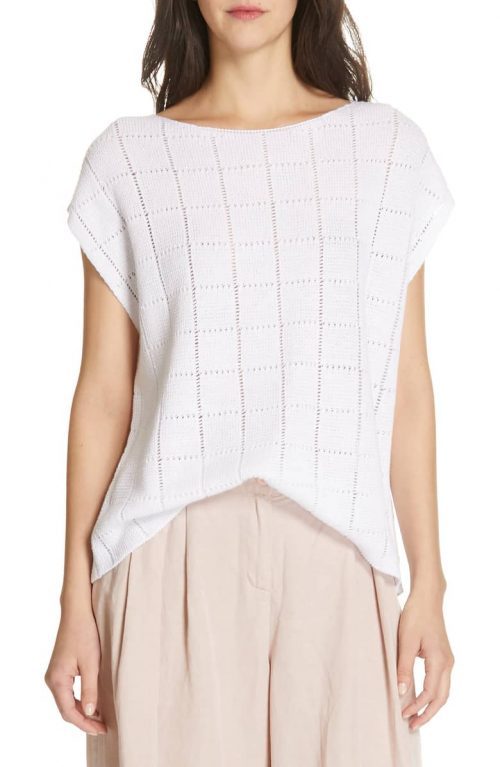 Made from the fibers of the flax plant, linen is pretty laborious to produce, but it will stand the test of time. Unlike some other fabrics, linen actually gets softer when you wash it. It does wrinkle easily, but I think that's part of its charm.


What types of fabric do you like to wear? Are most of your clothes manmade or natural?
Like this article on types of fabric that are worth the investment? Save it on Pinterest!
cover photo by @thesequinist
Want to get more articles from 40+style in your inbox, subscribe here.
You can also connect with 40+style on Facebook, Instagram or Pinterest.
Support 40+style by using the links in our articles to shop. As an associate for Amazon and many other brands, we receive a small commission (at no cost to you) on qualifying purchases which enables us to keep creating amazing free content for you. Thanks!