Just as exciting as the clothes trends on the catwalks – in fact, maybe more exciting – are the shoes that go along with them. Just by adding a pair of new shoes, you can make an existing outfit look more contemporary or you can make your outfit suitable for different seasons or occasions. Take a look below at all the trending shoes for women that you need to know about this spring.
shoe trends 2022 – trending shoes for women
Over the past couple of years, the whole world has had a lot of time at home. Now, designers are very much focused on you getting out and about again, whether that is for a walk, for a vacation, or for an evening out.
Let's look at each of the shoe trends you can choose. Let me know which are your favorites, and which suit your existing style. What shoes will you be adding for the months ahead?
chunky sandals
Proenza Schouler – Hèrmes – Chloé
Chunkier sandals were a trend last year too. So, if you already added a pair to your closet, you should definitely make sure you still have them ready to wear for this spring and summer. I bought the Bani sandals from Fly which I love and will be continuing to wear them this year. You can view me wearing them in article on the best arch support shoes.

platforms
Prabal Gurnung – Sportmax – Marni
There were lots of super high platforms on the designer catwalks for this spring. A platform style is a great alternative if you want to add some height but you don't necessarily want to wear heels.
I'm sure you don't want to go as high as the Sportmax style (above center), but you could try a lower platform to add an on-trend element to your outfits.

clogs
Givenchy – Salvatore Ferragamo – Alaïa
Clogs can be a divisive shoe style. But if you haven't tried them yet, perhaps this year could be the time to give them a shot.
I like the more minimal clog styles shown on the catwalks at Salvatore Ferragamo. You could wear with your wide pants or with a summer dress.

Sculptural / interesting heels
Peter Do – Prada – Leowe
If you want to add interest and some playfulness to your outfit, then how about the trend for sculptural heels?
You could try a see-through heel like those shown at Peter Do (above, left), a heel that doesn't look like it's there at all (Prada, center), or choose a heel in an unexpected shape.

wedges
Wedge heels are always on trend for spring and summer, and there were plenty on display on the spring designer runways.
You could choose a traditional wedge with a raffia heel or opt for fabric, or even a wood look, as shown above right.

furry
Altuzarra – Fendi – Altuzarra
If you aren't quite ready to give up your cozy slippers, you could choose a furry pair of shoes. Choose a furry pair of heels or flats.

Embellished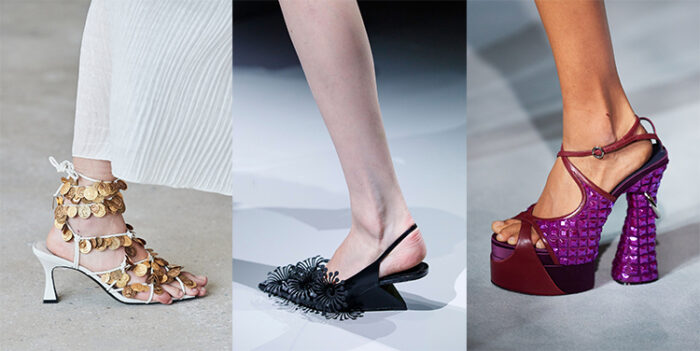 Altuzarra – Prada – Lanvin
If you're ready to get dressed up, then the embellished shoes that are on trend for the spring season are perfect to add to your partywear. Look out for jewels, pearls, coins, and flowers.

Lace up boots
Louis Vuitton – Christian Dior – COACH
Given that spring is a transitional season, you probably don't want to tuck your boots away in the back of your closet just yet.
Lace-up boots are the style to choose if you want to make sure your boots are on trend going into the new season. You can wear your boots with your dresses.

mary janes
Peter Do – Chanel – Christian Dior
Mary Janes are traditionally seen as a "cutesy" style of shoe. After all, they were originally designed with children in mind.
However by choosing a tougher style of Mary Janes, perhaps with a platform or heel, and keeping the rest of your outfit minimal, you can get a contemporary, sophisticated look.

Ballet flats
Tory Burch – Chanel – Salvatore Ferragamo
Another absolute classic for you. Ballet flats are both on trend and comfortable. You can choose a sleek, minimal pair, or opt for a pair with a little bow for a more traditional ballet flats look.
Also, take a look at the best ballet flats to go with everything in your closet.

mules
Altuzarra – Versace – Salvatore Ferragamo
Because mule styles have no backs, they can be tricky to walk in. The key is ensuring you get a good fit and that the toe box fits you well to ensure your feet don't slip and slide.
You can choose heels or flats depending on what your prefer and what is most comfortable for you.

SLINGBACKS
Michael Kors Collection – Proenza Schouler – Saint Laurent
An alternative to mules but with a bit more security for your feet is the slingback. There are so many slingback styles you could choose, whether you opt for chunky sandals, a sling pair of pointy toe heels or slingback flats.
Slingbacks can look great worn with your bootcut or flared jeans.

trending shoes for women – squishy
Balmain – Ottolinger – Bottega Veneta
Shoes with a little volume will definitely add an on-trend element to your look, so are perfect if you have a trendy style personality. You can just add a little cushioning. You don't have to go to extremes, like the big cushioned shoes shown on the catwalk at Balmain.

T-strap
T-strap shoes were first a big trend in the 1920s, and a century later, they're definitely back in style. You can choose t-strap sandals for your vacations and t-strap heels for more formal events.

white shoes
Sportmax – Erdem – Versace
There are always shoe colors that stand out each season. For spring, lots of designers decided to pair their outfits with white shoes. Any heel height is on trend, and any style, so long as it's white.

Fisherman sandals
Peter Do – Versace – Peter Do
You've already seen chunky sandals among the spring 2022 shoe trends, and one of the chunky styles you could choose is the fisherman sandal. While fisherman sandals are having a moment, they're definitely a classic. Wear with your wide pants, your shorts or your summer dress.

trending shoes for women – high boots
Marine Serre – Givenchy – Christian Dior
Just because spring has sprung, it doesn't mean that the weather is always warm. You can add a pair of boots to your dresses and skirts to make sure your legs are warm (and stylish) during transitional weather.

Knee high strappy sandals
Valentino – Prabal Gurung – Rick Owens
If your legs are a part of your body you want to highlight, you can draw attention to them with a pair of strappy sandals. If you aren't keen on wearing straps so high up your legs, you could always choose a pair with ankle straps instead.

flip flops
MSGM – Chloé – Rejina Pyo
Designers definitely had vacations on their mind when putting together their runway shows.
If you're planning your summer trips, choose a pair of flipflops you can easily slip into your suitcase to wear on the beach and at the pool. Opt for your favorite color whether that is a bright shade or neutral.

Pointed flats
Prabal Gurung – Valentino – Marni
If you aren't keen on wearing heels, but you want to create the illusion of being taller, a pair of pointed flats can be just as flattering. Pointed flats can look great with your jeans.

Menswear inspired
Gabriela Hearst – Erdem – Versace
Choosing a pair of shoes that are inspired by menswear can add interest to your looks. Opt for loafers, brogues and oxfords.

Which of these trending shoes for women are your favorites? What shoe styles will you be wearing for spring?
Continue reading:
Like this post on trending shoes for women? Share it on Pinterest
Images from VOGUE Runway
Want to get more articles from 40+style in your inbox, subscribe here.
You can also connect with 40+style on Facebook, Instagram or Pinterest.
Support 40+style by using the links in our articles to shop. As an associate for Amazon and many other brands, we receive a small commission (at no cost to you) on qualifying purchases which enables us to keep creating amazing free content for you. Thanks!