Where better to find inspiration than from what other stylish women over 40 are choosing? In this article, you'll find some of the most popular clothes that 40+ readers have been choosing over the past 12 months. And, the best thing is that all of these trending clothes for women are so timeless, you can wear them season after season…
The most popular clothes: tops
Let's start at the top with the most popular tops you've chhosen over the past year.
ruched t-shirt
Drapes and ruching on t-shirts and tops can be particularly useful for hiding a belly. I also like the asymmetric detail on the Caslon T-shirt below as the ruching runs diagonally across the top.
flowy t-shirt
Amazon can be a great place to find timeless, flattering clothes, including the tunic top (below) which, again, is good for hiding a belly and is a great option to wear with leggings.
LARACE Short Sleeves Flare Tunic Top
asymmetrical crossover top
Another good flattering belly-hiding top if you're a little self-conscious about your midriff, the Karen Kane crossover top (below) would look good with your skinny jeans.
Karen Kane Asymmetrical Crepe Top
tunic vest
If you're looking for a sleeveless top for layering or for vacations, the fit and flare tunic (below) is a popular choice at the moment. Reviewers say it is lightweight, stretchy and good to wear with leggings.
Made By Johnny Fit and Flare Tunic
The most popular clothes: jackets and coats
Now let's move onto some outerwear
blank nyc jacket
A moto jacket can be an incredibly useful item to have in your closet. You can add a moto jacket, tights and booties to your favorite summer dresses so you can wear them in cooler weather. The BLANKNYC jacket (below) is real suede and comes in a huge choice of colors including red, yellow, white and beige.
Reviewers say the material is thick and substantial but also soft to the touch.
BLANKNYC Cropped Suede Leather Motorcycle Jacket
drape jacket
Drapes can be incredibly flattering on all types of clothing, so it's little wonder the Anne Klein jacket has proved popular. I like the way it has been styled (below) with a column of color down the middle of the outfit and the jacket on top to create a slimming, elongating effect.
Anne Klein Drape Front Faux Suede Jacket
long shacket
Shackets, or shirt-jackets, are particularly on trend right now and are useful for adding an update to your existing outfits. The plaid shacket (below) would look good worn open with your favorite jeans and sweater.
4th & Reckless Colby Plaid Long Shacket
puffer jacket
For extra warmth in cooler months, a puffer jacket is always a good option. 40+ women have been snapping up the silver padded jacket (below) which is designed to be warm without using duck down.
Save The Duck Elsie Waterproof Puffer Coat
houndstooth coat
Often, a great coat can be all it takes to update your winter closet. Just add over jeans and a sweater for instant impact, or you could wear over your favorite dress for a night out. I think the houndstooth coat (below) would look good with red accessories.
Karen Millen Oversized Check Wool Blend Belted Wrap Coat
trending clothes for women: sweaters and cardigans
As it is winter for many of your, it's no wonder that different styles of sweater and cardigan are proving popular now.
cashmere blend
When opting for a sweater, many of you are choosing luxurious fabrics like Cashmere. The asymmetric hemline of the All Saints cashmere blend sweater (below) also gives it a point of difference.
AllSaints Lock Asymmetric Cashmere Blend Sweater
sleeveless vest
You can add a sleeveless dress over lots of outfits to create interest or hide any 'imperfections'. The sleeveless drape vest (below) comes in a huge choice of colors so you're sure to find one you like.
MBJ Sleeveless Open Front Drape Vest Cardigan
open front cardigan
Another good draped choice is the long-sleeve cardigan below, which I would wear with a simple t-shirt and jeans. One reviewer said she loved it so much, she bought four more in different colors.
Urban CoCo Drape Front Open Cardigan
poncho
A poncho can add both warmth and style. Wear over a turtleneck and pair with your favorite jeans and booties. The lightweight poncho below comes in 17 different colors and reviewers say you can position the cut differently to get several different looks.
Fomolom Lightweight Versatile Poncho
drape cardigan
The drape cardigan below also has plenty of positive reviews from women who say they had lots of compliments when wearing it. Many women say it runs big so don't order a size up.
ACEVOG Drape Cardigan with Tie
slouchy cardigan
With many of you at home more than usual, a slouchy cardigan like the Barefoot Dreams cardigan (below) is proving to be the perfect addition to your closet. Wear over your loungewear or pajamas for at-home days or with jeans and sneakers for casual days.
Barefoot Dreams CozyChic Lite® Circle Cardigan
most popular dresses and skirts
karen kane dress
The Karen Kane wrap dress (below) has definitely been on of the most popular purchases of the last year among 40+ readers because it is universally flattering and the draping helps to hide any lumps and bumps.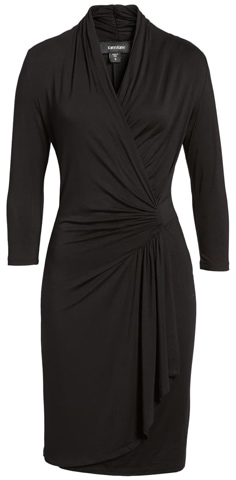 Karen Kane Cascade Faux Wrap Dress
maggy london dress
Another dress than many of you seem to have snapped up this year is the Maggy London dress (below) which features asymmetric detailing and a tie waist. You could add a jacket for cooler months or wear with sandals for summeer.
Maggy London Draped Sleeveless Dress
Handkerchief Hem Skirt
At 40+Style we are a big fan of asymmetry and it seems many of you are too as the asymmetrical skirt by Ted Baker (below) has been a recent firm favorite. You could wear with a sweater for winter or choose a vest and sandals for summer weather.
Ted Baker London Nairobi Handkerchief Hem Skirt
pleated skirt
Another skirt proving popular that would look good with a sweater and boots for cooler weather or with sandals for vacation is the pleated skirt (below) which comes in a huge choice of colors. Reviewers say it is flirty and flattering.
Kate Kasin High Waist Pleated A-Line Swing Skirt
Most Popular Clothes: Jeans You Bought Over The Year
Do you tend to wear more jeans and pants or skirts? Probably a mix of both. Let's take a look at some of the jeans you've been choosing.
NYDJ bootcut jeans
NYDJ is one of my favorite jeans brands, and yours. The bootcut jeans (below) are a classic shape, and bootcuts are back on trend after many years of skinnies.
straight jeans
A pair of white jeans like the slim straight leg jeans (below) can be worn all year round. I like the trend right now for wearing lots of neutrals together.
AG Mari High Waist Slim Ankle Straight Leg Jeans
zella live in leggings
If you're looking for a new pair of leggings, Zella's Live In leggings (below) are a popular choice for exercising and lazy days. Wear with your sneakers or dress them up a little with boots.

Zella Live In High Waist Leggings
stella carakasi leggings
I have the Stella Carakasi leggings (below) and many of you have opted to add them to your closet recently too.
Stella Carakasi Ready To Wear Leggings
swimsuits
Depending on where you are in the world and whether you are heading on vacation any time soon, you might not need a swimsuit just yet, but there's no harm in planning what you will wear on your next pool or beach trip.
miraclesuit swimsuit
Miraclesuit has been one of the most popular 40+ choices over the past year. I like the flattering monochrome print on the wrap one-piece (below).
Miraclesuit Warp Speed Sanibel One-Piece Swimsuit
magicsuit
Another popular brand among 40+ readers is Magicsuit. You could try the black one-piece (below) which you can wear as it is or you can knot the hem to create a different look.
Magicsuit Celine One-Piece Swimsuit
underwear
wacoal bra
Underwear is, of course, an important part of any outfit. The Wacoal bra (below) is a firm favorite among 40+ readers. Reviewers say it is comfortable and has good support.
Wacoal Halo Lace Underwire Convertible Bra
spanx shapewear
While you're unlikely to wear shapewear everyday, the SPANX shorts (below) are a popular option for special occasions.
SPANX OnCore High Waist Mid Thigh Shaper Shorts
most popular shoes and boots
You've definitely been embracing trends as well as classic choices when it comes to your footwear over the past year.
combat boots
Combat boots are practical and on-trend, making them a good option to go with many of your outfits. You could wear the mixed media boots (below) with your jeans or leggings, or with tights to go with your dresses or skirts.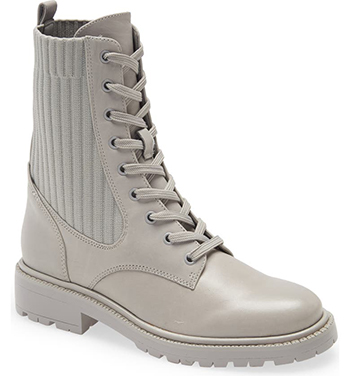 Sam Edelman Lydell Mixed Media Combat Boot
blondo waterproof boots
For a waterproof choice, the Blondo boots (below) come in a good choice of neutral shades.
peep toe
To add a little edge to your outfits, you could try the peep toe booties (below) which look great with jeans or dresses, if the weather is warm enough to bare your toes, of course.
Paul Green Cayanne Leather Peep Toe Sandal
tory burch miller sandals
For warmer climes, a great pair of sandals is an essential. The Tory Burch Miller style is an absolute classic which is released in different colors each season.
Tory Burch Miller Metal Logo Leather Sandal
havaianas flip flops
Another classic for around the pool or on the beach is a pair of Havianas like the bronze flip flops (below).
fly london sandal
I love Fly London sandals (below) and I know lots of you have decided to add them to your own closet too. The chunky soles give them an on-trend look and they go with everything from pants and jeans to skirts and dresses.
bags
When it comes to your accessories, a hold-everything tote is an essential.
botkier tote
The Botkier tote (below) is proving popular because of its color-block styling. You can choose from the blue shown here or brown, pink, gray or cream.
kurt geiger london tote
Another practical AND stylish option is the Kurt Geiger London tote (below) which comes in a good choice of neutrals and colors. This is a good bag if you prefer a slouchy option rather than anything too structured.
Kurt Geiger London Violet Leather Tote
coach shoulder bag
For a smaller bag choice, the red COACH bag (below) will add a stylish pop of color to any outfit.
COACH Willow Colorblock Leather Shoulder Bag
julian backpack
If you want a backpack for vacations or running errands, many stylish women have opted for the Rebecca Minkoff bag (below). Reviewers say the leather is buttery soft and the zips give it a little edge.
Rebecca Minkoff Julian Backpack
accessories
When it comes to the finishing touches to your outfit of trending clothes for women, you've been drawn to contemporary jewelry.
drop earrings
The contemporary drop earrings (below) are good to update your existing outfits.
layered necklace
Wearing a number of necklaces together is an on-trend way to wear your jewelry, and the Madewell necklace set (below) does the layering for you.
Madewell Triple Pendant Necklace Set
abstract print scarf
A scarf can be a fantastic way to add interest to your outfits. The Nordstrom wool and cashmere scarf (below) comes in a good choice of prints and colors so you should find an option that goes with what you already have in your closet.
Nordstrom Tissue Print Wool & Cashmere Wrap Scarf
trending clothes for women over 40 capsule wardrobe
Below, you can see the trending clothes for women together in 9 outfits so you can get some inspiration on how you might wear them together.
shop the items above here


Have you bought any of these trending clothes for women recently? How are you styling them?
Continue reading:
like this post on trending clothes for women? share it on pinterest!
Want to get more articles from 40+style in your inbox, subscribe here.
You can also connect with 40+style on Facebook, Instagram or Pinterest.
Support 40+style by using the links in our articles to shop. As an associate for Amazon and many other brands, we receive a small commission (at no cost to you) on qualifying purchases which enables us to keep creating amazing free content for you. Thanks!