As you all know by now I love stripes, I love assymatry and I love this old pink colour. So if  I can manage to put all of these in one outfit, I am one happy girl.
I bought this striped dress in the sales a few months ago at Max & Co and I must admit that i has not been the easiest garment to wear. Although this dress is meant to be worn as a dress, I always thought of it more as a tunic / wide jumper. It's one piece of clothing that you have to be creative with and try out different ways on how to wear it. It is a very versatile item as you can button it open almost the whole way.
I was looking to wear it with some skinny jeans, but alas I have very few of those. Almost all my skinny pants are currently cropped. This is partly a good thing as it's right on trend right now, but it is a challenge to wear with cropped pants with lots of style. I like the silhuette of long legs and I need to be careful not to shorten my legs too much with cropped pants, espcially ones that are severely cropped like these calvin Klein pants.
But I do love the comfort of these cropped pants and the colour, so when I spotted them in my wardrobe and checked the colour to combine with my striped dress, it was love at first sight.  Leaving the dress partly open lenghtened the legs and combining it with chunky mid heel shoes, solved the shortening leg problem. I'm happy to say that I loved wearing this outfit. It's the perfect combination of comfortable and trendy for me, combining some of my favorite trends. I wore this outfit before with with leggings.
Want to get some stripes as well?
Stripes are particularly huge this season. I showed you my  blue stripes outfit 2 weeks ago and I don't feel I will get enough of them any time soon. I found some wonderful striped dresses and blazers that are available in shops right now if you want to get into the stripes trend as well.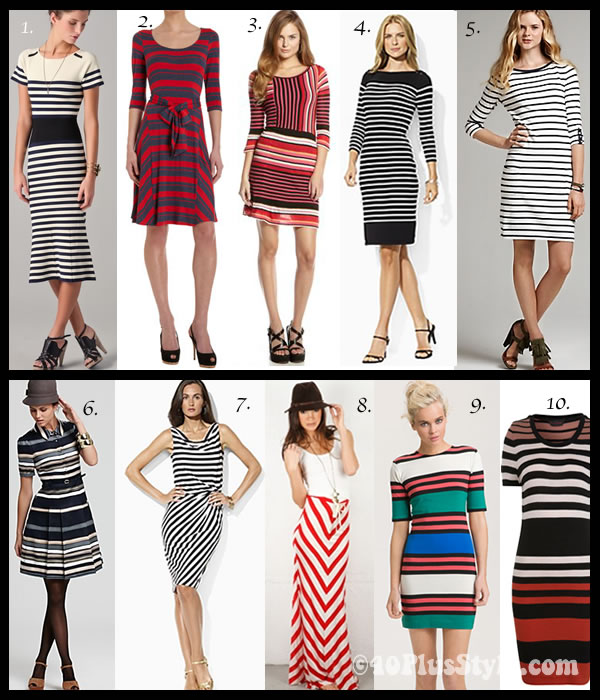 I would wear the shorter ones as tunics or on the beach! I also find quite a few great striped blazers and a few more great graphical dresses which are all great if you like to incorporate the graphical trend into your wardrobe.
Will you be wearing stripes this season?

Related posts: