There's no doubt that sweatpants are comfy. But they can also be tricky to wear if you don't want to dress like a teenager or look like you're just ready for lounging around the house. Take a look below at how to style sweatpants to get the casual-dressy formula just right.
Sweatpants are particularly on trend at the moment. And, that's understandable given that many of you will be at home more than usual.
Perhaps you're working from home, or you are taking more walks because other places you would usually go are closed.
Whatever the reason, if you are wearing sweatpants more than usual, or you want to add a pair or two to your closet, there are plenty of ways to make them look more special.
Types of sweatpants
Before thinking about how to wear them, let's take a look at the different styles of sweatpants you could choose.
cuffed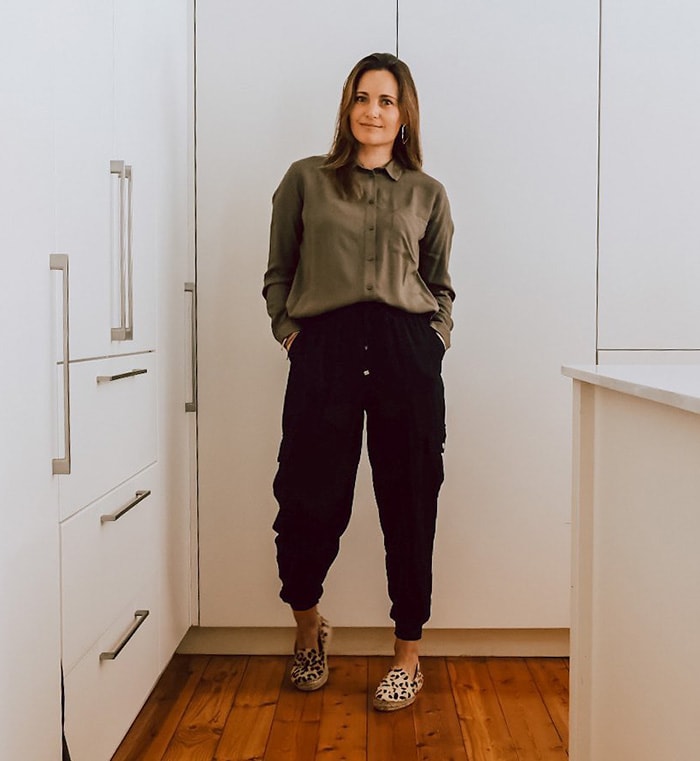 Cuffed sweatpants, as you would expect, have a cuff around the ankle. These can be good if you don't want any drafts getting into your sweatpants, or perhaps you will be running or exercising and don't like excess material flapping around.
Mel (above) styles her sweatpants with a classic button-down shirt and adds interest with her animal print shoes.
Recreate her outfit with this similar pair of cuffed sweatpants, shirt and espadrilles.
Veronica Beard tie waist sweatpants
cropped
A pair of cropped sweatpants are obviously shorter than normal styles. These can be good for summer, or if you want to show off your ankles.
Project Social T side cinch tie pants
wide leg
Wide leg pants are particularly on trend right now, and you can achieve this style with a pair of sweatpants.
tapered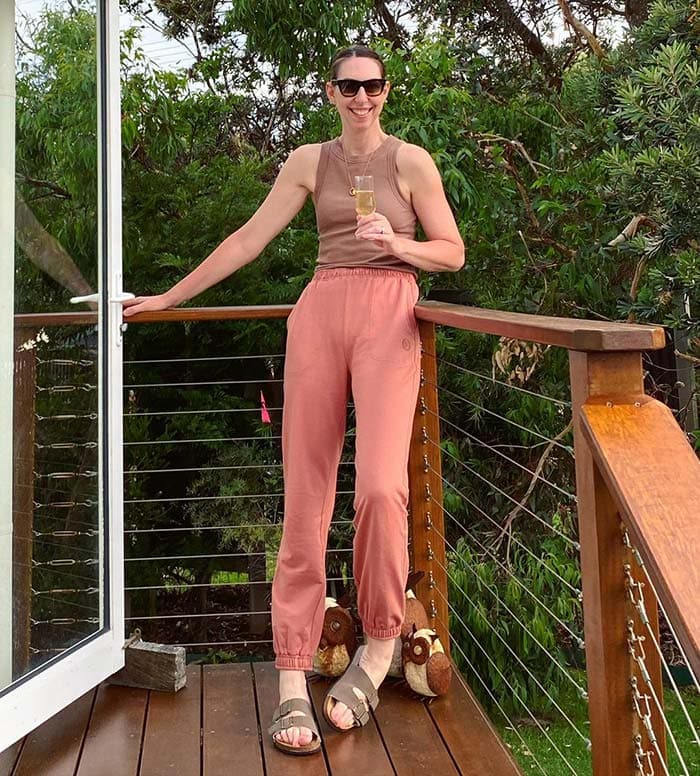 A tapered style starts off wider at the top and tapers down to narrower ankles.
Sally (above) opts for a pair of coral-colored sweatpants with a cuffed hem.
Steal her look with this similar pair of pants, sleeveless top, sandals, necklace and sunglasses.
GIBSONLOOK ruffle detail joggers
track pants
You could opt for a traditional pair of track pants that are perfect either for wearing casually or if you are heading out for some exercise.
How to style sweatpants
Now that you've chosen a favorite style, let's take a look at the different ways you could style them.
Wear with a long coat
You don't have to style your trackpants with a short, sporty jacket. You could opt to create a different look with a longer coat or cardigan.
Adaline (above) keeps her look casual, stylish and relaxed with a long cardigan over her athleisure wear.
Check out these similar lounge pants, tank top and long cardigan and wear with a pair of Vans slip-on sneakers.
Below, you can see how you could elevate your sweatpants look by teaming with a classic trench coat.
Wantdo trench coat – Halogen crewneck sweater – Socialite joggers – Steve Madden platform sneaker – Rebecca Minkoff leather tote – Akris punto scarf
Choose a fitted style
Just as with the rest of your outfits, you can make sure you keep your look balanced by wearing slimmer track pants with a wider top, or vice versa.
Beth (above) opts for slimline pants with her denim jacket.
Get her look with this similar pair of pants, striped tee, denim jacket and sneakers.
how to style sweatpants: WEAR WITH A BLAZER
Urban Coco open front blazer – NIC+ZOE tank – Zella joggers – Munro water resistant boot – Kurt Geiger London tote – AllSaint link statement necklace
A blazer is always a fabulous way to instantly make any look more formal. Take a look at how to fit a blazer to make sure you get the most flattering fit.
Keep the rest of your look polished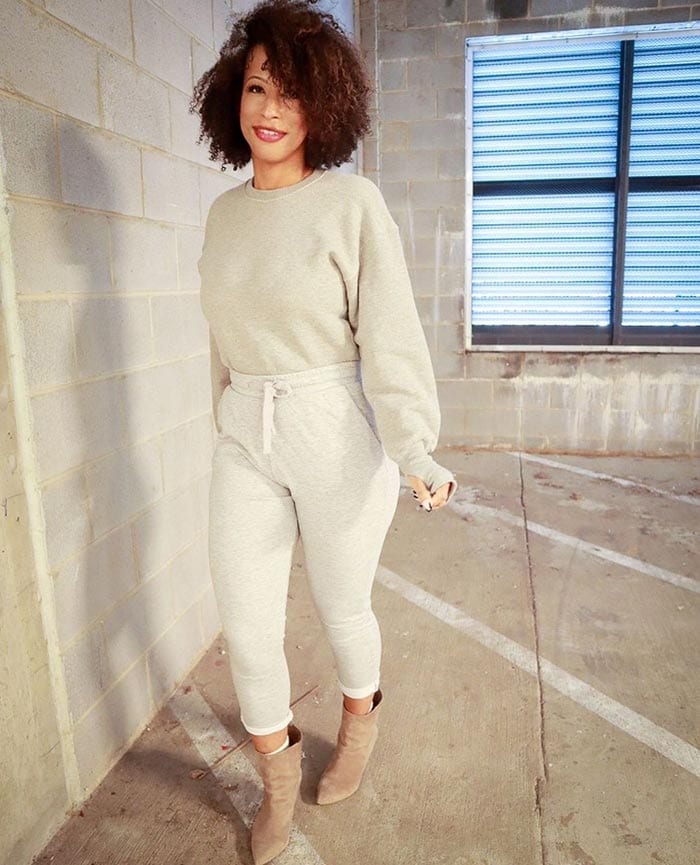 If you want to make sure you don't look too casual in your sweatpants, think about keeping the rest of your look polished. Spend a little time on your hair and make-up.
And, like Kimmy (above) you could choose booties or heels rather than sneakers.
Recreate her outfit with this similar sweatpants, sweater and booties.
Keep to a simple color palette
Levi's moto jacket – Vince silk blouse – Halogen tie waist joggers – Geox sneakers – Rebecca Minkoff leather tote – Jenny Bird hoop earrings
Sportswear can be monochrome, but also be bright and colorful. For a more elegant look, you could choose a more neutral color pathway.
Add a glamorous accessory
Don't forget your accessories when dressing in your sweatpants. You could add a scarf, a simple pair of stud earrings or a designer bag like Psyche (above).
Steal her look with this similar sweatpants, sweater, blazer, sneakers and YSL crossbody bag.
Opt for a luxurious fabric
A good way to make your sweatpants outfit more special is to choose a pair in a luxurious fabric such as silk, satin or cashmere.
Don't forget your jewelry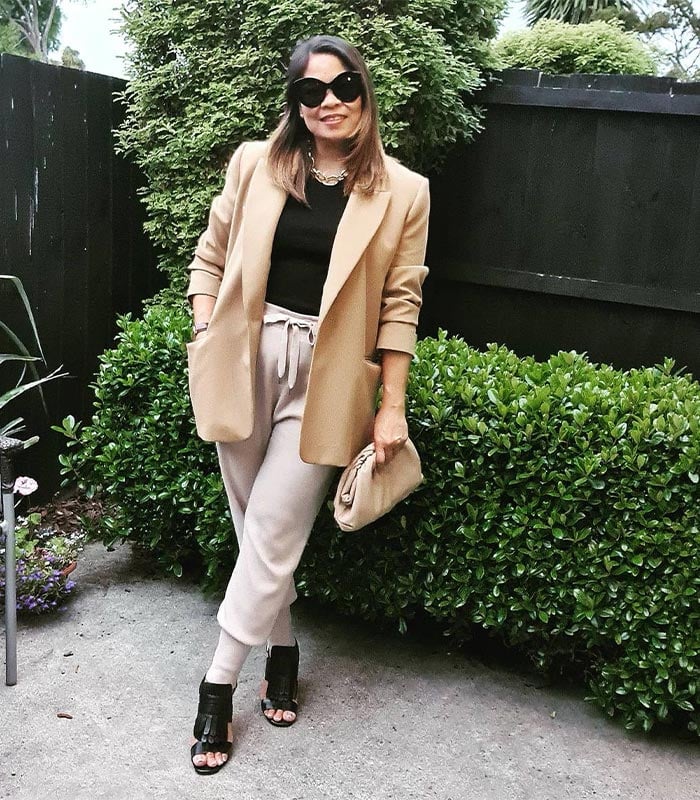 Just because you're adding a casual element to your outfit, that doesn´t mean you can't wear your jewelry.
Liza (above) chooses an on-trend chain necklace.
Check out this similar pair of pants, top, blazer, sandals, clutch, necklace and sunglasses.
Wear with heels rather than sneakers
Club Monaco single button blazer – Vince silk blouse – VERO MODA cotton joggers – Nine West slingback pump – Rebecca Minkoff leather tote – BaubleBar layered necklace
It may seem counter intuitive to wear a pair of heels with your sweatpants, but that's exactly why this can be such a great outfit. I creates an unexpected contrast.
Go coordinated
If you aren't sure what to wear with your sweatpants, one of the easiest ways to style them can be to opt for a co-ordinated set.
Abi (above) matches her track pants to her top and even manages to perfectly color-coordinate her sneakers.
Recreate her outfit with this similar sweatsuit set, sneakers, handbag and necklace.
The sweat pants set (above) from Amazon comes in a huge choice of colors and has largely good reviews from women who say it is soft, comfortable and perfect for lounging around the house or taking a quick walk.
Do you like to wear sweatpants outside the house (when you're not doing sports)? Let us know how you like to style your sweatpants!
Continue reading:
Like this post on how to style sweatpants? Share it on Pinterest!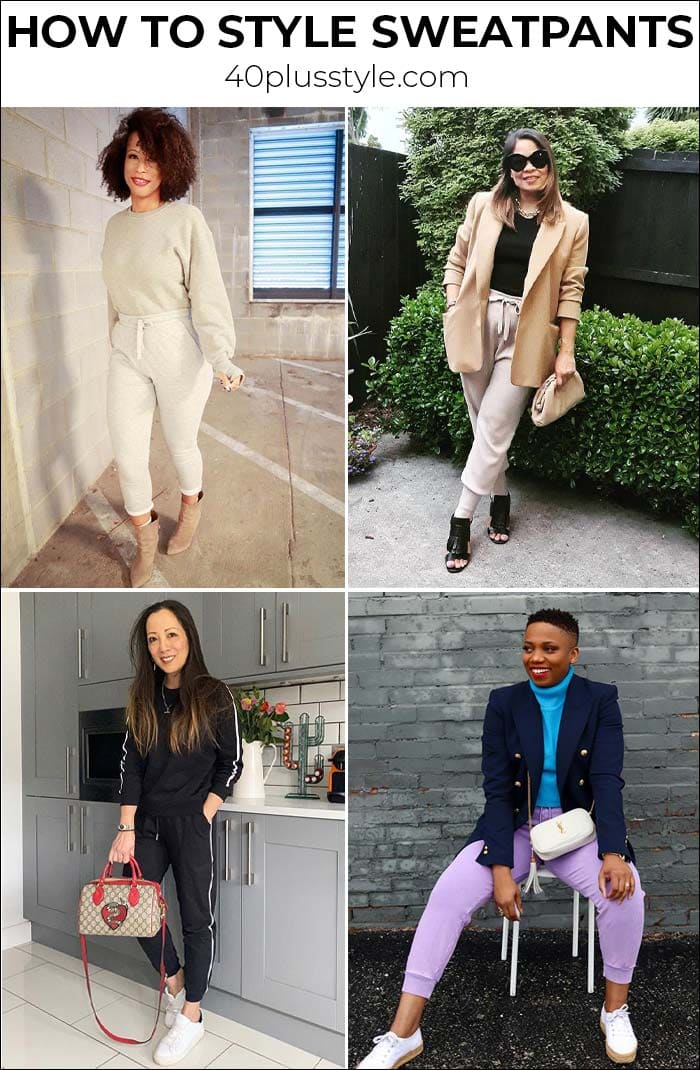 Feature image by Liza
Want to get more articles from 40+style in your inbox, subscribe here.
You can also connect with 40+style on Facebook, Instagram or Pinterest.
Support 40+style by using the links in our articles to shop. As an associate for Amazon and many other brands, we receive a small commission (at no cost to you) on qualifying purchases which enables us to keep creating amazing free content for you. Thanks!