Marks & Spencer is definitely having something of a fashion moment this summer.
While once the brand was renowned for the quality of its pieces rather than for being on-trend, its midi dresses in particular are now beloved of fashion bloggers the world over. 
It has teamed up with brand ambassadors, including the television presenter Holly Willoughby who picks her favorite pieces each season, as well as launching a new shoe collection designed by fashion bloggers.
I've also spotted model Vogue Williams wearing many of Marks and Spencer's swimwear pieces this summer.
In short, in the fickle world of fashion, Marks and Spencer currently has its finger on the fashion pulse.
m&s clothes
While a few years back, Marks and Spencer was thought of as the place to go to to buy quality undies and not much else, that has definitely changed. Now you have to act fast to get your hands on the most coveted pieces of the season.
Marks and Spencer online
Marks and Spencer launched in 1884 on a humble market stall in Leeds with the slogan 'don't ask the price, it's a penny'.
While you will definitely struggle to find anything on sale for a penny now, it is much easier to get your hands on collections from this iconic British brand.
There are dedicated websites for many countries, and plenty of international delivery options.
marks & spencer dresses
Marks & Spencer has now become one of the go-to stores for summer midi dresses.
I'd definitely act quickly if you do see a dress you like as they often sell out of certain sizes pretty quickly because of the coverage given on Instagram by fashion bloggers. The diamond print dress (below) is one of the pieces worn by Holly Willoughby recently. Many reviewers say to order up a size as the bust is a bit snug.
Diamond print dress – "This may be my new go to dress this summer. It's very flattering and has a very vintage look to it." – PiggyB

Pure cotton dress – "Very good quality, love the fabric, so easy to wear! A perfect addition to my summer wardrobe." – Gurgaon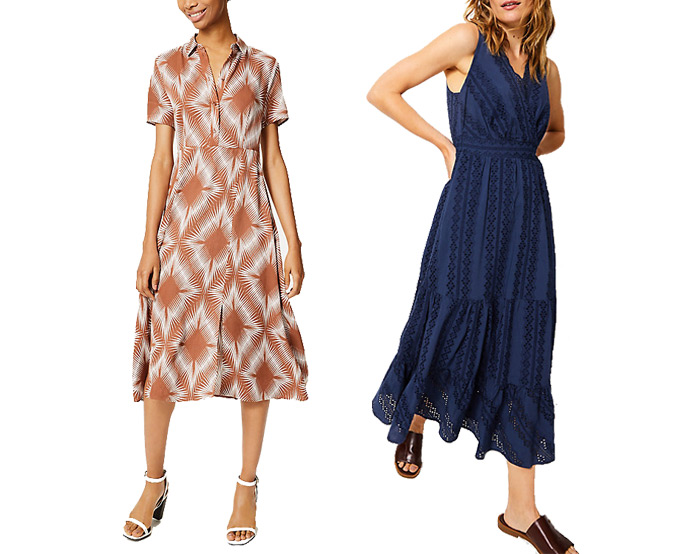 Diamond print shirt midi dress – Embroidered waisted maxi dress
Debbie wearing a chambray striped waisted midi dress.
If you have a wedding coming up this summer, or a graduation or any other formal or semi-formal event, Marks & Spencer is a good place to look for figure-flattering pieces.
Or, if you are just looking for the perfect little black dress, the piece I've featured here in mint green is also available in a classic black.
Double crepe dress, 4.9 stars – "This is more of a fitted dress than body con (thank goodness) which is what I was looking for. Very elegant and looks much more expensive than the actual price due to the tailoring." – lomasnc

Lace midi dress, 3.9 stars – "Being of a certain age, I love the sleeves as they will hide my upper arms." – Dee52
Double crepe short sleeve bodycon dress – Lace waisted midi dress
marks & spencer coats
Do you remember the pink Marks & Spencer coat that became impossible to get hold of a few years ago, or the lilac number which followed it?
Marks & Spencer tends to have a coat very much of the moment each season, but it's also a great place to go to for classic essentials for your closet that you know won't date, such as a trench or belted wool coat.
Trench coat, 4.6 stars – "I love everything about this timeless mid beige trench coat. I love all the small details, especially the leatherette finish under the collar." – fussyfeline3

Belted coat, 4.3 stars – "This coat is exactly what I was looking for. Flattering front pockets adding no bulk to front profile" – Ross44
Double breasted trench coat – Belted wrap coat
Gemma wearing a double breasted trench coat in light citrus.
Of course, you are unlikely to want a knee-length or long coat all year round. You'll also find summer-friendly moto jackets in shades to go over your favorite summer dresses. Plus, there are a range of classic blazers, including double-breasted styles which have a nod to Balenciaga.
Faux suede jacket, 4.2 stars – "Purchased the duck egg blue and am very pleased with the color and fit." – LuvLee47

Linen blazer, 4.3 stars – "Looks amazing on. Structured but in a relaxed way because of the linen fabric so looks good with jeans." – Cad
Faux suede biker jacket – Linen single breasted blazer
marks & spencer jeans
If you like to live in jeans with a nice tee, a blouse or a sweater, then you may find that M&S has the perfect fit for you.
I'm sure you'll agree that finding the perfect pair of jeans on the high street often feels like an almost impossible task. But Marks & Spencer is promising its "best ever fit" with its new collection of jeans.
The collection includes the Lily slim leg style. But, as these classic style jeans, you will also find new trends, such as colorful cropped flare jeans.
Lily slim leg jeans, 4 stars – "I have shapely calves and don't like the way skinnies accentuate that but these slim fit are perfect as they are straight without being wide." – LennyM

Cropped jeans, 4.3 stars – "The elastic backed waistband helped to get them on and they don't require a belt on me which I love, along with the mid-calf length." – Guinness44
Slim leg jeans – High waist wide leg cropped jeans
marks & spencer jumpers
A Marks and Spencer jumper or sweater is one of those items that you tend to purchase for the festive season. But, there are also good year-round options to wear with your summer skirts or white jeans.
For transitional weather, you can opt for a sweater with shorter sleeves.
V-neck sweater, 4.4 stars – "I love the style and color of this jumper, especially the pop of orange. I am looking forward to wearing it with white jeans this summer." – MissPetite.

Short-sleeved sweater, 4.0 stars – "Lovely tops, love that the sleeves are not too short and are very flattering, they are thin but great for spring and colder summer days."
Colour block v-neck jumper – Round neck short sleeve knitted top
Cardigans are one of those items of clothing which, arguably, have frumpy connotations. But, you could opt for a different take on a classic style with some color-blocking, or you could, for example, wear your cardigan with a leather skirt.
Plus, I love the fact that many of M&S's options are cashmere.
For more inspiration take a look at this piece on how to wear a cardigan without looking frumpy.
color block cardigan, 5 stars – "I love the colors of this cardigan. Very soft and good quality for the price."

cashmere cardigan, 507 reviews, 4 stars – "I really believe you can't buy better quality cashmere (which is soft and wears and washes well) than M & S cashmere." – horsewoman
Color block cardigan – Button detailed cardigan
Talking of cashmere, M&S is also a good option if you are looking for a cashmere sweater.
A great place to get reasonably priced cashmere, you could wear this animal print jumper with white jeans for summer and darker colors for winter. You could wear the roll neck with a pleated skirt.
Cashmere rollneck, 700+ reviews, 4.2 stars – "Great quality, really good price, easy to wash and perfect for my wardrobe whether it's every day or dressed up at night." – MazzK

Cashmere animal print, 120+ reviews, 4.5 stars – "This is a lovely jumper – what's not to love – cashmere and leopard print." – MrsHRainham
Pure cashmere roll neck jumper – Pure cashmere animal print round neck jumper
marks & spencer shoes
As well as being a go-to for quality underwear, Marks & Spencer is also often thought as the place to get stylish shoes that will last.
Earlier this year, the brand announced it was collaborating with bloggers and influencers on a new shoe collection, including Zoe de Pass, who writes the Dress Like a Mum blog, and Fran Bacon, who writes The Fashion Lift.
Some of the most popular pieces have been the Fran shoe which features a bow and a low block heel and the Emily lobster sandals, which are a quirky, yet easy to wear style for summer.
The Emily lobster sandals, 4.0 stars – "These sandals are fabulous. Having had a lot of surgery to my foot, I'm left unable to wear high heels. The heel height on these however is perfect." – Magicpop

Bow shoes, 4.1 stars – "Nice to wear some pretty shoes as makes you feel pretty too! Look fab with jeans and brighten up the look so looks like made an effort without doing anything!
The Emily lobster sandals – The Fran bow court shoes
Patrycja wearing an orange multi strap slingback sandals.
As you would expect from a classic, British brand, Marks & Spencer is the perfect go-to if you need a classic pair of black or navy pants for work or to go with a blouse for dinner.
But, it is also a great place to look if you want some fun, printed pants for summer.
Striped pants, 5.0 stars – "These trousers are beautiful in every department. They are a perfect fit and a lovely heavyweight fabric." – neetc

Animal print pants, 4.3 stars – "I love the fit, feel and look of these trousers. The elastic content makes them feel comfortable and slightly more forgiving than I expected. I feel very dressy in them especially when worn with black heels and top." – lovegoodbasics
Striped ankle grazer trousers – Slim animal print 7/8th trousers
Rachel wearing a khaki tapered leg chinos.
marks & spencer skirts
As well as offering great midi-length dresses, Marks & Spencer is a good place to look for mid-style skirts as well as knee-length options.
You can get classic pencil skirts, and fit and flare styles.
Geometric pencil skirt, 5.0 stars – "lovely material and the pattern is good and fits lovely and smart will go with most colours very pleased." – paints47

fit and flare skirt, 4.3 stars – "The fabric is good quality and easy to wear with being button through. Comfortable and classic styling means it can be worn for a casual look or worn with heels and jacket for a smarter look." – jaygee48
Geometric print pencil skirt – Button detailed fit & flare skirt
marks & spencer shorts
It can be tricky to find shorts which aren't too short, but M&S usually has some good mid-length and Bermuda-style options if you want to make sure that you aren't flashing more than you want to.
Sculpt & Lift denim shorts, 4.5 stars – "These are exactly as pictured and the relaxed fit makes them very comfortable. I am sure that they will be very useful on holiday." – aphappy

Bermuda knee length denim shorts, 4.6 stars – "I was extremely pleased with these shorts. Perfect fit & good value. Highly recommend." – waterfrets
Sculpt & Lift denim shorts – Bermuda knee length denim shorts
Charlotte wearing an animal print high waist tailored shorts.
Of course, you can't wear your pants or skirt without a top!
Marks & Spencer stocks some good linen options as well as cotton and silk if you, like me, prefer to wear natural fabrics against your skin.
Polka dot button detailed shirt, 4 stars – "Perfect blouse, loved it, highly recommended" – letish

Silk shell top, 4.1 stars – " This is a lovely silk blouse. The cut and fit are perfect and the length of the short sleeve is very forgiving. This blouse is versatile and can be casual or more dressy." – maggieb78
Polka dot button detailed shirt – Silk shell top
Dominique wearing an embroidered frill detail blouse.
It seems, as with everything in fashion, coordinating is cyclical.
Whereas once it was seen as a little old-fashioned to be totally coordinated, now it is on trend. I would say opt for a shorts suit or a trouser suit though if you do want to stay on trend, rather than a skirt suit which can sometimes seem a little dated.
You could opt for coordinates that you can also wear as separates.
Linen striped blazer & shorts suit set – Linen rich blazer & shorts suit set
If you prefer the look of a one-piece, many of M&S's swimsuits have a built in slimming panel to smooth your tummy area.
There are some beautiful floral options in store now.
For more inspiration here are the 10 best one pieces bathing suits for women over 40.

Birds of Paradise swimsuit, 4.3 stars – "Was really drawn to the bird of paradise design and this swimsuit did not disappoint. Flattering neckline, tummy control, adjustment on the hips, and adjustable straps." – ponella

Floral print bandeau swimsuit, 4.2 stars – "Fabulous swimsuit. The fabric is luxurious. Fits great and would highly recommend it." – cashmerequeen
Birds of Paradise swimsuit – Floral print bandeau swimsuit
marks & spencer bikinis
The great thing about M&S bikinis is that the tops come in bra sizes rather than simply small, medium and large, or dress sizes, so you can find a bikini top which should fit you perfectly, and mix and match with the bikini bottoms you prefer.
Water stripe plunge bikini set – Spot print plunge bikini set
For an extra cover up on the beach, you may want to look for a matching beach dress or a sarong to pop over your swimsuit to take you from beach to bar.
Plain beach sarong, 4.8 stars – "Nice quality sarong not too thin or see through and the bobbles make it a bit different. I am so pleased with my purchase and can't wait to wear it as a nice change from an overdress." – marylandcookie

Printed beach sarong, 4 stars – "It is so soft and tender material. I am very happy to have it together with the same color bikini top and bikini bottom." – rica
Plain beach sarong – Printed beach sarong
Like many department stores, Marks & Spencer has some good plus size options including stylish tunic tops and dresses and jeans with a good amount of stretch in them.
Longline tunic, 4.5 stars – "Soft flowing lines without looking too bulky." – shoppergalore

High waist skinny jeggings, 3.9 stars – "Super fit giving a smooth finish to waist and hips – great under shirts and long line jumpers. Nice wider waist band so no rolling over of waistband." – elliemae23

Linen rich shift midi dress, 3.8 stars – "Very comfortable and I think it will be a wear anytime dress in the summer. It was a very comfortable fit and just skimmed my knees." – givein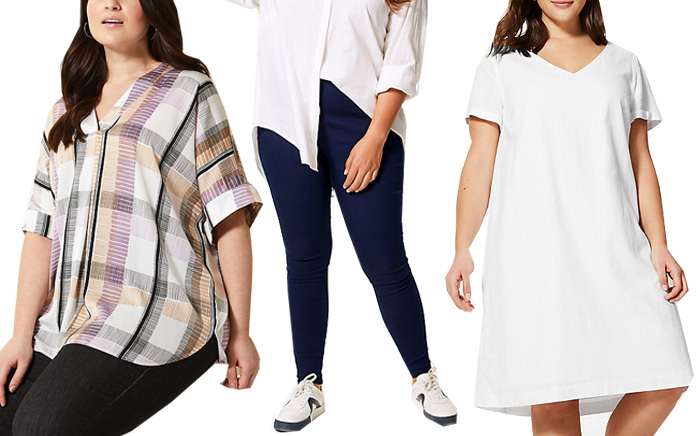 Longline tunic – High waist skinny jeggings – Linen rich shift midi dress
Marks & Spencer has long been a favorite place to go to for quality underwear. You'll find styles which go from a AA to an H cup.
Body padded t-shirt bra, 4.6 stars – "This bra is one of the most comfortable I have ever bought, very soft with plenty of support and washes and dries really well. I bought one in store and liked it so much I ordered more online." – rustingtonlady

Embroidered padded bra,  5 stars – "Bought the bra and knickers in the nude colour and have not regretted my purchase. This is such a pretty set and looks really lovely on." – curlychrissy
Body padded t-shirt bra – Embroidered padded bra
Marks and Spencer is also often a good sleepwear and loungewear option.
There are some very pretty options for summer right now if you are planning a summer vacation or you just want to upgrade your sleepwear for something which feels more luxurious.
Floral pajama set, 4.5 stars – "Beautiful design and colour. Washes fantastic and so comfortable when worn!" donnymoz

Floral nightdress, 4.2 stars – "I ordered this nightdress as I loved the color, it is exactly as the photo, bright with lovely flowers and pink stitching over the bust area. The material is lovely and soft (not the shiny satin sort) and I love the cut around the top of the bust area. It made me feel very glamorous." – fortyandfabulous
Floral pajama set – Floral nightdress
m&s clothes in the marks and spencer sale
While some stores tend to have a sale or clearance section all year round, Marks & Spencer tends to stick to seasonal sales. But, there are usually offers on certain pieces with offers like 'buy one, get one half price,' or buy 2 and get 30% off.
Do you already have Marks and Spencer clothes in your closet? Or will you be adding pieces from the m&s womens summer collection?
Like this article on the best pieces from Marks & Spencer? Share it on Pinterest
Feature image by @marksandspencer
Want to get more articles from 40+style in your inbox, subscribe here.
You can also connect with 40+style on Facebook, Instagram or Pinterest.
Support 40+style by using the links in our articles to shop. As an associate for Amazon and many other brands, we receive a small commission (at no cost to you) on qualifying purchases which enables us to keep creating amazing free content for you. Thanks!