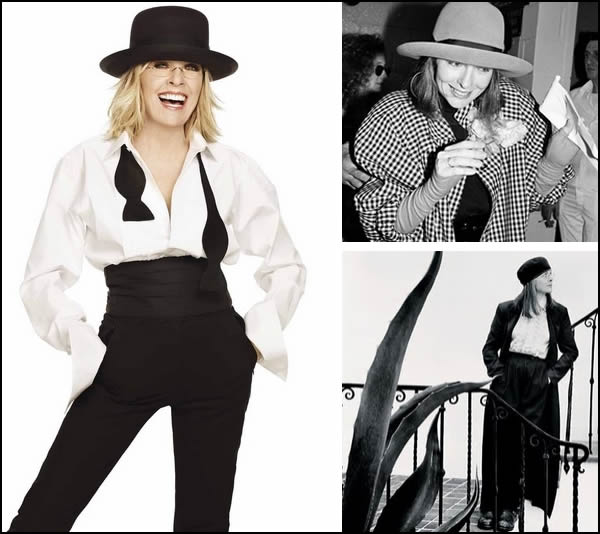 Although Katherine Hepburn may have started the menswear inspired trend or dandy style, Diane Keaton was certainly one to champion it and bring it to the main stream with her iconic role as Annie Hall in the film that carries the same name. I am truly inspired on how well Diane Keaton ages in style and her continued fabulous dress sense. High time to feature her as a style icon!
Diane Keaton, who was actually born as Diane Hall in 1946, became world famous when she starred as Kay Adams-Corleone in The God Father. However, the films that truly highlighted her as a leading role actress to be reckoned with were the series of movies with Woody Allen. In terms of fashion and style, one of the enduring images is her dandy look with the large tie in the film Annie Hall.
"This living stuff is a lot. Too much, and not enough. Half empty, and half full."

Diane Keaton in her book "Then Again"
This film is said to be highly autobiographical of her true relationship with Woody Allen and the clothes she wore in that movie were mainly chosen by her in collaboration with Ruth Morly and Ralph Lauren. Soon after many women began wearing the styles she was sporting in the movie: men's ties, suits and fedora hats.
She has starred in many films since then and is one of those actresses that has been able to work well past her forties. In her free time she also likes to write, sing and photograph. She published a book with photographs on hotel interiors in 1980.
"Slowing down isn't something I relate to at all. The goal is to continue in good and bad, all of it."

Diane Keaton
Appearantly the film Somethings Gotta Give, her very successful movie about the romance between her and 66 year old Jack Nicholson, was almost not produced, as film studios deemed the actors 'too old' for a romance. Luckily the film was made and turned out to be a huge success proving to studios that movie goers DO want to see old people being romantic as well!
"Let's face it, people my age and Jack's age are much deeper, much more soulful, because they've seen a lot of life. They have a great deal of passion and hope—why shouldn't they fall in love? Why shouldn't movies show that?"
Daine Keaton
Diane Keaton in a more girly look
More Diane Keaton style can be found in the Diane Keaton Style Icon Pinterest board. All image sources can also be found there.
What do you think of Diane Keaton? Is she one of your style icons too?

Related posts: