No matter how good you look on the outside, if you are uncomfortable on the inside, you are never going to feel good. That's why its so important to find the most comfortable women's underwear to wear under all your outfits.
The best underwear doesn't slip or shift, doesn't make you feel too hot or cold and doesn't show through your clothes (unless you want it to, of course). Below, you'll find the best underwear to choose with the most comfortable styles and material.
The best materials to choose
While what you find comfortable can be a matter of preference, when it comes to materials, there are definitely some that offer more comfort than others.
Cotton is usually a safe choice as it's breathable and absorbent. So, even if you opt for underwear in a different material such as satin or silk, it's a good idea to look for panties which have a cotton insert.
When it comes to your bras, you will tend to find that you can look at other materials such as nylon, or an option with a bit of spandex.
Should you wear a thong?
While a thong is usually associated with discomfort, it's really a matter of personal preference. While some find a thong is incredibly uncomfortable, others find they like how they stay in place.
You might also want to take a look at how to avoid a visible panty line with no show underwear.
Below, you'll find plenty of options whether you prefer a thong or panties with more coverage.
How about an underwired bra?
If you find your underwired bra is causing you discomfort, it may be that you are actually wearing the wrong size, so it could be worth having a fitting.
However, there are also plenty of non-wired options you could think about.
Let's take a look at some of the most comfortable Women's underwear
Let's look at some of the most well reviewed choices when it comes to the most comfortable women's underwear.
Cotton stretch bikini panties
These Amazon Essentials cotton stretch panties (below) have a whopping 60,000+ reviews, mostly high-rated. They are 95% cotton with a bit of elastane to make sure they keep their shape.
As they come in packs of 6 or 10, these are a good option if you're looking to replace a number of panties in your underwear drawer.
Amazon Essentials cotton stretch bikini panties
High rise panties
If you prefer a high rise pair of panties, the pairs below by Wingslove are 100% cotton and come in a choice of neutrals. Reviewers say they are high-cut, high-rise and comfy.
Wingslove 3 Pack high-cut brief panties
Bamboo panties
Bamboo is another good fabric choice as it's lightweight and breathable. The thin material of the bamboo multipack (below) is ideal if you tend to get hot easily.
Reviewers say they don't ride up and keep you cool.
Warm Sun bamboo viscose fiber multi-pack panties
hipster panties
Do you prefer a classic hipster style? The waistband of the cotton hipster panties (below) sit around two or three inches below the belly button, making them a good option if you are wearing any low rise jeans or pants styles.
INNERSY cotton hipster panties
breathable panties
With menswear-inspired styling, the breathable panties (below) could be a good choice with your casual outfits or for lounging at home.
Reviewers say they are comfortable, and the wide waistband means they don't roll down.
POKARLA high waisted breathable panties
Fruit of the Loom panties
The Fruit of the Loom panties (below) are a classic panty shape. They are 100% cotton to keep you cool and comfortable all day. Reviewers say these are high rise, so best if you prefer a pair to keep you feeling tucked in.
Fruit of the Loom covered waistband 6-pack
No muffin top panties
Underwear that digs in can not only be uncomfortable, but can create a "muffin top" effect, where you find you have a bulge above your waistband. The no-muffin top hipster panties (below) are designed to get around that problem with a comfortable thick lace waistband.
One reviewer even described them as the best panties ever.
Warner's no muffin top 3-pack hipster panties
full coverage panties
Another full coverage option for you, the cotton panties (below) will work well with high-waisted jeans or with dresses. Reviewers say they are comfortable but don't feel like "granny pants".
ASIMOON full coverage cotton panties
seamless cotton panties
Often when a pair of panties is uncomfortable, it can be because the seams dig in. A seamless pair like the briefs (below) could be the answer. Reviewers say these aren't sexy, they aren't granny pants, but are the perfect inbetween choice.
ALTHEANRAY seamless cotton panties
lace trim panties
Sometimes, lace on underwear can feel a little scratchy, but if you like the look of lace and don't always like how it feels, the Emprella lace panties (below) could be a good option to try. Reviewers say they don't shift and that you should opt for your true size.
Most comfortable women's underwear: thongs
Thongs often divide opinion. Some find them very comfortable, while others hate the way they ride up. If you're looking for a comfortable pair, the options below could be worth trying…
Low back thongs
Having your thong poke out of the back of your jeans is never a great look (unless you're trying to emulate Britney Spears in the 90s).
The low back thongs (below) should get around that problem. Soft, stretchy and breathable, reviewers say they look and feel like big-brand panties but without the big price tag.
ANNYISON low back seamless lace thongs
Seamless no show thongs
Made of smooth nylon and elastain with a cotton crotch area for comfort, the seamless thongs (below) come in a choice of patterns and plains.
VOENXE seamless no show thongs
Breathable thongs
If you haven't worn thongs before, or you have and you didn't like them, the breathable thongs (below) could be a good option to try. One reviewers said they didn't like thongs at all until they wore these ones.
Cotton thongs
Made of cotton with a bit of spandex for stretch, the Knitlord panties (below) have positive reviews from women who say they are comfortable and wash well.
Breathable cotton thong panties
Choose from neutrals or vibrant colors, depending on whether you are worried about your thong showing under your clothes. Reviewers say the multipack thongs (below) they are breathable and good for working out in
ANZERMIX breathable cotton thongs
non wired bras
Let's move on to bras. First, some non wired options if you find underwiring uncomfortable.
Hanes comfort fit bra
The Hanes bra (below) has four way stretch for comfort. Reviewers say it is a good, inexpensive bra for lounging and sleeping in.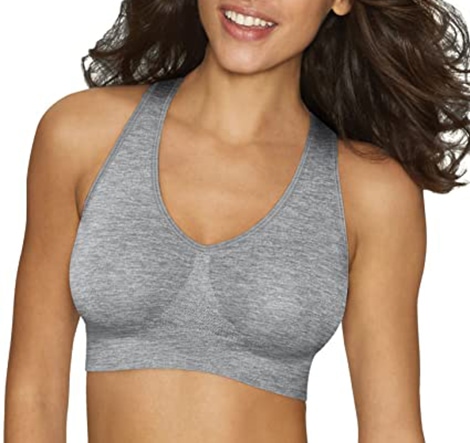 Hanes Get Cozy pullover ComfortFlex fit wire-free bra
Comfort wire-free bra
If you find your bra straps tend to slip, the Bali bra (below) might be one to try as it has a u-shaped strap design that is designed to stay put. Reviewers say it provides comfort and coverage.
Bali Comfort Revolution wire-free bra
Warner's no bulge bra
The Warner's bra (below) comes in a good choice of colors if you are looking for a shade outside the usual black, nude or white. Reviewers say it is supportive and provides the right amount of coverage, without being constrictive.
Warner's Easy Does It wire-free bra
Comfort flex bra
Soft, light and with foam cups, the Hanes wire-free bra (below) is a good choice to stay cool because of the little vent at the front. One reviewer said it was so comfortable it felt as if she wasn't wearing a bra.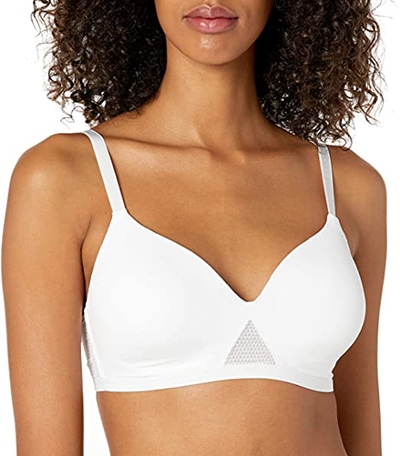 Hanes Oh So Light foam ComfortFlex fit wire-free bra
underwire bras
Now, let's move on to some underwire options because you might feel that you are more comfortable if you are better supported.
Fruit of the Loom stretch comfort bra
Made from cotton with some Spandex, the Fruit of the Loom bra (below) has seamless cups so could be a good choice if you want a t-shirt bra that won't show under your clothes.
Fruit of the Loom Extreme Comfort stretch bra
Full figure bra
If you need a bra for a fuller figure, the Glamorise bra (below) goes up to a size 48H. The design features a comfort band to prevent the wire from digging in.
Glamorise Wonderwire full figure bra
Full coverage underwire bra
With 12,000+ reviews, mainly positive, the Warner's No Side Effects full coverage bra (below) has extra side coverage panels to prevent any under arm bulge.
Warner's No Side Effects full coverage underwire bra
Lace underwire bra
If you like your underwire to feature some lace, rather than being a smooth design, how about the Bali bra (below)? Reviewers say it works well for larger busts.
You might also want to take a look at the best brands and bras for the larger bust.
Bali Desire lace underwire bra
Smoothing bra
For an option for wear under t-shirts or thinner material, the Bali smoothing bra (below) could work well. Reviewers say that the underwire is well covered so that you hardly feel it.
Bali All Around Smoothing underwire bra
What are your own recommendations for the most comfortable women's underwear? I'd love to hear about your own favorite styles and brands.
Continue reading:
Like this article on the most comfortable women's underwear for everyday? Share it on Pinterest
Feature image by Warner's
Want to get more articles from 40+style in your inbox, subscribe here.
You can also connect with 40+style on Facebook, Instagram or Pinterest.
Support 40+style by using the links in our articles to shop. As an associate for Amazon and many other brands, we receive a small commission (at no cost to you) on qualifying purchases which enables us to keep creating amazing free content for you. Thanks!